DR. MARIYA MALIN
No More Fear Of The Dentist
One of life's most traumatic experiences is going to the dentist. Many individuals suffer from such dire fear that they go into full-blown panic attack at the thought of it. Meet Dr. Mariya Malin, who's warm and inviting practice utilizes the latest and greatest in dental technology—The LightWalker. No more fear. No more pain.

Thank you, Dr. Malin!
Dr. Malin, before we start, tell us your backstory. Did you always want to enter dentistry?

I grew up in Brooklyn, went to college, and graduated from Stony Brook dental school on Long Island. I always wanted to be in the medical field, but I did not consider dentistry a profession until my senior year in high school when I got a job as a receptionist in a dental office.. Soon after I started, one of the dental assistants quit, and the doctor asked me to assist him with surgeries. I instantly felt the connection. It was incredible
Why do you think it's so difficult for patients to overcome the fear of visiting their dentist?

Visiting a dentist will not make it into the top ten of pastime activities. Not even top 100! Some people are afraid of pain, and others are afraid of needles. Many hate being motionless with a gaping mouth for a prolonged period. Often, people are nervous because of an unpleasant experience at some other dental office. The list goes on and on.
As a professional, my job is to treat patients and make them comfortable. My goal is for a patient to have a wow moment. "I did not even feel it!" Those are the moments I live for because it shows me that I can make a difference and make somebody genuinely happy.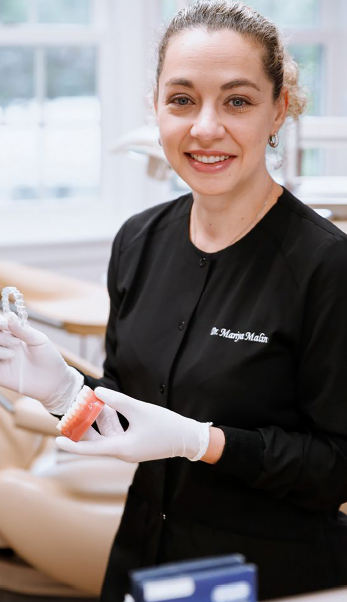 Tell us more about the LightWalker and how it's revolutionized the oral health industry.

LightWalker laser is an incredible piece of technology. It has numerous applications in esthetics and dentistry. For example, imagine you have a cavity. What is the typical process? First, you get a needle. Ouch. Then your dentist uses the drill. After, you can't eat anything for 4 hours because your face is numb. Laser dentistry can fix cavities without all the painful stuff: no more needle, no more drill, no more numbness. And the most fantastic thing is that laser dentistry can treat canker sores, gum disease, snoring, and much, much more.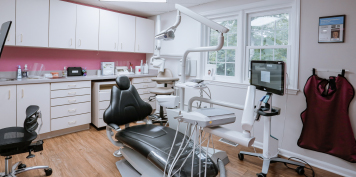 How does LightWalker work? And can it be used on children as well as adults?

Lasers are safe and effective for treating both kids and adults. For example, when it comes to cavities, the laser uses a calibrated beam of light to remove dead tooth tissue without affecting surrounding areas. The light beam is very conservative and precise, so we don't have to remove healthy tooth tissue.
However, if we use a regular drill, some healthy tissue will inevitably be removed. Although laser dentistry is as close to painless as it gets, we need to keep in mind some limitations to what lasers can treat. For instance, it can't be used on teeth with existing metal fillings or cavities located in tricky places where a laser beam can't reach. Also, some deep cavities may require an anesthetic due to nerve proximity.
What do you advise your patients to help look and feel their best?

Oral hygiene is extremely basic and not too difficult to follow. All that's needed is to floss, brush, and rinse. But unfortunately, many people go wrong with the consistency of their efforts, inadequate technique, or inappropriate tools. For example, the electric brush is far superior to the manual one because the electric brush can cover more tooth surfaces with the consistent application of bristles. Similarly, floss is much better and safer than using a toothpick because a toothpick cannot get under the gums without damaging the tissue.
As an influential and successful health care provider, how have you used this platform to benefit the world?

One of the most rewarding experiences I have had is to partner with a local non-profit organization dedicated to providing financial and emotional support for families of children with cancer. We have been participating in their fundraising efforts and are currently working on a program to offer complimentary dental care to the local families of children who have cancer. In addition, we have been reaching out to local schools and organizations to provide complimentary dental services to kids in need.
What would be the one food item we should avoid to reduce tooth decay? 

Sugar and carbohydrates (because carbs get turned into sugar). We must control the amount of that substance deposited in our mouths after meals and snacks. In the oral cavity, sugar is the primary food source for bacteria. Thus, limiting sugar will limit bacteria growth and tooth decay associated with it. There are many ways to do it: brushing your teeth after each major meal, flossing before going to bed, and rinsing your mouth with water after each snack. Of course, the best results are achieved when all these techniques are performed daily and combined with regular visits to your dental health care provider.
Lastly, tell our readers if you have a mantra?

It is simple: I will strive to advance my profession by seeking new knowledge and re-examining the past's ideas and practices. To me, this means progress and dedication to becoming better.
For more information on Dr. Mariya Malin and her practice, visit: wilton-smiles.com