STAY
Originally built in 1912, The Mansion at Ocean Edge Resort & Golf Club is the hub of the 429-acre resort, a wonderland of quintessential Cape Cod experiences. Positioned on the Lower Cape, the resort is 89 miles southeast of Boston's Logan airport—and light-years away from the daily grind.
With 337 rooms—traditional to suites and extended-stay villas and townhouses—the resort is open year-round. Whether you prefer luxurious multi-room suites with fireplaces and whirlpool tubs—or family-friendly units at The Villages with kitchenettes and en-suite laundry amenities—the accommodations at Ocean Edge surpass all expectations.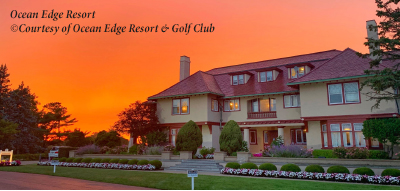 EAT
Summer at Ocean Edge ushers in some of the Cape's most beloved offerings—including food so iconic it's more than Instagram-worthy; it's forever memorable. With seven different dining options for summer, the resort ensures access to all the fresh-catch seafood. And buttery lobster rolls are always within reach.
Bayzo's Pub, the resort's English-style tavern, offers upscale casual charm as well as live music in the summer. Indulge in Swordfish Risotto or Executive Chef Philip Flath's signature Pub Burger. Either way, don't miss out on the Fountain of Youth cocktail. Before your palate is blessed with hints of citrus, lavender, and hibiscus, you'll need to burst the cocktail's smoke-filled bubble-dome. From start to finish, this drink is summery and sublime.
Ocean Edge also offers outdoor dining options ranging from casual cocktails and swim-up pool movies at the Shark Bah to post-golf meals at Linx Tavern. If you're too relaxed to leave the sun-drenched private beach, walk your sandy feet up to The Beach Bar for lunch. Adjacent to The Mansion, Ocean Terrace—the property's signature restaurant, overlooks Cape Cod Bay.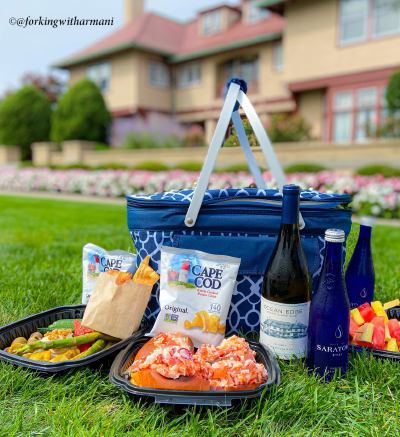 PLAY
Customizing my vacation was a breeze. The resort offers an endless array of activities—paddle boarding, kayaking, croquet lessons, pickleball, nine tennis courts, four pools, and seasonal archery lessons.
A relaxing day strolling along the beach and watching the shenanigans of ocean crabs must be capped off with a trip to the spa. Their Beach House Spa is on par with the elite, and you can even book a private spa soirée!
The property is also home to Brewster's only 18-hole, Nicklaus Design golf course, Troon Privé. It was here that their golf pro, Shayne Sakson, reminded me that this game is an absolute delight. One lesson and a bucket of golf balls later, I could feel my inner PGA-diva shine.
As a lifelong New Englander, I was blown away that the resort offered an ocean-centric activity I've never experienced—an oyster farm tour. In a private tour of the resort's onsite oyster bed farm, I waded in ankle-deep water, learning about oysters' habitats and ability to filter ocean water. Who knew they were tasty little environmental warriors?
For more information about Ocean Edge Resort & Golf Club, visit oceanedge.com