Drew McConnell is Director of Brand Marketing for Barcelona Wine Bar and co-creator of Conserva.com, a lifestyle and entertaining website. He describes conserva as a "pantry-awakening of craft and quality," and he and his business partner Gretchen Thomas walked me through their expertise in recreating the convivial meal experience one finds at a bar or restaurant. With your shelves stocked with savory nibbles of tinned treats, there is a "sense of ease and wonderment in your pantry." This naturally lends itself to entertaining: their website spills over with images of decadent tins of smoked king salmon, charred sardines, and all the accompaniments. Yuzu marmalade? Yes, please.
TASTY BITES
But for Drew and Gretchen, it's so much more. It's the culture, the communal nature of sharing food—a table bustling with bites of extraordinarily persevered foods, hot sauce, raw honey, and the finest wines. In her role overseeing the wine and beverage programs at Barcelona Wine Bar's eighteen locations (where she is also VP of Creative, working alongside Drew, Director of Brand Marketing), Gretchen has traveled to Spain over forty times in the past 15 years. In these travels, and through collaboration with Drew, they have infused their combined food and wine passions into their conserva culture-based website, where they showcase sauces and olive oils, as well as tableware, recipes, art, and inspiration
Because I adore emerging food finds, Drew and Gretchen introduced me to a few canneries in North America—Scout and Wildfish Cannery—that are taking the conserva world by storm. They put me into the learned hands of Matt Caputo. Matt is a food educator, CEO of Caputo's Market & Deli, and the founder of A Priori Specialty Foods, a distribution company with a strong focus on conserva
"I've always found the best way to spread appreciation is through education. That is why we teach classes on the subject. When people are told the history, hear the stories, and learn that there are so many facets you can get geeky about, they listen intently," Matt explained. "In every category I sell from cheese, charcuterie to craft chocolate, more connoisseurship goes hand in hand with more sustainability. Take the chocolate industry, for example. There is a ton of work left to do. But, in two decades, connoisseurs asking tough questions has shed light on some terrible practices, and the whole industry is scrambling to clean up their act."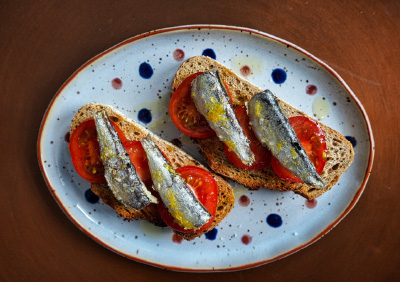 EVERYDAY CONSERVA
Entertaining aside, stocking your pantry with conserva is the recipe for meals from rustic to elegant. Tinned seafood—such as Scout's Trout with Dill in Olive Oil—is bursting with protein and perfect for hiking, hunting, or any outdoor activities. If you're curating a picnic menu, conserva is an easy, elegant answer. And from breakfast to dinner, gourmet meals are at-the-ready—from eggs benedict with lobster to ethereal pasta dishes.
Connoisseur favorites? Of the many recipes on Conserva's website, Gretchen offers quick Tomatoes, Clams & Garlic Naan with Lime Yogurt Sauce. Matt Caputo swears by Razor Clams with Hot Sauce (Espinaler is his favorite) on Potato Chips for easy snacks. For my money, nothing beats White Tuna Belly Fillets prepared as a tuna melt
As a self-diagnosed picnic addict and seafood lover—I'm hooked. A newly curated collection of luxurious tinned nibbles stands at the ready in my pantry. Won't you join me?
For more information on Conserva, visit conservaculture.com Other websites to visit: caputos.com; enjoyscout.com; and wildfishcannery.com