TREASURED ISLANDS
Your Guide To Tropical Bliss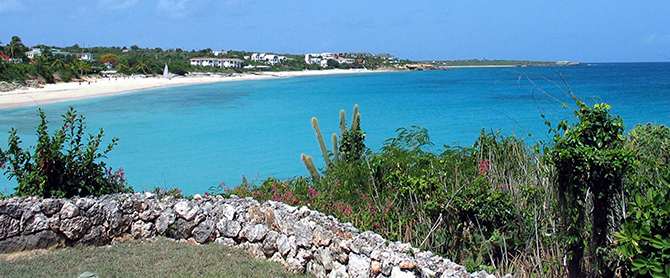 By Patricia Canole
Some who choose an island getaway can't do without a casino or a nightclub; others come to climb mountains, plumb the deeps, or simply hang out in hammocks. The marvel is that anything is possible. And while it may seem as though one island offers much the same experience as another, that couldn't be farther from the truth. Each island has its own magical identity. The challenge is to pinpoint the island and resort that matches your needs. Here, some places to discover and what we believe some of the best resorts to stay.
ANGUILLA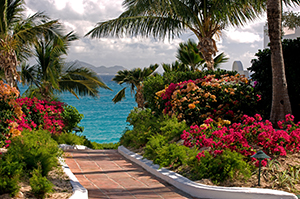 Small enough to feel intimate, Anguilla packs a punch with endless stretches of beach. Only 35 miles long, it offers quiet and long, languid, pampered days and nights. Most sights on the island are of the natural variety. There's exceptional scuba diving among the reefs, as well as windsurfing, sailing, and snorkeling. Be sure to hop a ferry that will leave you on the French side of St. Martin, where couples can explore the many duty-free shops and relax at a fine restaurant before heading back to your Anguillan hideaway. Info: ivisitanguilla.com.
BEST STAYS
Belmond Cap Juluca If the state of being wonderfully spoiled had a capital, it would be called Cap Juluca. Don't believe us? Simply enter your private pool villa overlooking ocean views and be mesmerized by the show-stopping sunsets. The resort is a striking display of white Moorish-style architecture fronting one of the Caribbean's most beautiful beaches. Come evening, reserve a table steps from the soothing sound of waves at Pimm's, set on a promontory that juts into the sea. When it's time for sightseeing, hire a taxi for a tour of the island's art galleries or simply hit the friendly beach bars serving up colorful libations. Info: belmond.com.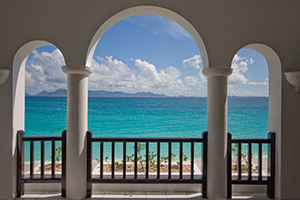 The Quintessence Hotel Meet the newest hotel on the island—The Quintessence Hotel, one of three Relais & Chateaux properties in the Caribbean. It's more than a hotel, though. Check-in and the staff makes you feel as if you're visiting a rich friend for the weekend. The estate has just nine villas and suites and the necessary staff to care to your every need. There's plenty of peace by the pool, and if you head down to the ocean, you'll likely be the first making footprints at the private beach that day. The mansion also features priceless art and furnishings. Dine at the five-star restaurant, tour the wine cellar, indulge in custom spa treatments, and relax! Tranquility and wellness are the focus here. Info: qhotelanguilla.com.
---
ARUBA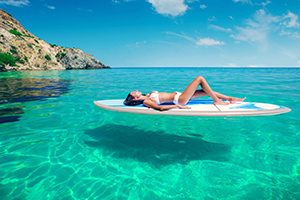 One of the ABC islands—Bonaire and Curaçao are the others—Aruba is a delightful mix that reflects the numerous cultures that have influenced it over the centuries. Unlike other Caribbean islands, this island is not all green and lush. Instead, it is arid and almost desert-like with lots of cacti and divi-divi trees bending in the wind. Just 15 miles north of Venezuela, this tiny island's northwestern coast is where you'll find choice locations for a retreat. Soft sand beaches and secluded coves complete this inviting picture. Be sure to plan an island tour to see the fantastic Ayo Rock Formations and picnic in privacy at Andicuri Beach near the Natural Bridge. And don't forget to spend a day shopping in Oranjestad, the capital, for excellent duty-free buys from around the world. Info: aruba.com.
BEST STAYS
Hilton Aruba Caribbean Resort & Casino Check-in and make a quick dash to one of the resort's beachfront pools. You'll feel exhilarated, with famed Palm Beach stretching before your eyes. Of course, if you'd rather enjoy the briny blue without getting wet, take a submarine ride to the ocean floor, or practice your swing on a desert golf course overlooking the waves. The top-notch concierge staff at this resort makes fulfilling your every wish a breeze. Then tempt fortune in the glittering casino (first-timers beware of those slot machines!). Unwind in a whirlpool under sheltering palms, or settle on your private terrace, perfect for watching boats glide by. Info: hilton.com.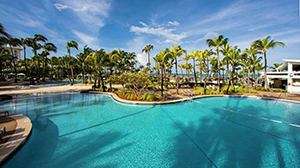 Amsterdam Manor Beach Just a short stroll from the gleaming white sands of Eagle Beach, this favorite offers a relaxed boutique hotel with a stylish European air, but with all the services expected in a leading resort. You'll love that it is housed in a building of warm yellow walls, courtyards, and a red terracotta-tiled roof. Rooms and suites come with stylish furnishings with tropical color schemes. The all-inclusive option provides perks including an invitation to the manager's cocktail party, and unlimited use of floats, snorkels, and mountain bikes. Info: amsterdammanor.com.
---
BEQUIA, THE GRENADINES
Hilly, green and beautiful golden-sand beaches, Bequia (meaning "island of the cloud") is just 9 miles south of St. Vincent's southwestern shore; it's the largest of the Grenadines. Although boatbuilding and fishing have been the predominant industries here, sailing has now become synonymous with Bequia. Admiralty Bay is the main anchorage for both privately-owned and chartered yachts. Near the ferry dock at Port Elizabeth, you'll find restaurants, and shops brimming with handmade souvenirs—including the sought-after model sailboats that are a famous Bequia export. Come spring, be sure to join in The Easter Regatta, held during the holiday weekend when revelers gather to watch boat races and celebrate the island's maritime traditions with food, music, dancing, and competitive games.
BEST STAYS
The Liming Bequia The philosophy behind The Liming embodies the local approach to Caribbean life—the art of doing nothing. Guests can choose from an array of spacious and modern one- to five-bedroom Villas and Junior Suite. The Gingerlilly Mansion is a five-suite bedroom house that sits majestically on the ridgeline above The Liming. With a plunge pool on one end and a freshwater swimming pool on the other, The Gingerlilly Mansion is perfect for friends and families vacationing together with its large dining room and five well-appointed bedrooms with ocean views and more. The one- and two-bedroom Villas feature private infinity pools. For travelers looking for the ultimate privacy, the exclusive one-bedroom Junior Suite has its private terrace, which enhances the suite's airy, open-plan setting. Be sure to take a break from all this luxury and head to The Liming Restaurant, which offers a fresh island menu of seafood, fruits, and vegetables. The restaurant can also arrange meals, including a BBQ for hotel guests in the privacy of their villas or suite. Also available is an exceptional wine list with a hand-picked selection of fine wines from around the world.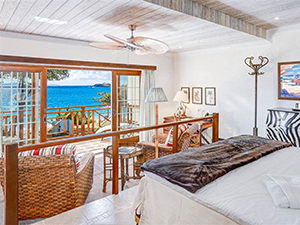 Bequia Beach Hotel
The resort also provides spa services that can be arranged in the villa/suite. Massage treatments include aromatherapy, hot stone, Swedish, and deep tissue. Info: thelimingbequia.com.
Bequia Beach Hotel Located on Friendship Bay, this boutique property is an excellent choice for a relaxing beach getaway or family vacation. The hotel has 14 luxury beachfront suites—all near the main pool. Large family suites can accommodate four. The Penthouse Suite features a Jacuzzi with the ultimate sea view set back on the hillside. All rooms have unique décor reminiscent of the 1930s-style vibe (antique travel posters, leather trunks, four-poster beds) complete the picture. Nearby, six gingerbread-style, cottages, offer either one or two bedrooms; three have a kitchenette and private plunge pool. The four-bedroom Presidential Villa has a private infinity pool. The Blue Tropic Restaurant, open in the high season, features Italian cuisine in a cozy, romantic setting; there's also a casual beach bar. Info: bequiabeach.com.
---
DOMINICAN REPUBLIC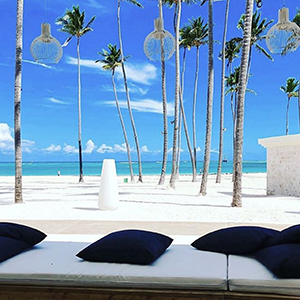 Paradisus Palma Real Golf & Spa Resort
It's the Caribbean's best-kept secret: a haven for lazing days away on beautiful beaches with warm turquoise waters lined with coconut palms. At night, it's fast-paced with a beat all its own and sizzling merengue dancing beneath the stars. Beach lovers, golfers (there are more than 25 courses), and water sports aficionados love to visit the DR. Spend your time at the Seaquarium and swim with the dolphins in Punta Cana. And by all means, try the potent local rum concoctions. Info: godominicanrepublic.com.
BEST STAYS
Casa de Campo Undoubtedly, it's the most luxurious resort on the island—if not the entire Caribbean. Featuring three world-renowned golf courses, Casa de Campo is a golfer's dream destination. Of course, there's plenty to do for non-golfers: There's the beach, the spa, the pools, the shops, the marina, and don't forget the equestrian center. The sanctuary-like spa offers therapies using natural products made on-site. All rooms come with a golf cart, making travel throughout the resort a snap (though after indulging at a few of the property's many restaurants, you may just choose to walk). Info: casadecampo.com.do.
Paradisus Palma Real Golf & Spa Resort Guests continue to return to this Bávaro Beach all-inclusive, praising the ample activities, and delectable food. The Punta Cana resort's restaurants offer a range of cuisines including Mediterranean, Asian, French, and Spanish. Additionally, guests have access to a slew of property amenities such as a fitness center, pools (including one for kids), a spa, tennis courts and a game room. Plus, room rates cover evening entertainment and green fees at a nearby course. All accommodations feature twin or king-sized beds, hydro-massage tubs, private terraces or balconies, stocked minibars and flat-screen TVs. Info: melia.com.
---
GRENADA
This island is bound to add a little spice to your life. Nicknamed the Spice Island, Grenada is picture-postcard perfect with close to 50 white-sand beaches on this island. The varying terrain of high mountain ranges, velvety tropical forests and waterfalls offers no end to memorable outdoor excursions. Be sure to visit Grand Etang National Park, which provides some of the best hiking possibilities in the Caribbean. Before leaving this hideaway, you'll want to visit the island's sister isles, diminutive Petit Martinique and Carriacou for a fun-filled day. Info: puregrenada.com.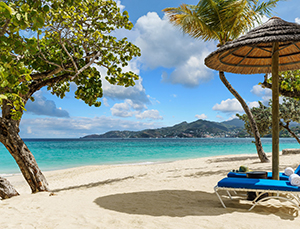 Spice Island Beach Resort
BEST STAYS
Book a stay at the luxurious Spice Island Beach Resort located on Grand Anse Beach. Luxurious suites include garden suites with terraces that spill out onto the sand while swaying hammocks offer relaxation. The pool suites boast outdoor patios with a pool. Why not enjoy breakfast as you watch hummingbirds dart from blossom to blossom. The all-inclusive rate includes breakfast, lunch, dinner, premium drinks, and afternoon tea. Guests can play tennis, take a bike ride, relax and nap under a beach umbrella, or go snorkeling and kayaking. Janissa's Spa features specialties such as hot-stone massages, chocolate wraps—Grenada is famous for its chocolate—and bamboo massages. Each massage room has its own shower. There's also a fitness center and musical entertainment in the evenings. The elegant restaurant, Oliver's, serves an eclectic dinner menu that includes dishes such as pan-seared grouper with tomato confit and spice-rubbed duck leg with roasted pumpkin. Info: spiceeislandbeachresort.com.
Mount Cinnamon Resort This boutique hotel mixes the best of old Grenada (historic plantations) and new (modern) amenities. The one-bedroom suites and villas are nestled among gardens and feature bursts of tropical colors in the sitting areas, as well as modern kitchens. In contrast, the colonial-style buildings boast red-tile roofs that add historic charm—which is also evident at the popular Savvy's restaurant. This lively spot is a destination not only for guests, but locals thanks to its traditional West Indian menu (local seafood and banana bread crumble are some of the specialties). Outdoor activities include a swimming pool, tennis court, beach volleyball, daily yoga sessions, and non-motorized water sports. But if you simply want to hang out on the beach—that's OK too. Info: mountcinnamongrenadahotel.com.
---
JAMAICA
One of the largest Caribbean islands, Jamaica has misty, purple-emerald Blue Mountains, powdery beaches, and royal blue waters. The hills dazzle with brilliant flowers, cascading waterfalls, and trees full of exotic birds and delicious fruit. Jamaicans have a word for feeling happy and alive—irie—and that's the way you'll feel. Here, you'll find every kind of recreation from water sports, horseback riding, golf and tennis to mountain climbing, river rafting, and canoeing. Info: visitjamaica.com.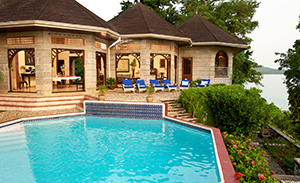 Bluefields Bay Villas
BEST STAYS
Bluefields Bay Villas This collection of six villas on Jamaica's unspoiled south coast epitomizes luxury coupled with the island's natural beauty. Local attractions including YS Falls and Black River boating tours can be arranged. There's also snorkeling, deep-sea fishing, and kayaking available. The trained chefs work with local fishermen and farmers to showcase West Indian cuisine at its best. The popular Hermitage Villa has a particularly grandiose aesthetic that makes you feel close to the outdoors: Natural Jamaican stone, mahogany, and cedar were used in the three-bedroom villa's traditional design. The house was designed to maximize the sea breezes. A simply relaxing setting: Soak up the rays on the perched pool deck or head to the private stretch of waterfront for a swim. Info: bluefieldsvillas.com.
Royalton White Sands This all-inclusive resort in Montego Bay is for families looking to kick back in the sun with plenty of on-site amenities. Parents can relax knowing their kids are supervised at the on-site clubs. Or, families can spend time together enjoying the water park, beach volleyball court, and more. For adults, the resort offers fitness instruction, cooking classes, scuba lessons, and entertainment held in an open-air theater. All rooms and suites offer modern amenities and private balconies or terraces. When dinnertime rolls around, choose to grab drinks or a meal at one of the resort's five bars, nine restaurants, and two grab-and-go eateries. Info: royaltonresorts.com.
---
ST. LUCIA
Biking, hiking, mountain climbing, horseback riding, nature watching--you name it and St. Lucia's got it. Hiking is a favorite. Trek through the luxuriant rainforest, keeping an eye peeled for orioles, black finches, and rare St. Lucian parrots. Gaze out on the sea as majestic frigate birds soar overhead. Look down to spot wild mushrooms, and up to admire bromeliads and orchids clinging to trees. Inhale the scent of jasmine. Wherever you go the twin Piton Mountains dominate your view, a delightful reminder that the best-loved celebrity on St. Lucia is Mother Nature. Info: st.lucia.org.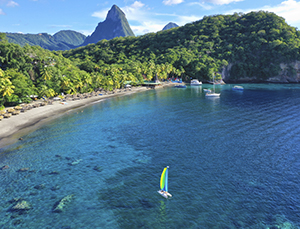 Anse Chastanet
BEST STAYS
Anse Chastanet Here's a hideaway that overlooks both the tranquil waters of the Caribbean and the vibrant green peaks of the twin Pitons. But more important than the view is the way you take it in, without even a window frame to obscure the scene. Once you've spent some time enjoying the breeze and listening to birdsong, answer the call of the wild. You can cruise on a mountain bike along 12 miles of jungle trails, take a leisurely hike to the island's famous walk-in volcano, soak in the mineral baths near Soufriere, and snorkel slowly along coral reefs so shallow; you won't miss a single fish. Info: ansechastanet.com.
East Winds Inn Occupying 12 acres along St. Lucia's La Brelotte Beach, the inn provides a relaxing oasis for those looking for a low-key yet luxurious escape. All rooms features a private, shaded terrace or patio and all the amenities you could wish for. And because the inn comprises only 30 rooms, staff can happily provide individualized service to guests. Within steps to the sandy shore, visitors can snorkel, kayak or sail; the all-inclusive room rates cover equipment rentals for all water sports. Or, perhaps take a dip in the outdoor pool or sip a cocktail at the swim-up pool bar. Once the sun sets, try Caribbean and internationally-inspired meals at the resort's on-site restaurant. Info: eastwinds.com.