LOOKING GOOD WHILE ON THE GO
By Gerrie Summers
It's vacation time! We've got on-the-go beauty items that are easy-to-pack and will keep you looking good on the road, in the air, and at your final destination.
LAVIDO
Age Away Starter Kit
Hours playing in the sun, in the ocean and the pool, can wreck-havoc on your facial skin. Lavido's Age Away Starter Kit contains two of the company's best-selling products—Replenishing Facial Serum that contains organic pomegranate seed oil, distilled lemon myrtle and cold-pressed mandarin oil to plump the skin, restore hydration and help skin retain moisture, while also helping to improve skin's firmness and elasticity. Age Away Hydrating Cream nourishes the skin, reducing the appearance of fine lines and wrinkles with organic evening primrose oil, attar of roses and other essential oils and natural ingredients. Info: lavido.com.
---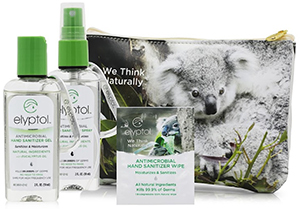 ELYPTOL
Frequent Traveler's Kit
If you're frequently on planes, trains, buses, on hikes or at destinations where soap and water might be a bit scarce, this is the kit for you. Elyptol's sanitizer products are formulated for frequent use with natural botanicals and eucalyptus essential oils—ingredients that are less likely to cause allergic reactions, contact dermatitis or cracked, chapped or dry hands that are often caused by harsh ingredients in conventional sanitizers. The Frequent Traveler's Kit comes with 2 oz. anti-microbial hand sanitizer spray, 2 oz. Antimicrobial Hand Sanitizer Gel, 1 antimicrobial wipe, and 2 carabiners so that you can clip your spray or gel onto a backpack, key chain and other items when you're on the go. Info: elyptol.com.
---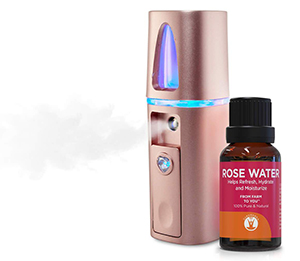 GURUNANDA
Misti Ultrasonic Personal Diffuser
The Misti Personal Diffuser is a perfect item for the frequent traveler—small enough to fit in your purse, pocket, carry-on or backpack. With just a spritz, you can moisturize your face during long flights or in dry climates. The Misti uses silent, ultrasonic waves that convert rosewater into a fine mist. The diffuser comes with a bottle of rosewater, which hydrates, moisturizes and also has de-stressing properties to enhance your mood or induce relaxation after an active day. Info: gurunanda.com.
---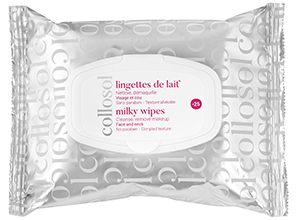 COLLOSOL
Lingettes de Lait (Milky Wipes)
Collosol Eau de Lait has been a favorite cleanser of makeup artists. Now to make life easier for us all, the new Collosol cleansing wipes are infused with Eau de Lait to gently remove makeup or just refresh the skin. With a soft scent of flowers and citrus fruit, it removes impurities and excess sebum, leaving skin feeling soft and smooth. By the way, Collosol Eau de Lait is also available in TSA-approved size. Info: collosol.com.
---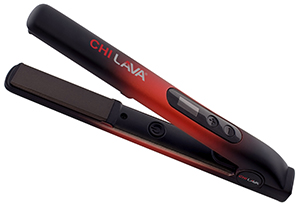 CHI
Lava Travel Flat Iron
While you'll probably find a hair dryer in your hotel room, the likelihood of finding a styling tool like a flat iron, is slim. CHI now offers a travel flat iron with its volcanic lava ceramic technology which uses a heat-conducting material that gives your hair sleek results, without the drying effects of high-heat styling. The flat iron is lightweight and a compact size that is convenient to bring along in your suitcase or carry-on, so you can get salon-quality styles on-the-go. Info: chi.com.
---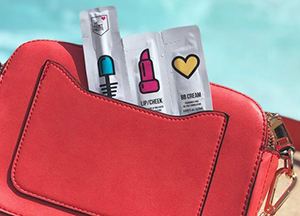 THE POCKET PALETTE
This tiny makeup palette works well in an emergency, when you've forgotten your makeup, are in a hurry, or don't have space for your makeup kit. It's small enough to fit inside a purse, gym bag, backpack or travel bag. Each packet contains mascara (with wand) that is gentle enough for sensitive eyes; dual use lip/cheek color; a choice of BB Cream, as well as Foundation. Info: thepocketpalette.myshopify.com.
---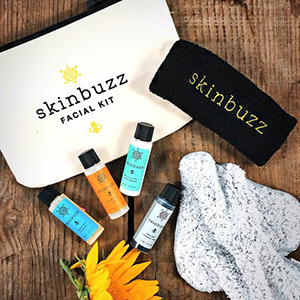 SKINBUZZ
The Facial Kit
This kit is perfect, especially if you're traveling by plane. The Skinbuzz facial kit comes with mini bottles of Clean-Bee Cleanser, Bee-Witched Toner, Bee-You-Tiful Moisturizer and Coal-Bee Charcoal Mask. In case you didn't catch the theme, ingredients include propolis (bee resin), a natural antiseptic and anti-inflammatory substance used by honeybees to strengthen their hives and is used in the cleanser and toner to soothe and heal skin. The moisturizer contains beeswax, with its anti-bacterial properties, along with jojoba and grapeseed oils to nourish the skin without clogging the pores. The mask has activated charcoal and bentonite clay to gently purify and exfoliate skin, leaving it with a healthy glow. The kit also includes a super-soft Bamboo Face Cloth, so you can avoid using the oft-times irritating hotel face towels. Plus there's a headband to keep your hair back while cleansing, and a little cloth Facial Kit Bag to carry and store the items. Info: skinbuzz.com.
---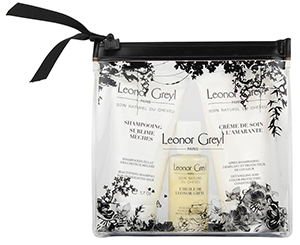 LEONOR GREYL PARIS
Luxury Travel Kit
You'll appreciate this Luxury Travel Kit after frequent trips to the beach and pool. The kit contains Huile de Leonor Greyl (1 oz.), a pre-shampoo treatment with botanical oils that have hydrating and nourishing properties as well as natural UVA/B sun protection filters to protect hair from the damaging effects of sea water and chlorine; Shampooing Sublime Meche, a shampoo for highlighted hair to protect and maintain highlights and increase shine; and Creme de Soin a l'Amaranthe, a conditioner for colored or highlighted hair, with ingredients that protect color from frequent shampooing and UV rays. Info: leonorgreyl-usa.com.
---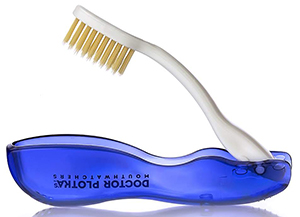 DOCTOR PLOTKA'S MOUTHWATCHERS
Travel Toothbrush
Dr. Plotka's Manual Toothbrush in travel size is foldable and easy to store. It has antimicrobial dual layer flossing bristles—long, soft bristles reach deep in-between teeth, deep grooves and areas between the tooth and gums, while the harder, shorter inner bristles clean outer surfaces and massage the gums. The bristles are embedded with food grade silver to eliminate 99.9 percent of bacteria growth for up to six hours after brushing and are made with soft polyester that the company states lasts longer than traditional nylon bristles of most brushes. Info: mouthwatchers.com.