TIME OUT WITH…
IESTYN DAVIES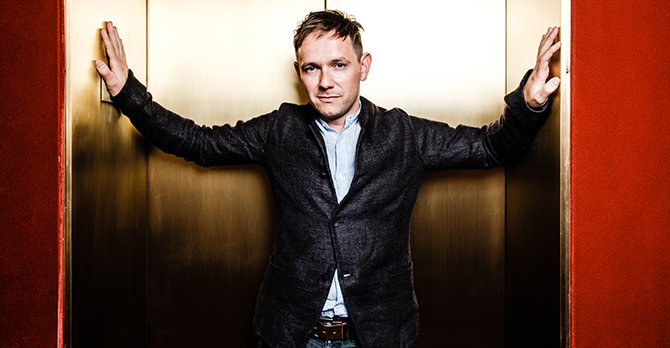 ©Chris Sorensen
By Bailey Beckett
Since his Broadway debut in 2017 as the singing voice of Farinelli in Mark Rylance's acclaimed production Farinelli And The King, countertenor Iestyn Davies has been labeled a breakout star. The New York Times called him sublime and blissful all at once, one among many fawning reviews that helped the play achieve sold out shows through much of its run. But the truth is Davies has been a star on the stage for many years, hailed as one of the opera world's most precious, angelic voices. The performer sat down with us to talk about his career, performances and his alternating views of New York City.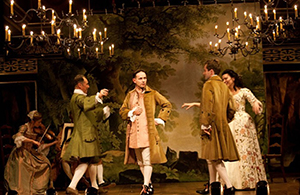 Farinelli And The King
Having performed on Broadway as well as the Metropolitan Opera, what do you like most about New York City?
What I love about New York is also everything I don't like about it, if that makes sense. There is so much food, choice, energy but it's an inward-looking city that is self-consuming. Definitely a two-sided coin of a place. But it feels like a place of optimism. Right down to the less fortunate—there is an optimism and resilience. It's unpleasant at times but you feel anybody can make it good here if they want to and if luck is on their side.
What was performing on Broadway like after years in opera houses?
The actual number of shows, and demands this made on me as a singer, was like running a marathon, and I can't think of a better way to compare it to singing in an opera. I've performed in an opera at Glyndebourne Festival Opera to the tune of 13 performances, which is considered a heavy load, and that was spread over five weeks! On Broadway, I took part in six per week for four months. I think I sang over 100 shows. The audience is very different, too. In pure terms, they are a theater and accustomed to plays and musicals.
But looking back now, I think that was a small success of that play; it crossed over to people who would otherwise have never committed to an opera, and reminded me that essentially what I do is sing music with a story or an emotional message. In its simplest terms, I performed songs, and that is the same raw musical structure that anybody can identify with and understand. The other weird and wonderful thing about performing in a Broadway show is that your company of actors and musicians is all consumed by the day-to-day, week to week, month to month habitation of one single space. The community of coworkers such as backstage, box office and front of house people becomes your support network and family. It's a great and rewarding feeling, which contrasts enormously with the life in an opera house, where the singer or performer often feels like a house guest, constantly asking where the bathrooms are and how to get to the stage door to leave!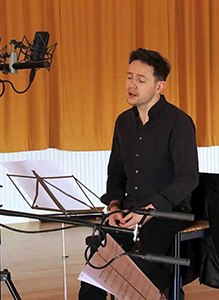 How do you maintain your voice after performing six nights a week for 4 months?
In addition to the health routine I developed, I worked very hard at not trying to produce something magical all of a sudden, which you can do when you've had days of rest between operas or concerts. Instead, I had to be very monk-like and follow an almost religious path of ablutions, vocally speaking. I kept my warming up routine to the minimum necessary for the show and tried not to sing anything until each afternoon to give myself recovery time after performances.
Like athletes, when we use our vocal muscles, at least half of the preparation for a future performance is in the recovery from the previous one. Without recovery, you are singing on tired vocal cords. Inevitably, after weeks of day-to-day performing, the chords and vocal muscles accumulate tiredness, but the pay-off is that they also acquire a resilience.
What is your favorite opera to perform?
It's a difficult thing to nominate a favorite opera to perform because there is the music and then there is the dramatic side of things, which can often be deadened for you by a limp production. But I've had enjoyable times performing Britten's A Midsummer Night's Dream as the character Oberon, a role written specifically for a countertenor which holds a special place in the canon for all countertenors. My most memorable experiences performing in operas have been when the cast gels and the whole is greater than the sum of its parts,
Where do you get your confidence to perform on stage?
The older I get, the more often nerves surprise me in a way they never used to. In the Tom Volf documentary Maria by Callas the legendary opera singer said that when you are young you do things that are instinctive, and when you grow older that ebbs away. I suppose, in going through life, we learn from experiences which goes hand in hand with making us more aware as human beings, more able to predict circumstances ahead.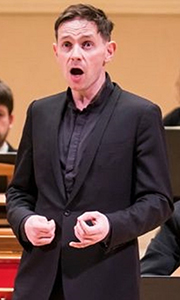 When did you discover you had your voice/talent?
Twice in my life my voice was discovered. The first time was really all down to nurture. My parents sent me to be a chorister in the Choir of St John's College, Cambridge where we sang the daily service of Evensong for the eight weeks of University term. By the time I was 13, I had learned to sing in a way that worked well, and I was able to be expressive. Once my voice broke, I lost that vehicle for musical and emotional expression, so then it was a discovery that had to find my countertenor voice. I didn't plan to be a countertenor; I just flipped my voice into falsetto one very boring afternoon in a school chamber choir. The person next to me thought my falsetto range sounded good, and I took him at his word and explored it. Looking back, I remember it feeling like another door had been opened.
What advice do you give to young singers who are just beginning?
My piece of advice is twofold. First, singers are by their very nature unique. It's important to remember that without feeling egotistical about how it might sound. No matter how much training and guidance you have that falls in line with your colleagues, your very DNA and hence physical make up will dictate a sound to your voice independently recognizable to that of anybody else. After that there is a whole host of other factors that will complicate life and you can't always be in control of these. But, remembering you are you and not in competition with anybody but yourself is a good starting point.
Secondly, but possibly more importantly, have a sense of humor. It's always a good piece of advice, as there is no joy to a singer's performance who appears to be weighed down with the duress of the act of making music. A colleague of mine rather glibly said in the end it's just dressing up and singing songs in a room.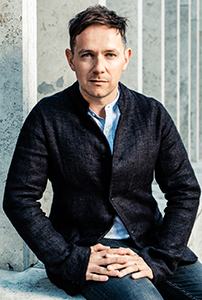 ©Chris Sorensen
How do you relax?
I enjoy cooking and good wine, and I'm obsessed with good coffee—making it properly and drinking it. I studied archaeology at University, so I have a penchant for antiquities, and in particular historic architecture. I'm a supporter of Liverpool FC so that takes up the odd afternoon in front of the television (don't get me started on how difficult it is to actually get a ticket to a game—it's much more elitist than opera!). I'm also constantly on the brink of getting a dog. I think the one thing in the entire world that takes me from stress level 100 to chill level 0 is the presence of a dog in a room…they are disarmingly magical in that sense. Labrador, please.
Lastly, tell us your life motto?
I suppose I always do try and look on the bright side of everything. It's never worth getting angry about something (maybe for a short while) but better to push that aside. I know people think the English bottle things up, but time is a great healer and if you do put something under the carpet you'll often find the payoff is many more days of joy compared with a few days pushing the vacuum reluctantly under the carpet.
For more information on Iestyn Davies and his upcoming concerts/recitals/operas, visit iestyndavies.com.