TIME OUT WITH…
SASHA SIEM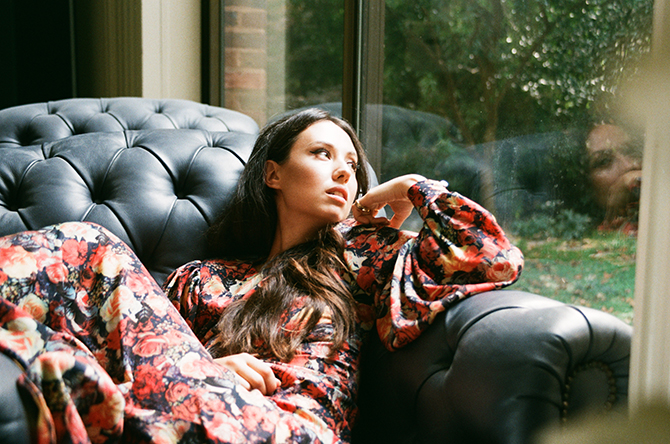 By Bailey Beckett
She's been compared to Bjork, Fiona Apple and Joanna Newsom all at once, but her voice is truly unique. Sasha Siem, a London based artist who previously called Brooklyn her home, combines pop and alternative with a Nordic twist, infusing her new single "Flower Flower" with a propulsive tempo, hypnotic arrangements and atmospheric ambiance. The song and video, which can be seen on YouTube https://www.youtube.com/watch?v=mpz_j8_j810 were recorded in Siem's Brooklyn home studio with the video directed by her sister Sophie Siem. Anticipating her new album, Holy, coming out in March, the artist sat down with New York Lifestyles to discuss the new twist in her burgeoning career.
Q: How would you describe your first single, "Flower Flower."
Sasha: It's a sexy song that is uplifting and celebratory. I like to think of it as devotional song to a beloved … pure, sensual and glorious. It's command from the flower to flower but also an abundance to the flower, and also the correspondence with being in the flow and flowering. I want the listener to savor, relish and delight in life: allow it to flow through you and dance in synch with its rhythm. No pushing, forcing or racing to the destination. Enjoy the process, make love with each breath and the sensuality of pure and being alive.
Q: What do you wish people take away from this song?
Sasha: Hope … inspiration … feeling uplifted. To never give up on your dreams.
Q: You lived in Brooklyn for several years with your family. What did you like best about your time in New York?
Sasha: Giving birth to my son.
Q: Why did you move to NY?
Sasha: I first moved into a little apartment on the Lower East Side shortly after I finished my PhD in Boston; I was attracted by the mess and the chaos and the creativity. It was a wild and wonderful time. I wanted to explore, to have an adventure, to be free of everything that was holding me back, to initiate a new life.
Q: What were your favorite things to do in New York?
Sasha: I loved travelling by Ferry up and down from Brooklyn to 34th street. A great joy for me in NY was constantly discovering new creations on every street corner - high vibrational exercise classes, sound baths, vegan cafes, non-toxic beauty salons and music exhibitions.
Q: What influence did it have on your song/ album?
Sasha: It coincided with a move from writing classical music to rediscovering my love of song and embracing my inner, adventurous alt-pop.
Q: How hard was it to leave and go back to your native London?
Sasha: I was devastated and sure I would miss so much about it; As it happens I haven't looked back but NY always holds as a home for me.
Q: How does NY differ from London?
Sasha: New York is dynamic and fast paced and there is a go-getter attitude there - yes it can be hard at times - but if you truly believe in your dream and are prepared to stick it out, anything is possible. London is more like suburbia in comparison; I find the life I have in London cozy and peaceful in a way while the vitality and buzz of New York always reside within me here too.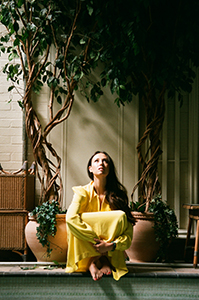 Q: What is your inspiration when you perform and write?
Sasha: My vision for a healed world. There is such mess around us, and I'm not OK with letting it be or accepting it. We have to change the world by changing ourselves. So, my songs start with my experience – fear, anger, challenges. By entering deep into my darkness and transmitting it through song and sound, I hope that it can be mirrored in the macrocosm. I wish my songs will inspire people to hope, feel supported in their desire to make a difference and remember that we really can with every action, thought and word. I really believe that together we can manifest a world that is harmonious and loving and respectful.
Q: What first inspired you to go into music?
Sasha: I remember wanting to be a doctor and a baker, but really one of the first memories I have of "wanting to be something when I grew up" was of being a songwriter. I went about it in earnest from the age of 11. My first song was a setting of Maya Angelou's "A Caged Bird Sings." My younger brother, Charlie, started playing the violin when he was a 2-year-old. So, I was curious and followed suit exploring music, specifically the piano, from the age of five and loved the way music made me feel. Nothing was as nourishing or as transcendent for me as spending hours creating sound at the piano. It was a life saver for me as an introverted and super-sensitive teenager.