PORTLAND & MT. HOOD
A Weekend To Remember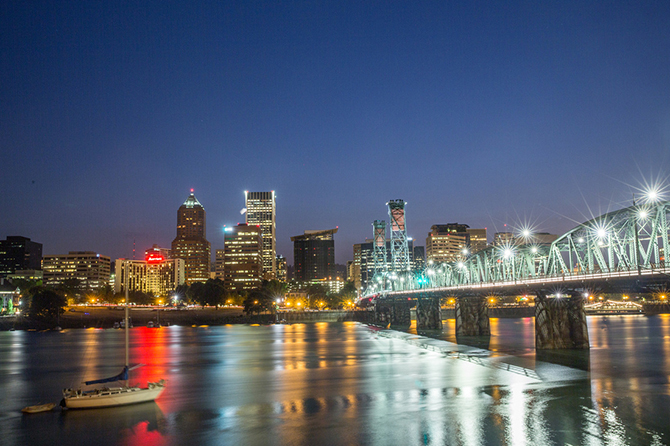 By Clint Brownfield
PDX, City of Roses, Stumptown—no matter what you call it, Portland, OR, should be on your bucket list. It's a year-round destination where the temps rarely dip below the freezing mark and where you'll encounter some of the nicest people in the world.
I'd never been to Portland, but that was remedied quickly one recent weekend, where I virtually ate my way through the city—with a few sips of excellent Oregon wines along the way. The region's pinot noirs can hold their own with any in the world.
The city dates back to the 1840s when Asa Lovejoy from Boston and Francis Pettygrove from Portland, ME, tossed a coin to name the new city. Pettygrove won the toss, and that's how Portland got its name. East met west! Today, there are about 650,000 contented people who call Portland home.
A GREEN CITY
When in any city for the first time I'm a big fan of always including a tour. And that's just what I did, after an amazing breakfast at Mother's Bistro, which is rated one of the top restaurant bargains in the country. Try the French toast! Fortified, I walked to Pioneer Square, Portland's landmark city center and joined a small group to take a two-hour walking tour of the downtown area (portlandwalkingtours.com). Our excellent guide, a Portland native, pointed out some things that make Portland unique including a solar-powered trash receptacle. When the can gets 20 percent full a compacter kicks in and continues to do so until it's full. Portland is very eco-friendly. Next to that was an electric fueling station where vehicles can recharge. For free!
We walked along tree-lined Park Avenue, home to many of Portland's cultural institutions: the Portland Art Museum, the Oregon Historical Society and performing arts venues. This is a great way to pick and choose what you'd like to delve into more thoroughly during your stay. Then it was time to move on to one of the city's most famous and treasured highpoints—The Portland Japanese Garden (japanesegarden.org), located above the city in Washington Park, which also contains the Oregon Zoo. The garden features a new glass-enclosed restaurant-tea house where visitors can view the tranquil gardens while savoring a pot of tea. I also had a helping of their chicken fried rice to build up strength for the stroll through the incredible gardens.
Next stop: Powell's City of Books, the world's largest independent bookstore where it's virtually impossible not to buy something. I couldn't resist picking up a leather-bound copy of Gulliver's Travels for $5.95. It's on my coffee table now. (Tip: There is no sales tax in Portland. So if you need a new laptop, cell phone or other expensive purchase, apply the savings to the cost of your trip.)
MT. HOOD TERRITORY
No trip to Portland is complete without a visit to Mt. Hood Territory which includes Oregon's highest peak (elevation 11,250 feet) and the surrounding parks and towns offering myriad things to enjoy year round.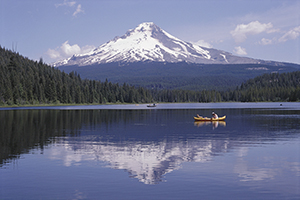 NEW HEIGHTS
While it's easy to scoot around Portland without having a car, you'll need some sort of vehicle to explore Mt. Hood Territory. I rented a Jeep Cherokee equipped with GPS and drove about an hour to check into Miss Scarlett, at the Mt. Hood Tiny House Village (mthoodtinyhouse.com) located in the town of Welches at the base of the mountain. With an area of about 300 square feet, each home features a tiny kitchen, bathroom and TV for a night. In case you don't feel like fixing a meal you can grab a meal or snack next door at the Dragonfly Café & Bakery. The following night I checked into The Resort at the Mountain (mthood-resort.com), also in Welches, where I could spread out in a large, well-appointed room with a fireplace.
On the way up the mountain, which has the longest ski season in North America, do stop in the town of Government Camp and tour the Mt. Hood Cultural Center, which has exhibits, artifacts and art depicting the history of the area. Then, head on up and stay or enjoy a meal at famed Timberline Lodge which was dedicated by FDR in 1937. The exteriors of the lodge were featured in the classic movie thriller The Shining.
Mt. Hood Territory also includes Oregon City, which was the terminus of the Oregon Trail, which allowed pioneers in the 1800s to take founding editor of the New-York Tribune Horace Greeley's advice to Go West! Today, visitors can easily spend a few hours here learning about this era in U.S. history through its exhibits and films at the End of the Oregon Trail Interpretive Center.
Mt. Hood Territory offers excellent food and lodging, spectacular scenery and activities for all ages. Families are most welcome in this fantastic neck of the American woods.
For more information on Mt. Hood Territory, visit mthoodterritory.com.
FOOD LOVERS REJOICE
Dinner that night was at one of Portland's most revered restaurants—Paley's Place Bistro and Bar where, since 1995, James Beard Award-winning Chef Vitaly Paley has been wowing guests in a charming Victorian home in Portland's Nob Hill neighborhood. French and Russian influences infuse his amazing take on Northwestern cuisine. After dinner, a city tram whisked me to the brand new Porter Portland Hotel (curiocollection3.hilton.com) for a restful evening. Located within easy walking distance to Pioneer Square and public transportation, the Porter welcomes guests wanting to relax and explore Portland. The hotel features three dining venues, a spa, fitness center and an indoor pool. Highly recommended!
The next morning I skipped breakfast because I was to meet famed Portland foodie Laura Morgan for one of her extensive tours (thebigfoodie.com) of some of the city's most prominent food and beverage establishments—with plenty of delicious samples along the way. We sipped tea, dined on house-made sausages and cured meats, savored chocolates, tasted locally processed salt and area honey—reaching a slightly high crescendo at New Deal Distillery where we sampled some of the finest spirits you will ever come across.
While in Portland you will frequently see bumper strips and T-shirts worn by locals emblazoned with the motto Keep Portland Weird. The only thing I found weird about Portland is: Why aren't there more cities like Portland in this world?
For more information on Portland, visit travelportland.com.