PAWS DOWN, TAILS UP
STORMY WEATHER CHIC FOR PETS AND PEOPLE TOO!
By Felicia Czochanski & Lori Zelenko
April showers bring… wet paws! There's nothing pet parents want more than to keep their four-legged fur babies out of the rain. From weather-resistant raincoats to booties and umbrellas, these stylish rainy day outfits will keep Fifi or Fido dry and happy when it's raining cats and dogs.
P.S. We know pet parents don't always enjoy getting soaked on a stroll, so we're sharing a look or two we think will make walking the dog a pleasure even in stormy weather.
CITY SLICKERS
We love this colorful wardrobe staple from Django for even the smallest of our furry friends (modeled here by Django himself.) Keep it ready when April showers catch you both by surprise! Info: djangobrand.com.

GREAT ADVENTURE
When Mother Nature's dishing it out, but your dog is still up for a great adventure turn to Orvis for their Houndtex® gear. No wet dirty dog smell to keep pet parents up at night! Wicks away just about everything. Info: orvis.com.

BOOTIE-LICIOUS
Walking in the rain? Don't let your best friend get cold, damp feet! Pawz waterproof dog boots are a colorful, easy way to avoid muddy paw prints in the house. Info: chewy.com.

SURF 'N TURF
Imagine a dog life jacket that doubles as a raincoat! Waterproof for the wet and ready. Works for three seasons so no matter what the weather, here's a coat that does triple duty. Info: kurgo.com.

SHELTER FROM THE STORM
Not every dog loves the rain. So when it comes to protecting a particularly resistant furry friend, this pet umbrella will do the trick. Info: evine.com/Product/468-845.

LONDON CALLING
Ready to accompany any royal, the Westerly Trench by Rover is a classic. City or country, London or New York, here's a true Brit way to keep your pampered pooch dry when the heavens open. Info: thegadgetflow.com/portfolio/westerly-trench-rover/.

SPORTING LIFE
Is your four-legged best buddy quite the athlete? The Hurtta rain blocker was created in Finland we love its sleek Scandinavian style. Sure to keep Fido dry for day trips down the shore or hikes on upstate trails. Info: hurtta.com/global_en/rain-blocker.

DUTCHESS-WORTHY
Kate Middleton wears Le Chameau just for everyday so no need to save these chic and comfortable boots only for wet weather. Practical for being outdoors with the dog but just as good for running errands. Info: lechameau.com.

HIP HOUNDS`
The Barbour Waxed Cotton Coat is designed for the hip hound, in fact we're betting we'll see one on the pup likely to accompany future mega-royal Megan Markle who's a fan of the brand's coats for people. Definitely get one for yourself too! Info: barbour.com.
HELPFUL HINTS FROM THE PET LADY
By Dana Humphrey
Wet and muddy paws not to mention a stinky dog is not a pretty picture. Here, The Pet Lady shares tips on making life with Fido and Fifi a little bit easier—especially on a rainy day.
RAIN, RAIN GO AWAY
• Stubborn pet when it comes to going out in the rain? If pee pads indoors are not an option, be prepared, it may take what feels like all day to get him to go outside.
• Try to desensitize your pup to the rain by spending time outside during light drizzles.
• Remember rewards work wonders when it's time to praise your dog after a soggy outing. Treatibles Hemp Wellness Chews make a terrific treat after a walk in the rain. Info: treatibles.com.
QUICK DRY
• Even with the best raingear out there today, you and your dog will still manage to get wet—especially during a downpour.
• Keeping a storage box full of super-absorbent towels by your entry way is a good way to be ready to dry off the moment you come home. Try the Soggy Doggy Towel, a must for rainy days with your best friend. Info: theegadgetflow.com.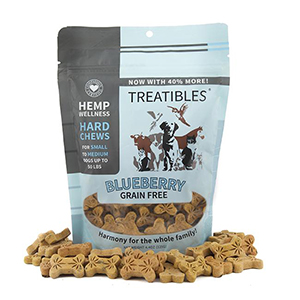 TOYS FOR US
• Rainy days means less outdoor mental and physical stimulation for Fido or Fifi.
• It's a good idea to have a few activities or games prepared to give your dog the play and exercise he or she needs.
• Play tug, hide and seek or find the treat. Stock up on puzzle or treat dispensing toys or try out a new bone.
• Teach your dog a new trick or work on basic training skills while you're cooped up inside.
Conquering the rain with your pooch is possible. With a little mindfulness and preparation, rainy days can be safe, fun, and dry with your four-legged friend by your side!