THE LEVEL COMES TO BROOKLYN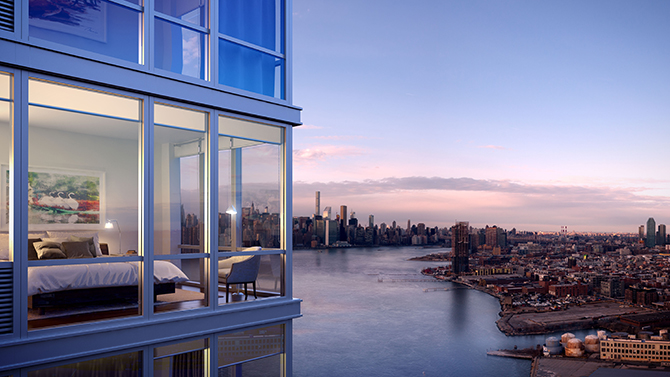 By Daniel J. Bollinger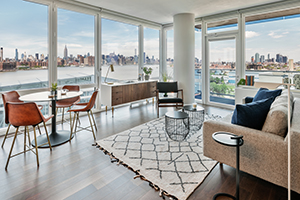 There is a great new product on the market at 2 North 6th Street in Williamsburg, Brooklyn. Called Level, this 554 unit development comprised of studios to 3 bedrooms offers excellent views, great amenities, and competitive pricing. Opened earlier this year, it is located in the heart of Williamsburg three blocks from the Bedford Avenue subway station at North 7th Street and close to all the action that Williamsburg presents and just far away enough from it to enjoy the quiet waterfront.
This new rental development by Douglaston Development is a welcome addition to Williamsburg. The views can't be topped, the apartments are well designed, and the amenities are super. There are high end finishes in all apartments and great design details. Large apartments with open layouts are standard. The floor-to-ceiling windows provide for some of the best views any building in NYC can boast. The double exposures in many corner apartments are fabulous.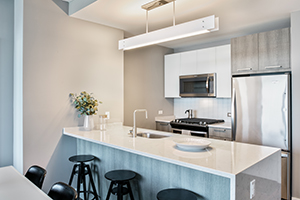 The kitchens have Whirlpool and Blomberg appliances and nice Sile Stone counters and backsplashes. The baths have built-in towel racks and ledges for accessories. There is a huge mirrored medicine cabinet in all baths as well. Two unique design details to call out are: in the medicine cabinet there is a lockbox for pharmaceuticals and in every master bedroom there is a hotel-style safe. The developers have built many hotels in their career, and they added these things that are in their design wheelhouse. Most units come standard with a Bosch washer/dryer package and all one bedrooms and up have great walk-in closets. The three bedroom units are enormous for a rental and some are terraced. These apartments are currently being offered at some great price points, and their amenity package is one of the best.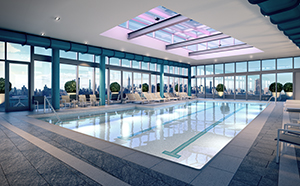 AMENITIES & MORE
Level has a slew of amenities located on the 9th and 41st floors. They have two of the most sought-after amenities in NYC: Pool and Parking. There is 3rd party parking available to all tenants. They offer an all-season pool, two, in fact, encased in a greenhouse-like glass shell. Windows can be opened in the summer months to allow for the breeze and closed in the colder months. Located on the 9th floor, there is also a 14 person hot tub and a steam room. The pool is situated on a corner of the building, so double exposure views abound. There is also a 3,300 square foot gym with outdoor space and even more views. The yoga room takes up a corner spot for more double exposures. The outdoor lounge features an outdoor fireplace, outdoor shower, and plenty of space for seating; the indoor lounge features an open kitchen for classes and demos. Tenants have use of comforts in the lounge with TV's, a billiards table, and a library. There is also a party room available to rent out with a kitchen and terrace. A business center boasts computers for those who work from home. All of this is on the 9th floor. The 41st-floor rooftop lounge is just as great with 360 degree views. All in all, it is one of the finest amenity packages offered by a rental development in NYC.
CLOSE TO THE ACTION
In a significant waterfront location, but still close enough to all the action is what Level is all about. Open layouts, high-end finishes and appliances, and unique design details. And the prices are reasonable for such a central Williamsburg location. This is a great value play for a rental building.
For more information on Level, visit level-bk.com.