READING IS GOOD MEDICINE
By Karen Jacobs, OT, OTR, EdD, CPE, FAOTA
His second-grade class is working on a reading activity, but 8-year-old Seth*, wearing a white dunce cap, sits on a stool in the corner of the room staring at the wall. He's holding back tears. His teacher punished him for refusing to read Dick and Jane. Seth tried to read, but the letters kept moving around in his mind.
Seth didn't know it then, but he has dyslexia. In the early 1960's, the disorder wasn't well identified, and the New York public school he attended didn't offer the special education services that help students thrive today. Seth is my cousin, and his experiences are part of what motivated me to become an occupational therapist 38 years ago.
OT & QUALITY OF LIFE
Occupational therapy is a 100-year-old health profession that helps all people to maximize their health, well-being, and quality of life through effective solutions that support participation in everyday activities, or occupations (AOTA, 2016). More than 213,000 occupational therapy practitioners in the U.S. focus on teaching Wounded Warriors how to hold their children again after limb loss; helping babies in the NICU to feed, breathe, and swallow so they can thrive. They also assist in providing recommendations for assistive technology in the vehicle or home so that older adults can age in place safely; helping ensure a child's backpack is the appropriate size and packed correctly to avoid long-term musculoskeletal issues.
As an occupational therapist, I decided to write children's books which accurately portray children with disabilities and address challenging topics such as dementia. By including my profession in my books, I hope to inspire potential occupational therapy practitioners.
Children's literature that includes individuals with disabilities has been shown to enhance understanding of differences, how these children perceive themselves, how they are seen by their peers, and how they participate in their society. In 2012, I embarked on a journey to co-author and self-publish children's books. Since then, I have published 14.
In my position at Boston University, I am able to work with occupational therapy graduate students in the writing and illustration of these children's books. Students embraced the ability to share their narratives and to create new ones.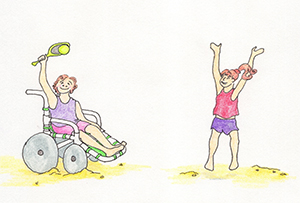 Sisters at the Beach depicts a child with a disability engaged in meaningful occupations. The story illustrates similarities and differences between families with and without a child with a disability and demonstrates how occupational therapy practitioners provide adaptations to promote social participation and play for all children.
In developing the idea for Sisters at the Beach, I met with then-BU graduate students Carol Haver and Diana Smith. Carol grew up with a sibling who has a disability. To generate ideas for our story, we viewed Carol's family photos and talked about her personal experiences. During the process of writing the story, Diana created the illustrations using Carol's family photos as guides. The initial draft of the story script was co-written and then modified to have language appropriate for 5-to 6-year-old children. The story text was reviewed by professionals and families of children with disabilities. Once the research on the disability, story, and illustrations was completed, a glossary of terms was created and included in the book.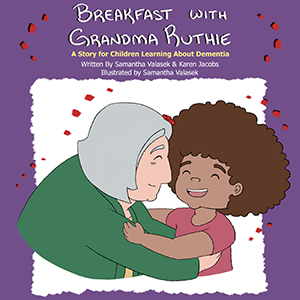 MOM'S AN INSPIRATION
My own mother's experience with dementia inspired the creation of Breakfast With Grandma Ruthie: A Story for Children Learning About Dementia. My mom, Ruth Ellen Filler, was born in Brooklyn, NY on June 12, 1926 at Liberty Hospital. Little would she know that 91 years later she would be the main character in a children's book. This book, co-authored and illustrated by Samantha Valasek, an occupational therapist at the University of Southern California, is about a great-grandma with dementia who moves in with family members. With the assistance of the occupational therapist, the family learns what simple changes they can make at home to help Grandma Ruthie do everyday activities. Although the illustrations were not completed before my mom passed last year, she did have the opportunity to listen as the story was read to her.
For many young people, engaging with those who have disabilities can be scary and raise feelings of uncertainty. Through books that explore relationships and services, children are given information that can help to take away some of the "unknown," thus, help to promote more meaningful interactions between those with and without disabilities.
Today, thankfully, no child is forced to sit in a corner and wear a dunce hat because they have a disability. My cousin Seth might not have experienced the stigma if a better understanding of differences were introduced by his teacher. It is my hope that these books will guide future generations to have a better understanding of disabilities and conditions, and lead these people to live life to its fullest without stigma or fear.
*name was changed to assure anonymity
---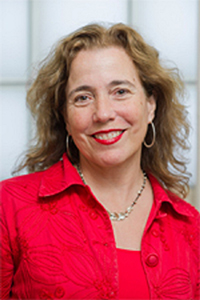 Karen Jacobs, OT, OTR, Ed.D., CPE, FAOTA, is a Clinical Professor at Boston University, College of Health and Rehabilitation Sciences: Sargent College. The creation and self-publishing of children's books are one of Jacobs' meaningful occupations. Her books are all available on Amazon.com or by contacting her at kjacobs@bu.edu.