THE HAMPTONS PET SET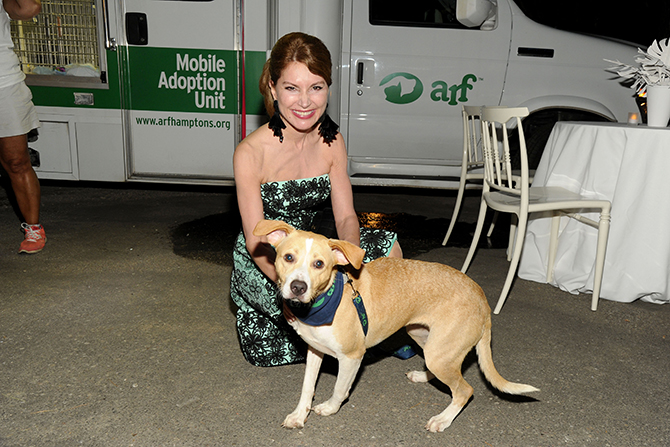 By Lori Zelenko and Susan Traub
Heading out to The Hamptons with your pet? With sand and sea on our minds, we wanted to share practical and personal tips for a happy and healthy summer vacation in The Hamptons. Whether it's for a weekend, a few weeks, or the entire season, here's the scoop on how to maximize fun in the sun with your pet. The inside track on how to get there, where to stay and how to keep your pet safe and healthy.
GETTING THERE
Getting there is half the fun. Whether by train, plane or automobile (i.e. jitney), there are variations from the affordable to the sublime. Starting at the top, the fastest pet-friendly way to travel to The Hamptons is by Blade Helicopter that services Long Island. Easily able to accommodate pets up to 25 pounds (without an additional fee), 'coptering is quick and easy. Larger pets over 25 pounds can be accommodated with prior planning. Helicopters have weight restrictions; meaning if you are accompanied by a 125-pound Mastiff, maybe a private jet is your best choice.
Traveling with a large puppy or tiny lap dog, arriving at Teterboro from LA? What to do to get out East? Fly private, of course. And the best choice with the least commitments, JetWay Private Air. Geared up for spontaneous travel and pet-friendly to the max, JetWay is ready to accommodate the "one-offs"—travelers with pets who need a swift, luxurious and prompt lift to The Hamptons. No long-term contracts, a 60 percent savings over similar private jet programs, no blackout days, no upfront deposits and most importantly, no restrictions on pets; that's JetWay's way of doing business. It's not often that a pilot himself helms a company, but this is the case Chet Dudzik at JetWay Private Air counts on with his impressive in-flight expertise to assure an extra level of safety and precaution at every altitude, from the ground up.
Of course, there is still the Hampton Jitney; affordable and convenient but prone to the pitfalls of getting stuck in traffic. Pets are allowed on board the Jitney in carrying cases, with a 12-ride pack costing $108. Passengers with service dogs may travel with their dog out of a carrier. However, the law has been updated to narrow the definition of service animals to dogs that are trained to perform specific tasks related to the owner's proven disability. Emotional support animals sadly no longer qualify.
If it's likely that you or your house guests and their "fur babies," will have a layover in Manhattan, Julie Weintraub of the real estate firm, AKAM Living Services for "discerning owners," suggests staying at NYC's Kimpton Hotels where they have a Director of Pet Relations on staff. Not only does Kimpton offer "fetching" pet perks such as a VIP (Very Important Pet) amenity delivered to your room, but also pet bowls, pet beds, dog leash and other necessities for your stay. With prior planning, there's little or nothing they won't do to pamper your pooch.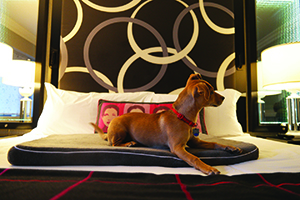 LUXURY OR LESS—RENTER'S RESOURCES
Once out East with your pet, where to go to find a home that's unparalleled in luxury or even simply comfortable? If it's luxury you're looking for, Quintessentially Estates (QE) has the key. According to Penny Mosgrove, CEO of Quintessentially Estates, Sagaponack (close to the East Hampton Airport a choice for the private jet traveler and near Bridgehampton, making it closer to the city) is the preferred zip code. It's for the exceptionally affluent clientele who demands customization, "a bespoke experience" in all aspects of their Hamptons stay. QE is global, assisting clients near and far looking for the million dollar property to sell or acquire—whether coming from Manhattan, Malibu or even Hong Kong.
But, for the more typical renter, go to BringFido.com for complete listings of pet-friendly destinations—hotels, B&Bs, vacation rentals, restaurants, beaches, parks, shopping and pet events. Though cheaper than the million dollar listings, a one night room rental in East Hampton starts at $200-$300 for two adults and one pet. Pet fees may be an additional expense.
The Maidstone in East Hampton considered the most pet-friendly hotel on the South Fork, has Yappy Hour for pets and people nightly (except Saturday) from 5 to 6:30 pm. Indeed, it's as much a happening as coffee post-morning beach runs with your dog at The Golden Pear—the destination du jour in Southampton, Bridgehampton, East Hampton and Sag Harbor.
Dogs are allowed on East Hampton's Main Beach before 9 am or after 6 pm (these are regular hours during the season for most of The Hamptons beaches). But what to do when in search of an outdoor adventure with your dog? Head over to Cedar Point County Park the 5.6-mile hike to the lighthouse provides incredible views of Gardiner's Bay and there is a mile long stretch of rocky coastline where your dog can swim in the ocean. Of course, BringFido.com has lots of great suggestions, but this was our favorite.
Lauren's Dog House for grooming is the first choice for locals like career coach/author—The Wall Street Professional's Survival Guide and advisory board member for Men's Fitness—Roy Cohen who is out and about in East Hampton all year round. His cinnamon-colored mini Labradoodle, Oskar is a regular at Lauren's. Perfect for a post-swim pick me up for your pooch pre-Yappy Hour as Lauren is on Springs Fireplace Road, not too far away from the Maidstone, so the nightmare of Hamptons Summer traffic may not be unbearable. In fact, there's a fenced in dog park nearby, Springs Park Dog Park, so a pre-bath play session may be just what your pooch needs to get happily exhausted pre-grooming for him or her and pre-cocktails for you.
NATURAL LIVING
Luxury is not always over the top. It can be down to earth as well. Sit Stay Forever makes organic cotton beds with toxin-free eco-fill. As dogs often sleep 10 to 12 hours a day, it's best to assure that they are napping on a bed that puts their health first. Why such conscientiousness when it comes to natural materials for our furry friends? Says Steve Whitney who created Sit Stay Forever to assure the health and well-being of pets of all shapes and sizes: "If the FDA regulates the chemical safety of human bedding and linen, we owe our pets the same." Available at The Dog Store in Wainscott—a must destination for every pet parent out East—Sit Stay Forever is a natural this season with coordinated carriers perfect for toting your pet to a Polo match or jumping on the Jitney.
Your pet is welcome to join you for a private yoga session on the beach with Claudia Matles. Her "assistant" Julian (one dog who's perfected his downward dog pose!) goes with Claudia everywhere including her inspirational Yoga classes. Surely Julian shares the consensus that Claudia's teaching is a rewarding, gentle but still demanding way to renew mind and body.
When gazing out a picture window of an East End home we see an expanse of grass, but we don't think about the dangers of synthetic lawn and garden chemicals particularly to our pets. After all, pets spend more time running on, rolling around on—and occasionally nibbling on—grass, so they run a higher risk of poisoning due to pesticide exposure. Perfect Earth, a rapidly expanding non-profit organization founded in East Hampton by Edwina Von Gal, offers education about natural, PRFCT (toxin-free) techniques for maintaining a pet-healthy perfect lawn. So be aware if your pet's paws become red and itchy it could well be from the pesticides and herbicides used on the grass. Do not let your pet lick their paws and ingest the toxic chemicals.
Watch your pet carefully and monitor their paws and fur, in fact keeping a portable lint roller handy is an excellent way to snag fleas and ticks after a walk in the woods or even a stroll down a grassy lane. Just run it over your pet's coat without too much pressure, paying close attention to the belly and legs; it may just pick up some of these nasty critters before they can do too much damage. Evercare makes a colorful, easy to put in your pocket lint roller that does the trick; pick up a few to last the summer before you leave town, they are an affordable $3.99 each. You can find them at Bed Bath & Beyond or Amazon.com.
SAFETY FIRST
When a pet arrives out East, it's a field day! New smells abound, rabbits, foxes, deer, squirrels and more. What's a dog to do? Chase is the first response. Lisa The Dog Trainer trains city dogs who spend time on the East End, working with them, so they don't forget all their good behavior, creating a structure that helps pet and owner have a worry-free season.
Royal Animals puts safety first with their line of LED harnesses, raincoats and leashes. Their bright light technology makes your pet easy to see in the dark, helpful especially if your pet is off-leash in an unfamiliar or unenclosed place. You can find their essential pet gear at The Dog Store in Wainscott.
The Hamptons serves as a beautiful backdrop in the summer with its gorgeous beaches and striking landscapes. With the beauty of these surroundings also comes a set of safety concerns for our pets explains Veterinarian Dr. Cindy Bressler who is available 24/7 for the pet emergencies that may demand a house call in The Hamptons. She cautions against the kind of exposure and activities a human can sustain but can be harmful to a pet. She cautions, "Don't assume your pet can swim without lessons. Don't allow your pet to stay in the sun too long; pets get sunburned too. Every pet owner out East should realize a Summer of long beach days, sand, salt water and rustic terrain can add up to a need for extra care for their pet."
SOCIAL LIFE
The Animal Rescue Fund of the Hamptons summer events are a must-do. Save August 19th for the Bow Wow Meow Ball which this year will honor photographer Bruce Weber and his wife and collaborator, Nan Bush. (Weber is known for the Ralph Lauren campaigns as well as gorgeous shots of his dogs who are "models" themselves.) Says Alex Papachristidis, decorator to the elite (and yes, he designs practical rooms for pets too!) and board member of ARF as well as a devoted pet parent to his Yorkie, Teddy, "ARF is a no-kill shelter helping dogs and cats find loving homes regardless of how long it takes. ARF has implemented a mobile neuter and spay program helping those who can't afford it as well as bringing down the numbers of stray animals. ARF is, and I cannot say this strongly enough, very important to The Hamptons."
WITH A FINAL WOOF & PURRFECT ENDING
Life in The Hamptons may indeed be blissful, but there are still precautions to take to assure that the magical moments with our pets are about beautiful memories. We are lucky to have our furry friends in our lives so let's treasure the time together especially on vacation and be watchful as well as playful when it comes to having fun in the sun on the South Fork of Long Island.
SUMMER PET DIRECTRY
BLADE HELICOPTER
Allows pets up to 25 lbs. without a fee or special arrangement on direct flights to/from Hamptons. Pets must be in carriers (flyblade.com).
JETWAY PRIVATE AIR
Subscription-free pet friendly private jet service to/from The Hamptons. No restrictions on pet travel (jetwayprivateair.com).
QUINTESSENTIALLY ESTATES
Although based in London, they have an U.S. presence to handle the sale and acquisition of properties worldwide including The Hamptons. Info: info@quintessentiallyestates.com
BRING FIDO
For complete listings of pet-friendly destinations and events in The Hamptons (bringfido.com).
SIT STAY FOREVER
Dog beds and carriers in linens and cottons all made of non-toxic, eco-friendly materials. Chic prints with Hampton's flair available this Summer (sitstayforever.com).
THE DOG STORE IN WAINSCOTT
On Montauk Highway, it is the outpost for pet grooming and accessories. Owned by Edward Alava (Phone: 631-527-5757).
PERFECT EARTH
Perfect Earth Project promotes toxin-free lawns and landscapes for the health of people, their pets, and the planet (perfectearthproject.org).
HAMPTON JITNEY
Take advantage of their Pet Pack of 12 tickets for $108 (hamptonjitney.com).
THE MAIDSTONE
The pet-friendly haven is also known for their popular Yappy Hour all season (themaidstone.com).
DOG TRAINER
Lisa Hartman demonstrates innovative, modern, and humane methods of dog training. Helpful with city pets new to country life (lisathedogtrainer.com).
VET
Dr. Cindy Bressler offers a mobile house call practice (drcindybressler.com).
GROOMER
Lauren's Dog House in East Hampton is a favorite for pet grooming. By appointment (Phone: 631-204-7517).
LED LIGHT HARNESS
Royal Animals lets you put safety first with their glow in the dark LED light illuminating harnesses, raincoats and leashes (royalanimals.com).
YOGA
Claudia Matles, Yoga and Pilates teacher, expands your mind and body awareness. Dogs invited to attend sessions as guests (claudiamatles.com).
ANIMAL RESCUE FUND OF THE HAMPTONS
Get your tickets for the annual Bow Wow Meow Ball this August 19th to help support the ARF (arfhamptons.org).
---
Lori Zelenko and Susan Traub have teamed up to write their series PAWS DOWN, TAILS UP to reveal exclusive personal insights into the luxe life of pets in New York City and beyond. Each a devoted dog owner as well as an entrepreneur, Lori and Susan are mutually dedicated to improving the well-being of pets. To learn more, email lzelenko@gmail.com.
© 2017 Lori Zelenko and Susan Traub, All rights reserved.