HEALTHY EATING FOR TEENS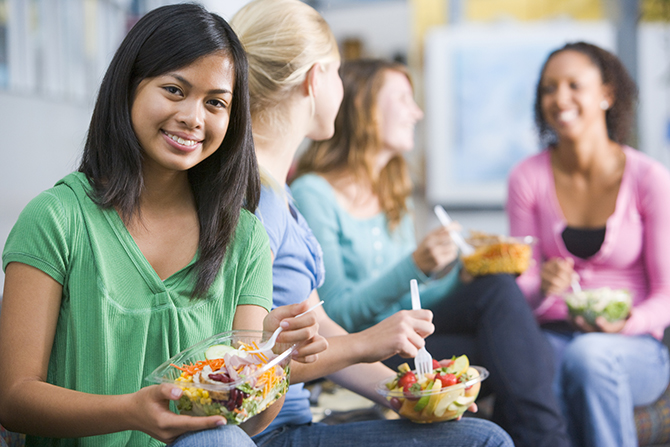 By Shari Bilt Boockvar, MS, RDN
It seems it would be easy for teens to eat healthy today with endless choices available in supermarkets and restaurants. The always changing information and research data in the news and in magazines along with so many food choices can make selecting healthy options confusing for teens. Add to that portion distortion and what would appear to be simple becomes confusing for teens and parents alike.
Looking for some simple guidelines from a Nutritionist with her own teen? Follow along for some easy tips.
CHOOSE WHOLE GRAINS
Does your teen want more energy and a way to maintain a healthy weight? Go for whole grains instead of processed and refined ones. Many loaves of bread, cereals, portions of pasta and our favorite snack foods can be highly processed. They not only have grains that have been broken down, but also added sugars and preservatives that the body doesn't need. When choosing these foods, have your teen look at the nutrition facts label. A guideline would be to search for products with at least 3 grams of dietary fiber per serving (4-5 would be even better). Next, look at the ingredient list. Try to find ones with the most recognizable ingredients.
ORANGE, PURPLE & EVERYTHING IN BETWEEN
You've likely heard it before: eat the rainbow. Why is this important? Each of the colors provides teens with different vitamins, minerals, antioxidants, and fiber. Eat 'em if they're fresh or frozen. Eat 'em if they're cooked or raw. Most importantly, eat a variety of colors every day. Below you will find a guide to the benefits each color provides.
• Red: Brain health
• Orange: Vision health
• Orange/Yellow (citrus): Skin Health
• Green: Energy • Blue/Purple: Brain and blood health
DAIRY We've known the benefits of dairy for protein and calcium in relation to bone health for years. Unfortunately, many brands add extra sugar and filler ingredients for flavor. What are the best dairy products for teens? Look for unprocessed ones with no sugar added such as: plain yogurt (for more protein try Greek or Skyr yogurt), cottage cheese, and milk. Looking for an easy breakfast or snack for your teen? Mix Greek yogurt with fresh berries, nuts, or whole grain cereal. For a dash of sweetness try stirring in a drop or two of organic honey. If your teen can't have dairy, alternatives can be fine, but look at the ingredient list to find the least processed ones.
PROTEIN POWER
Protein is an important building block for your teen's bones, skin, hair, and muscles. The type of protein they choose is important, as many choices are high in saturated fat. Leaner options include: eggs, seafood, chicken breast, turkey breast, London broil, pork tenderloin, beans, lentils, and non-GMO edamame.
HEALTHY FATS
Many teens wonder if it's acceptable to eat fats. The answer is yes! But here's the big but: Watch your portions and make sure you choose healthy ones. Here are some good options: nuts, avocado, hummus, guacamole, or olive oil.
SNACK FOODS
Who doesn't love sweets and chips? It's hard to tell anyone to cut out snacks altogether. I provide the guideline of 150 to 250 calories from snack food per day. This number can vary depending on height, weight, activity level, and age but it's a good guideline.
DINING OUT SMART
Dining out should be an enjoyable treat, but teens frequently eat at restaurants and bring in "take out" food. Have your teen look for simply prepared foods. Some favorites are: grilled chicken Parmesan with veggies, 2 sushi rolls with miso soup and salad, or a baked potato topped with chili.
HYDRATE!
When your teen is dehydrated, you may find they have less energy and eat more. In addition, hydrating helps our body digest food and allows fiber to do its job. Water, seltzer, and unsweetened decaffeinated teas are optimal choices.
---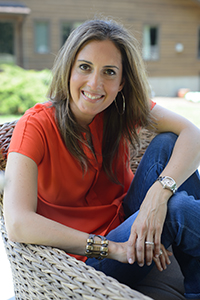 Shari Bilt Boockvar, MS, RDN is a nutritionist in New York and the Tristate area. She specializes in nutrition counseling and consulting for weight control and fitness. Shari can be found blogging about her favorite products and recipes at
Facebook.com/NutritionShari,
Twitter.com/NutrtionShari,
Instagram: NutritionShari,
and nutrifactsforyou.com.