CANADIAN FERME TO TABLE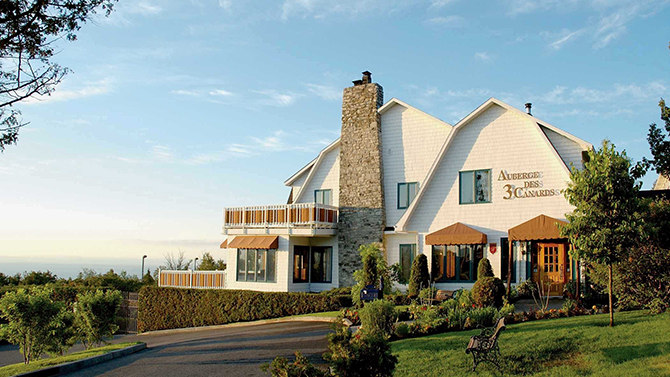 By Gretchen Kelly
If poutine that outstanding French-Canadian comfort food of French fries and cheese curds is the limit of your taste of Quebec, be prepared to have your senses open as wide as the natural UNESCO World Biosphere Reserve landscape of Charlevoix.
On landing after a short hour-long flight to Quebec City from JFK, and a quick half-hour drive to the Charlevoix region, you immediately feel like you're in a part of Europe. Surrounding you are wilderness, mountains, and lakes with skies arching over you in an infinity of blue. The landscape was formed when a meteor hit the earth in prehistoric times, creating the regions whale-filled bays and mountain ranges and valleys in between.
You'll notice immediately that if you know a few words of French("Bonjour" will do), friendly locals light up with pleasure and help you through your limited high school lexicon into a pleasant exchange of "where are you from?" and "we hope you have a great trip." If you don't, no worries. English is spoken everywhere.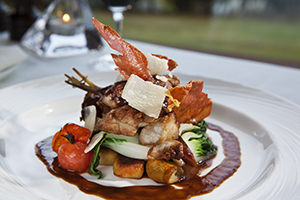 HITTING THE TRAIL
Start off your tour of the region's culinary Flavour Trail with a visit to Domaine de la Vallée du Bras (domainevb.ca/en) and a tasting of their unique tomato wine, Omerto. The family that makes this heady apéritif uses a four-generation-old Belgian recipe. It's bright, green flavor bursts on the palate and it's a perfect accompaniment for the regions' creamy, Canadian cow-based cheeses. Be sure to bring back a bottle or two of this rosy-hued brew and be the first of your friends to serve tomato wine at a dinner party.
Nearby, the Laiterie Charlevoix Cheese Economuseum (tourisme-charlevoix.com/en) on Route 138 does guided tours of its expansive factory and pastures. You'll have a chance to hunker down in an old fashioned French-Canadian country kitchen while you taste the farm-fresh cheese and hear the story of the Canadian Cow, a now rare breed that makes high protein milk in small batches. The milk with its mouth-filling rich cream content, produces a velvety, thick semi-soft cheese with a mellow flavor. Instagrams of yourself and your friends or family with the friendly Canadian cows that lounge contentedly nearby are de rigueur.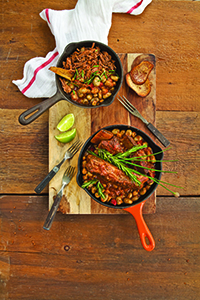 HOMEMADE & GARDEN FRESH
An afternoon of touring gives way to twilight as the sun sets over the St. Lawrence River in bursts of pure Canadian color. If you're tempted to savor more delicious cheese, stop and save room for a five-course meal at the Auberge des 3 Canards in Malbaie (auberge3canards.com). The traditional menu at this St. Lawrence River front inn pairs perfectly with balcony views of the glass-smooth water (kids might even spot a whale or two during breeding season). Appetizers include a trio of velvety foie gras with homemade French bread (you can toast slices of this crusty, yeasty goodness on a fire grill in the lobby). Step into the main dining room for cuisine you won't forget too soon: the local game like freshly caught wild venison.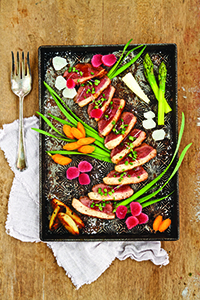 The Auberge offers theirs in a berry-infused reduction that brings out autumn flavors in the lean and healthy meat). Another option for a French Canadian food-lover stay is the Fairmont Le Manoir Richelieu
(fairmont.com),
a 1920s-era stunner that hosted the wealthy American set who made Charlevoix their summer home in the Gatsby era. The Manoir has its garden and bees, and its shop is laden with local foods like honey, berry jams, cheeses, and chutneys. Make a point to visit the Manoir's huge kitchen where a hearty, meat stock soup is always on the boil. You'll also note that the hotel does its regional visits to farmers with culinary staff.
Although Charlevoix' Flavour Trail is a lure for food lovers, it's not the only thing on the menu. Kids who sat patiently through a five-course meal or a cheese tasting will love the little scenic Charlevoix train that winds through the Côte-de Beaupré's idyllic landscape and its picturesque country villages. It's fun and educational.
For maps and detailed information on the Charlevoix Flavour Trail, please visit, tourisme-charlevoix.com/en
Gretchen Kelly is a New York City-based freelance journalist and editor.