Paulina Porizkova: Aging with Beauty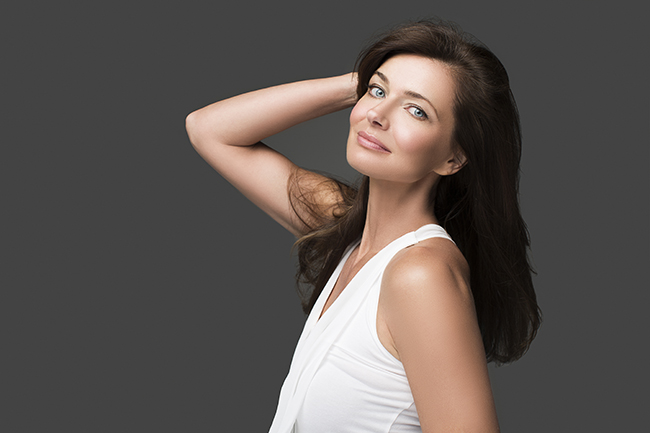 By Christal Young
For two decades Paulina Porizkova was the gorgeous supermodel who effortlessly went from the runways of Paris to the pages of Vogue. She was featured on the cover of Sports Illustrated's swimsuit issue for two consecutive years and was twice named one of People Magazine's 50 most beautiful people in the world.
Born in the Czech Republic, she began her modeling career at the age of 18. Now 51, Paulina is aging gracefully. Her secret? Part nature, part nurture and an extra dose of "good attitude". Like everyone else, she looks in the mirror and has to accept that growing older may mean growing wiser but it also means trying a little harder to look and feel great. Her mindset towards aging is practical and surprisingly for someone so stunning, a little self-depreciating. Married for 27 years to musician Rick Ocasek, she's also mom to two sons, Jonathan and Oliver.
Never one to rely solely on her looks, she easily transitioned from model to actress and author. During my recent interview with Paulina she was funny and grounded. I had so many questions, for example I wondered... "When your entire life you've been the most beautiful woman in the room how on Earth do you grow old?" in addition to is it really possible to age and be OK with it? Paulina's insightful answers may surprise you...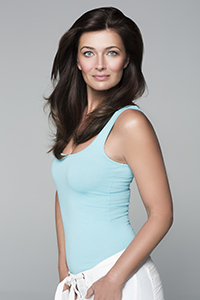 Q: Do you feel pressure to age gracefully?
A: "Of course. I feel pressure, not to age. Having made my living as a model, people were usually more interested in what I looked like, than what I had to say. There's nothing but pressure to look the way I looked 30 years ago. Beautiful people are not supposed to age, they're not supposed to be human."
Q: What were your first signs of aging and how did it make you feel?
A: "I remember it exactly. I was on my way out of modeling, and was shooting a movie in Australia. I had just turned 36 and I looked in the mirror and thought, 'what, wait a minute, who's face is this?' But it didn't make me depressed. I was full of hope for what the future held, but I did think, 'Oh my God, I'm getting older.'
Q: What are your biggest beauty concerns?
A: "I just turned 51 and I keep feeling like I'm melting. I feel like a wax candle, everything is dripping down and it's really disconcerting. It's like a magic trick or a joke, but it's not very funny. I think I want to go to space now and hang out in a no-gravity zone.
Q: What do you do to combat the signs of aging?
A: "To be absolutely honest, I don't think there's really anything that combats aging. How you take your aging is in your head. I don't like botox and I don't think it looks good. I would rather get over myself. But I understand the desire to look 30 forever. I'd really like to look 30 for the rest of my life but I don't want to spend the time and money. I don't want to chase my youth, but I'm not willing to gain fifty pounds and let my hair go gray either. I do like to look pretty but I also want to look age appropriate. I want to like myself enough so that I can age.
Q. Are there any beauty products that you swear by?
A: "I use exclusively RXGenesys, which I love. I love all of their products. It works better than anything I've ever used. I was lucky, they came to me and asked me to be a spokesperson. So I went online to check out the science behind it.  For me to stick with something for a year and a half is huge and I've used nothing ever since. Now I give RXGensys to all my family and friends and they're hooked too. I never travel without it.
Q: If you were stranded on a desert island and only had one beauty product, what would you want it to be?
A: If I couldn't have my RXGenesys, I'd want diaper Cream. A tube of A & D Ointment. You can use that stuff for everything. On your lips, it's a Moisturizer. If you don't have shaving cream, you can shave your legs with it. It keeps the ends of your hair, soft and frizz free. It's really an all purpose product.
Q: What are your thoughts on plastic surgery to look younger?
A: "I think it's sad, when people have too much plastic surgery. It's horrible to see faces that are unable to smile. Too much plastic surgery makes people look almost like robots. Women over 40 or 45 don't have role models to look up to and that's not good. Rich people can afford to buy youth, a strange kind of looking youth; but at what cost?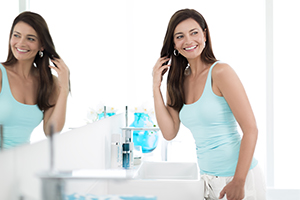 Q: Do you think Americans are obsessed with youth?
A: Yes. In America we're not celebrating aging and that's not cool. It's sort of an American thing to celebrate youth and beauty like it's an accomplishment. Living a full, long life is an accomplishment. I just joined Instagram and I don't like it. It just makes me worry more about what I look like. When I'm lit right and I have sunglasses on and I'm lying down, I look great.
Q: Do you think there's anything positive about growing old?
A: I like myself so much better now that I'm older. I'm smarter, funnier, kinder and more patient. Now that I'm aging, I get to take pleasure in the things that passed me by before.
Q: Do you have any advice for people who want to look great as they get older?
A: Yes. Don't over think it. Be the best version of you, that you can be. Don't get consumed with getting older. If you're freaking out about aging, then you're freaking out about the wrong thing and your probably missing out on what's great right now. Live in the moment and give yourself permission to age.