Living the Dream at The People's Court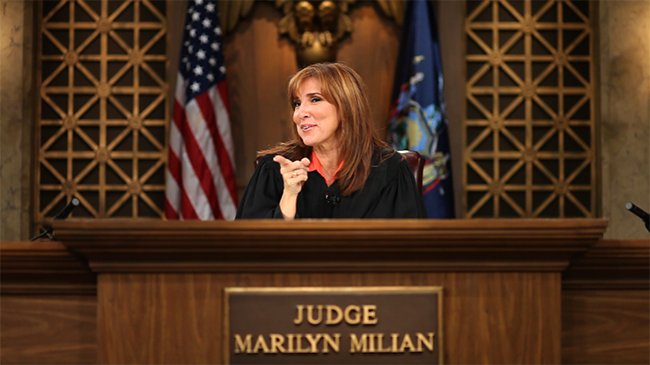 By Anthony Rapacciuolo
Most readers will recognize New York native Marilyn Milian as the sassy and outspoken judge who presides over the multiple Emmy-Award winning show The People's Court airing on FOX each afternoon. What most aren't aware of, however, is her story of how she arrived, her role as a devout mother, philanthropist, and role model. New York Lifestyles Magazine had the privilege of interviewing her and learning about the woman behind the gavel-including a guilty pleasure she herself says she's never revealed in an interview before.
Born in Astoria, Queens Judge Milian moved with her family at the age of 8 to Miami, Florida where she later graduated the University of Miami summa cum laude. She then attended Georgetown University Law Center, and at the age of 23 earned her Juris Doctorate, again with cum laude status. She returned to Florida and worked her way up the ranks of the court system over the course of 10 years where she was eventually appointed by Governor Jeb Bush to serve on the Miami Circuit Court. Then in 2001, she was approached about the opportunity to take the helm as Judge of The People's Court TV series, and now as she celebrates her 15th season with the show, that's where we begin our conversation with her.
As a child what did you want to be when you grew up?
I recently came across an old book that my mother kept when I was a child, and back then I wanted to be a ballerina. Later on, I thought about becoming an actress, and when I was in high school I wanted to become a psychologist. I finally decided to go to law school, because my parents convinced me that was the right choice. As a lawyer though, you have to hope the judge does what you think is right, but as a judge you actually get to do what you think is right. I actually found my old law school applications and in one of the essays I wrote about my wanting to be a judge later in life. I'd forgotten I'd even written it, but apparently the seed was always there.
Your parents played a big role in your decision to become a lawyer, were they a guiding force in your life in general, as well?
Absolutely, both of them in fact. My father was an incredibly hard worker who came to this country from Cuba without a penny in his pocket and without being able to speak the language, and he worked his way up the ladder of success. My mother was the traditional stay at home mom who obsessed over her kids. Neither of my parents went to college, and in fact neither one of them finished high school. For that reason, they made all the children in my family go to college, none of us would even think about the possibility of not going to college; it wasn't even an option.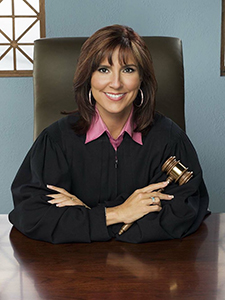 Fast forward now after college, and tell us about the process and how it came to be that you were selected for The People's Court on FOX?
Harvey Levin (the show's producer) had left me a lot of messages, and I didn't have the opportunity to call him back because I was on the bench deliberating a first degree murder trial. Then one Saturday morning, three days after I had started receiving the calls, my neighbor was driving by my house. She rolled down her window and asked me 'Why aren't you calling Harvey Levin back?' Turns out that she had auditioned for what she thought was a new court room series created to feature a Latina, because at the time none of the other programs featured Hispanics. When she left her audition, Harvey Levin asked her if she knew of anyone else who would be a good candidate for the show, and she gave him my name and number. I never knew any of this until that day when she drove by.
What does it mean to you to have been selected and then to be the first Latina woman to preside over a nationally syndicated courtroom TV show?
I remember when I first got the job, people would tell me that it was going to be 'my thing', that I was going to be seen as kind of a role model for the Latina community, and I thought it was silly. But then, the show started getting emails from young Hispanics, I received a lot of speaking opportunities and that's when I realized that those people were right. I thought to myself, just don't screw this up. It's a big responsibility, but it's also an honor. I just try and do the right thing every opportunity I have.
March marked your 15th year at the helm of The People's Court, what's a memorable case you've encountered?
In the past 15 years I've had a few favorites. Early on I had a case involving a Whoopi Goldberg lookalike, who was suing her talent agent for booking her at Foxwoods and not paying her. Her star witness was a Rosanne Barr lookalike, the talent agent's star witness was a Joe Pesci lookalike and the talent agent herself was a dead ringer for Marisa Tomei. Everyone was in my courtroom in character, and needless to say it was not only funny but memorable.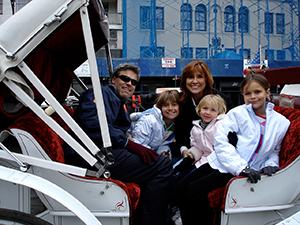 Tell us what your typical day is like outside the courtroom.
I work out every day to keep my sanity. I also aim to see my mother every day. She's 90 years old and lives about 15 minutes away from me. We probably play about 4 games of Chinese checkers a day because I like to keep her mind working. On top of that, I have three teenage daughters, which keeps me very busy whether it's volunteering at their school, driving them to volleyball, or rowing practice. In fact, I was just in Orlando and spent about 10 hours a day for four days watching my youngest daughter's volleyball tournament. I also enjoy charity work. My husband, children, and I work closely with the Children's Cancer Caring Center. When I met my husband he was a counselor there, and now my two oldest daughters are camp counselors for them every summer as well.
Talk about what it's like when you're at your daughter's school or sporting events given your celebrity profile.
I'm fortunate because it's enough to be flattering, but not enough to be annoying. It isn't like its J.Lo walking into a volleyball game or anything like that, but there are always people who ask me to stop and take pictures and stuff. It's actually nice because no one ever stops you because they hate you, they stop you because they love you, so I give them the love back. My daughters are very supportive when something like that happens. I mean I'm their mom and they're teenage girls, so to them I'm boring, I'm technologically challenged, I'm old-fashioned and maybe even annoying. But then all of sudden when we're somewhere and people recognize me, they look at me with different eyes. I become cool because I'm their mom and I'm on television.
I know that you enjoy going to Broadway Shows. Elaborate on that, and tell us if we should expect to see your name on a Playbill anytime soon?
In the age of technology, pause and rewind, and constant distractions, Broadway is different. When you're there, you're living in the moment for those few hours and it's unparalleled. One of my favorite plays is In The Heights written by Lin-Manuel Miranda. As far as my making an appearance on Broadway, I was born to do what I'm doing, unless of course Lin-Manuel were to write a play involving a judge! Then that would be a different story.
What have you learned from your experiences that you would like to share with our readers?
The two most important things I've learned is, number one, never let anyone pigeonhole you, or more importantly, don't ever pigeonhole yourself. I had a very definitive career path planned for myself and when the opportunity for The People's Court presented itself I was scared to death because I was going to give up my gubernatorial appointment as a judge, and the show could have been cancelled the next day.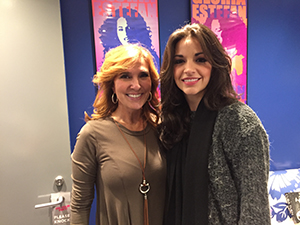 The second thing I've learned is to never let anyone else put a glass ceiling over you. I use the example of my husband when he took a few years off between college and law school. When he later went back to his dean to get a letter of recommendation, the dean said he didn't think law school was for him. My husband not only went to law school but became a Federal Prosecutor, Spokesman for The United States Attorney's Office, a terrorism prosecutor and now a judge for the last 12 years. Situations like that are why it's important to never let anyone put an artificial ceiling over you.
Tell our readers something they don't know, what's the Judge's guilty pleasure?
South Park. I've seen every episode. My dream would be that South Park had a judge character and I was asked to be the voice, or that they did a parody of The People's Court. We've been parodied by SpongeBob SquarePants, MAD TV, Talk Soup, The Simpsons and a few others, but never South Park and that would be the ultimate compliment.
You've accomplished so much including 15 years at The People's Court, what do the next 15 years hold for you? I'm living the dream! People ask me all the time how long am I going to continue to do this, and I tell them until they pry my cold white knuckles off the gavel!