The California Coast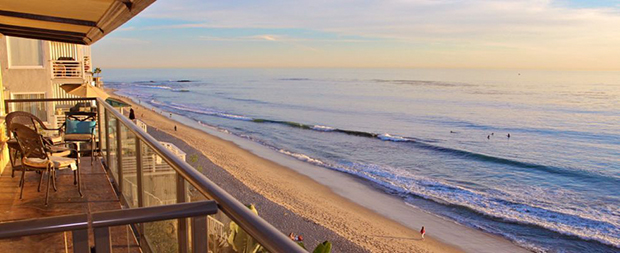 By Keri Zane
Imagine a leisurely drive up the California Coastline. Start at Coronado, the southernmost island off the shore and continue north until you reach the rugged sheep dotted cliffs at the Oregon state line. Add a touch of romance by spending 9 nights at a different unique boutique hotel every night. Put it all together with insider tips from the owners and managers of these establishments. And you've got yourself an awesome dream-come-true travel getaway.
1. San Diego County
Start off your adventure by visiting Coronado. Stay at the quaint Hotel Marisol Coronado, one short block from Silver Strand State Beach. The hotel offers free bicycles for exploring the island and riding the Strand.  Or you can hop on a ferry and ride to San Diego. Once there, spend your day visiting the wild animals at the San Diego Zoo, then enjoy the nightlife in the retro-hip Gas Lamp Quarter.
*DWKD tip #1. Take in the soft ocean breeze while enjoying your morning coffee on the hotel's private courtyard.
2. Orange County
The Retreat in Laguna Beach is a hidden gem in the heart of Laguna Beach. It has eight unique, luxury villas all with whitewater views. One of the most unique features is the 2-way mirror/window between the bedroom and living room which allows you to see through the entire villa to the ocean. At its core is an art colony on the streets of downtown Laguna chock full of artisan dining establishments and art galleries. There are a lot of public art displays as well, from lamp post banner originals by local artists to towering edifices and street corner art. Spend the day walking around and fill your world with color.
*DWKD tip #2 Book your stay starting in mid-September and enjoy half the rate and half the minimum stay (reduced from 7 to 3 nights).
3. Los Angeles County
Right in the heart of South Bay's Manhattan Beach is the 38-room Shade Hotel. Just a few blocks from the ocean, once you check in everything you'd ever want is walkable. You can take a bike ride on the strand using the complimentary beach cruisers or try one of the complimentary yoga classes. Live decadently and have one of Shade's beach concierges arrange your beach set up on the sand; all you have to do is show up!
*DWKD tip #3 Shaunna McKelvey, GM of Shade suggests you book your stay on a Sunday. Rates are significantly lower and it's easier to get a room as they are almost never sold out.
4. Santa Barbara County
In the heart of Santa Barbara is Hotel Milo, a 122-room oceanfront property with friendly staff members who will hook you up with the inside scoop so you can navigate the town like a local. Discover new pinots on a Santa Barbara wine tasting tour. Wander through the galleries and pop-up cafés of the eclectic Funk Zone; meander through the State Street boutique shops or hop on a complimentary beach cruiser for a short ride to the wharf. Watch the sunset from your paddleboard.
*DWKD tip #4 The hotel offers a special 10% discount on Sunday thru Thursday arrivals and 8% off for Friday and Saturday arrivals.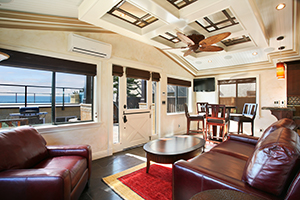 5. San Luis Obispo County
Paso Robles is the hub of California's Central Coast wine country. It is a charming country town that's exploded onto the wine scene in the last few years. And in the heart of the miles and miles of vineyard sits the JUST Inn, a small enclave of luxury guest suites on property at Justin Vineyards & Winery. The winery opened a newly renovated tasting room, guest suites and restaurant all on property late last year.  It's the only winery in Paso to offer all three. If you can't stay away from the water, Moonstone Beach is a quick 20 minute drive west and right across Highway 1. The quaint town of Cambria offers loads of shopping and a variety of eating establishments.
6. Monterey County For a unique family experience, stay at Holman Ranch in Carmel Valley. This 400-acre,10-room, family-run vineyard and olive grove, only plays host to large families and groups. No "onesie" bookings here, but you can reserve the property for more than one night. You can elect from one of their all-inclusive specialized packages or create an a la carte experience for your family. Some of the more unique activities available include skeet shooting, beekeeping, archery, dummy cattle roping, square dancing, horticulture seminars and bonfires complete with s'mores. And, of course, there's wine tasting as Holman Ranch is also an estate vineyard. All their wines use grapes grown on their property and they are fully sustainable and 100% organic.
*DWKD tip #5 Ask the staff to arrange for a wine picnic for you. They'll even include a photographer to capture your family's special visit.
7. Marin County
Nuzzled in historic Fort Baker, Cavallo Point Lodge is a historic luxury resort located in Sausalito, California. With the backdrop of the rolling Marin Hills, each of the 142 rooms has a view of the San Francisco skyline and Golden Gate Bridge. Cavallo Point is perfect for couples seeking adventure. There's hiking in Muir Woods, Angel Island, the 'Jewel of the San Francisco Bay', and Wilbur Hot Springs. You can also participate in cooking classes, morning yoga or a hike under the Golden Gate Bridge.
*DWKD tip # 6 Enjoy the midweek special and receive 20% off any facial, massage, or body treatment.
8. Sonoma County
Sea Ranch Lodge is a small secluded 19-room property, each with an ocean view and all were renovated in 2012. The property is pet-friendly and located near 50 miles of hiking trails and a self-guided wildflower walk. Of course Sonoma is the best place to taste some of the finest "Cali" vintages.
9. San Francisco County  Be one of the first to stay at the Axiom Hotel expected to open in the fall. The hotel is taking over the former Powell Hotel space in downtown San Francisco right near the famed cable car turnaround. The largest boutique property on the list, it features152 tech-forward rooms. In addition to complimentary Wi-Fi, smart TV, iPad and iPhone docking stations, it has lightning fast fiber optic Internet access. Of course it is accessible to all of the best sights the big bay on the left coast has to offer.
10. Mendocino County In the remote town of Westport, population 60, you can rest your head in the northernmost property on Highway 1. It's the six room Westport Hotel. While there visit Westport Union Landing State Beach for camping, beachcombing, tide-pooling or fishing.  You can head south and stop in at MacKerricher State Park for hiking trails, tide pools, and wildlife viewing. Further south, Fort Bragg offers the Skunk Train which winds through the redwoods or you can explore the blooms and ocean views at the Mendocino Coast Botanical Gardens and hunt for sea glass at Glass Beach.
*DWKD tip #7 Cross the street from the hotel and take the short trail along the edge of the bluffs and stairs to a secret beach below.
*DWKD-Do what Keri Does.