Nashville, Music City & Incubator of Country Songs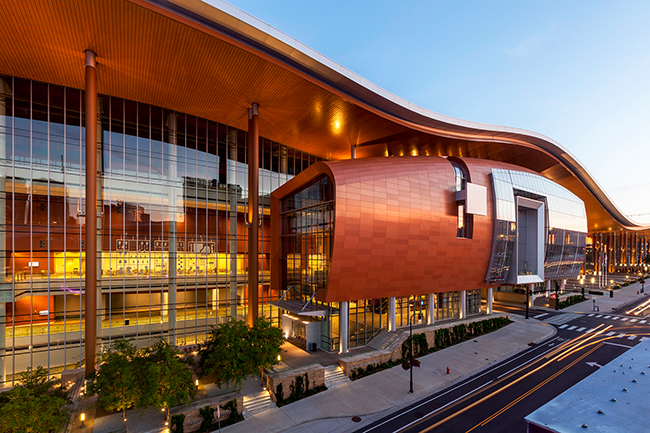 By Jodie Jacobs
Photos courtesy of Tennessee Tourism
You're on Broadway. Definitely, there are neon lights and music. But, no, you're not in Manhattan. You're on Lower Broadway where music is king. Musicians play here day and night. Buildings just around the corner pay homage to musicians, recordings, song writers and singers.
You're in Nashville, "Music City USA."
Before heading out to explore such important music stops as Opryland, Country Music Hall of Fame, Musicians Hall of Fame and RCA Studio B, get into music mode by going to the Musicians Hall of Fame's U-Tube videos at musicianshalloffame.com/video
Turn off the oven and iPhone, sit back, listen and enjoy. Then plan your trip to Nashville to see and hear it all. The city is the state capital, so it has good-eating places and several museums. However, if going to Nashville because of its music reputation here are a few don't-miss attractions.
Sit In On A Radio Broadcast
Your tour of Nashville starts away from the downtown music district with a radio station. The Grand Ole Opry sits on the Cumberland River in Opryland Music Valley off Briley Parkway. If you remember that the river flooded in 2010, don't worry. The hall reopened later that year and is certainly back to full glory with the old center oak circle (it wasn't destroyed) where the stars stand.
Begun in 1925 as the WSM Barn Dance, a Nashville radio show, it was a spin-off from George D. Hay's National Barn Dance that broadcast from Chicago. A few years later when the program followed NBC's Music Appreciation Hour, Hay introduced the term that is still with the program today. Archival notes report Hay saying: "For the past hour you have been listening to Grand Opera. Now we will present Grand Ole Opry."
The call letters, WSM, stood for "We Shield Millions" because the station was started by the National Life & Accident Insurance Company. The problem was that so many people wanted to watch the show live, it moved from the station into increasingly larger venues including Nashville's famed Ryman Auditorium, before settling into its present, 4,400 seat home in Opryland.
And yes, it still is a radio broadcast. And it comes from what is considered the world's largest broadcasting studio. To understand what goes on before, after and during the broadcast, get show tickets and book a backstage tour. You'll see dressing rooms and probably people rehearsing. The show/broadcast always includes a Country Music Hall of Fame star plus popular guests.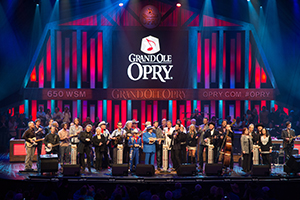 Tip 1: Thousands come to the broadcast from all over the world each year, so the best plan is to get show and tour tickets ahead of time. Go to opry.com for both tickets. The Grand Ole Opry House is at 2802 Opryland Drive, Nashville, TN 37214 or call 1-800-SEE-OPRY (800-733-6779).
Tip 2: Another plan-ahead item for your agenda is to do dinner or dessert (or even stay) at the Gaylord Opryland Resort next to the Grand Ole Opry. You walk through huge garden atriums, past waterfalls, to get to restaurants, bars and shopping. If not staying here (they have a spa, fitness center and golf course) ask about reservations for dinner and about visiting if only stopping for a drink at the wine bar or Irish Pub. Plan enough time to be there before the show because you will be stopping every few feet to take garden and waterfall photos to post on your social media site. Gaylord Opryland Resort is at 2800 Opryland Dr, Nashville, TN 37214. Call 615-889-1000 or visit gaylordhotels.com/gaylord-opryland
SoBro Neighborhood
Back to downtown Nashville where you are likely to see on maps and hear when you get there the designation SoBro. It stands for South of Broadway. It's where the Nashville Visitor Center is located on the Broadway side of Bridgestone Arena. You know it as the hockey ice where the Nashville Predators take on the New York Rangers. Open daily, the Visitor Center, 501 Broadway, is a good place to stop for maps, brochures and find answers to your where-is and how-far questions.
Also in the arena is Music City Market Place which has themed gifts. The building you'll see on the other side of the arena at Demonbreun Street, is Music City Center, a conference center with a huge guitar decorating the side. Go inside to visit the Nashville Songwriters Hall of Fame. nashvillesongwritersfoundation.com
Broadway And Off
Have your walking shoes on because next you can cross 5th Avenue on the north side of the arena to see the Ryman Auditorium just west of Broadway, visit restaurants and honky-tonk bars on Broadway or go east to see the Music City Walk of Fame Park and the Country Music Hall of Fame & Museum at Demonbreun between 5th and 4th Avenues.
Why the Ryman? You will hear it mentioned because the Grand Ole Opry broadcast from there, famous singers and bands played there and it has an excellent, continuously playing movie that tells all about the auditorium. Among the history tidbits is that it was built in 1892 by a sea-faring captain to be a tabernacle with perfect acoustics.
In addition, this is where the Johnny Cash Show was performed. Stars that appeared on the show there include Bob Dylan, Joni Mitchell, Linda Ronstadt, Eric Clapton's Derek & the Dominos and so many other musicians who became famous. You should visit the Ryman just to feel its ghostly spirits. Ryman Auditorium is at116 5th Avenue North. For Tour tickets visit ryman.com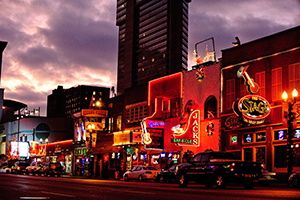 If ready for lunch, stop at Jacks on Broadway The neighborhood still has honky-tonk bars, but it is also where the locals go. Don't be put off by its past reputation. Adult stores are gone.
"It's a destination for tourists but also for locals. Change came about in the mid-1990s when the Country Music Hall of Fame moved downtown and things started happening. There was a big music preservation move," said record producer/recording engineer Michael Janas, director of Belmont University's Recording Studio. Janas has worked with such well-known names as Emmylou Harris, Brad Paisley, Billy Ray Cyrus and Chuck Mead of alternative country quintet BR5-49.
On tour with his band, The Grassy Knoll Boys, Mead was on his way to a gig with Grammy-Award Country Singer Marty Stuart, when New York Lifestyles reached him to ask about Nashville's Lower Broadway. (BTW, Mead was also the musical arranger and director of a hit on the other Broadway "Million Dollar Quartet.")
"It's where the Ole Opry guys would hang out. It shared an alley with the Ryman which was known as the Mother Church of Country Music," said Mead. He recalls playing Robert's Western World and Tootsie's Orchid Lounge there for five-hour gigs without a break. The honky-tonks were later credited with helping clean up the Lower Broadway neighborhood.
"It was seedy. Now it's colorful. The area has exploded," he said. "It's a wonderful circus."
Tip 3: Eat at Jacks on Broadway. Mead said it passed his down-home Kansas test. "Great BBQ brisket," he said.
Country Music Hall Of Fame,
Hatch Print And RCA Studio B
Work off lunch roaming through the musical decades at the Country Music Hall of Fame and Museum. There are several really good temporary exhibits in 2016 ranging from Johnny Cash and Sam Phillips' Sun Studios to Keith Urban. However, leave time to wander CMHF's permanent exhibit - "Sing Me Back Home." It covers country music from the 1800s through today on two floors of instrumental and costume artifacts, recordings and photographs, excellent videos and films and interactive stations.
"World War II helped spread country music across the country," said CMHF Senior Historian John Rumble. He attributed part of that to the music played in USOs and that people had more money to put coins in juke boxes. "Before the war, country music was local," he said. Rumble recommended people read "Will the Circle Be Unbroken – Country Music in America," produced in association by the Country Music Hall of Fame.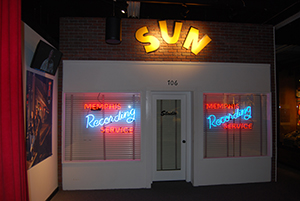 Special exhibits are always changing, but in 2016 if you visit by May 15 you can still catch Australian superstar, multi Grammy winner's "Keith Urban – So Far." If you have seen "Million Dollar Quartet" you know they recorded at Sam Phillips' Sun Records in Memphis. If you feel any connection to the musicianship and songs of Johnny Cash, Elvis Presley, Carl Perkins, Jerry Lee Lewis, Roy Orbison or Charlie Rich, try to visit CMHF by June 12. That's when the exhibit "Flyin' Saucers Rock and Roll: The Cosmic Genius of Sam Phillips" ends.
You have until Dec. 31, 2016 to see "Dylan, Cash, and the Nashville Cats: A New Music City." It not only covers Bob Dylan's coming to Nashville in the mid-1960s and Johnny Cash's TV show, the exhibit has 16 listening booths that showcase a Nashville Cat such as Charlie McCoy and Charlie Daniels.
While at the Country Music Hall of Fame, visit Hatch Show Print, a historic letterpress shop that relocated to space at CMHF. Reservations are sometimes hard to get so best is to pre-book a tour at hatchshowprint.com/ContentPages/hatch-tour. In business in Nashville since the 1870s, Hatch still turns out show and other posters. Visitors also get to make a poster.
But don't leave the Country Music Hall of Fame without taking CMHF's tour van to RCA Studio B. You may not have heard of Studio B, but the Everly Brothers, Dolly Parton, Elvis Presley, Willie Nelson and Eddy Arnold did. They and many other famed singers and musicians recorded hits there.
A foundation bought the facility in 2002 and leases it to the Country Music Hall of Fame. You take the RCA Studio B tour van from the Country Music Hall of Fame, but you should book ahead. It's similar to booking the Hatch tour. Go online at the CMHF site for it at studiob.org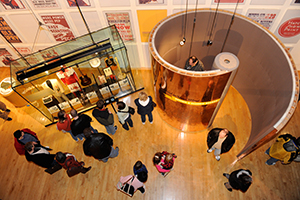 A Hall Of Fame For Musicians
Don't skip the Musicians Hall of Fame which has the ground floor of the Nashville Municipal Auditorium, several blocks west of Broadway on 5th Avenue. Yes, it has Jimi Hendrix and Bruce Springsteen artifacts but it also has build-outs of recording studios and instruments played by the musicians who recorded on many of the hit records you've heard. Its awesome displays pay tribute to the musicians recorded hits in Memphis and Muscle Shoals, Detroit and New York, Nashville and LA.
"People may know the front guy, but it is the background musicians who played on everyone's records who made the star sound good," said Mead. The Musician's Hall of Fame is 401 Gay St. musicianshalloffame.com/museum
Tip 4: Instead of wearing out the shoe leather or leg muscles, you can take a Greyhound Hop-on Hop-off vehicle from the Walk of Fame Park on 5th Avenue. Its stops include the Musicians Hall of Fame.
More Johnny Cash
If you still haven't had enough of the "man in black," stop in the Johnny Cash Museum, open daily at 119 3rd Ave. South at Broadway. johnnycashmuseum.com
You can also drive out to Henderson Memory Gardens to visit the gravesites of Johnny Cash and wife June Carter Cash. Visitors sometimes see Johnny's sister, Joanne Cash Yates there. The cemetery is at 353 East Main Street (Johnny Cash Parkway) in Hendersonville, Tennessee about 18 miles northeast of downtown Nashville. Several other songwriters, singers and musicians are also buried there including famed guitarist Luther Perkins. findagrave.com/php/famous.php?page=cem&FScemeteryid=1972272/
Side Trip To The Hermitage
Add a trip to a US President's home and museum while in Nashville. On more than 1,000 acres, the home, farm, gardens and tomb of Andrew Jackson, known as the "People's President" and "Old Hickory," is about five miles east of Opryland on another bend of the Cumberland River. Called The Hermitage, it includes a museum detailing Jackson's rise from orphan to general to US President. The address is 4580 Rachel's Lane, Nashville, TN 37067. thehermitage.com