Palm Beach Hot Spots
Sunny Days Accented With Glamour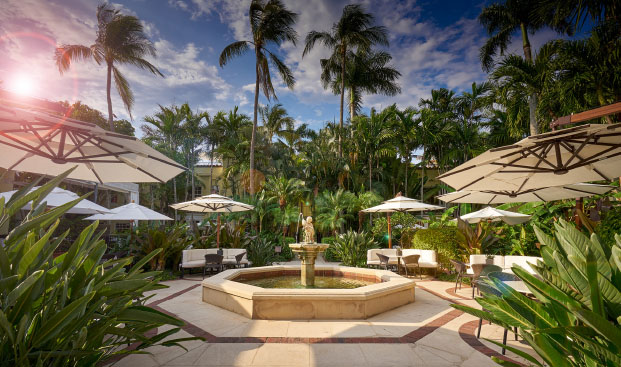 By Norah Bradford
With spring temperatures rising and travel restrictions easing, New Yorkers are eager to travel. One destination to put on your list is Palm Beach, Florida—the perfect getaway for a weekend or longer. Here are some popular places to stay and dine in style.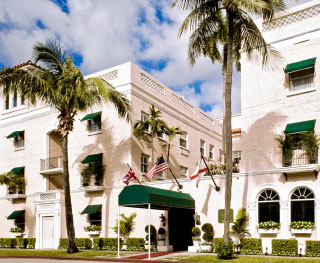 THE CHESTERFIELD PALM BEACH
Stay Surrounded by palm-lined boulevards, the historic Chesterfield Palm Beach is just steps from Worth Avenue and white sandy beaches. It combines exceptional hospitality combined with an old-world charm showcased through it's sophisticated interiors and beautifully designed rooms and suites. All rooms are uniquely fashionably decorated and cozy. Guests can choose to relax in the hot tub or be more adventurous by renting a bike and exploring the area..
Dine Nothing represents Palm Beach like the legendary Leopard Lounge & Restaurant which epitomizes gilded age sophistication. Images of the early 20th century's grand institutions welcome guests as the jet-black lacquered walls are highlighted with golden fittings. Executive Chef Gerard Coughlin and his team have created a delicious fusion menu of classic international dishes, served alongside much-loved signature recipes by the founder Beatrice Tollman, including Maryland Style Lump Crab Cakes, Gerard's Turkey Burger, Shrimp Stroganoff, and Key Lime Pie. Info: chesterfieldpb.com
THE COLONY HOTEL
Stay A legendary boutique hotel, The Colony is nestled between glamorous Worth Avenue and sparkling Atlantic waters. All 90 guest rooms, suites, villas, and penthouses are beautifully appointed, having pillow-top mattresses and 350 thread count Egyptian cotton sheets with European duvets. Three spectacular Penthouses top the main hotel, and an adjacent mansion, Casa Manana, has been beautifully reconfigured into seven spacious villas.
Dine Once New York's pre-eminent society boîte, Swifty's Palm Beach has made its way to Palm Beach at the iconic Colony Hotel. For almost two decades, Swifty's was an Upper East Side stalwart and now founder Robert Caravaggi and Colony Hotel owners have brought the restaurant that inspired an international following to Palm Beach. Swifty's POOL serves lunch, dinner, and cocktails around The Colony's swimming pool, as well as al fresco seating under the hotel's outdoor hanging garden. Along with a stellar menu featuring some of the beloved favorites of the original Swifty's, Swifty's POOL offers many other activities including rum tastings, acoustic guitarists, and other engaging, socially distanced endeavors. Info: thecolonypalmbeach.com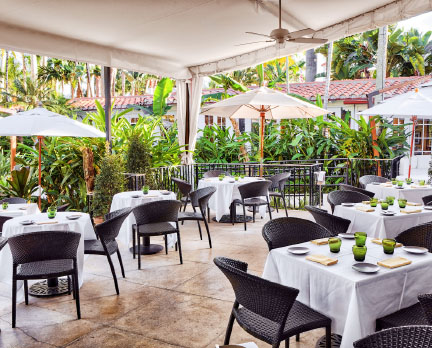 THE BRAZILIAN COURT HOTEL
Stay This historic landmark is infused throughout with Roaring 20s glamour and boutique intimacy. The Brazilian Court Hotel's 80-room enclave is the classic Palm Beach luxury getaway—bringing together stunning, high-style accommodations and impeccable service for an unforgettable experience. Guests are invited to enjoy unparalleled pampering at the Brazilian Court Salon or vanish into tranquility by the secluded, palm-fringed pool. You can even choose to relax in one of the property's two tropically landscaped courtyards.
Dine Café Boulud Palm Beach is Chef Daniel Boulud's award-winning restaurant. Since opening in 2003, the restaurant has become one of Palm Beach's most coveted dining destinations. Executive Chef Dieter Samijn is no stranger to working alongside Boulud, as he helmed the Upper West Side French Bistro, Bar Boulud, before making the leap to Palm Beach. Samijn's love for traditional French cuisine will shine brightly in the warm sun while tapping into locally sourced seafood and produce to add a Floridian flair to his dishes. Info: thebraziliancourt.com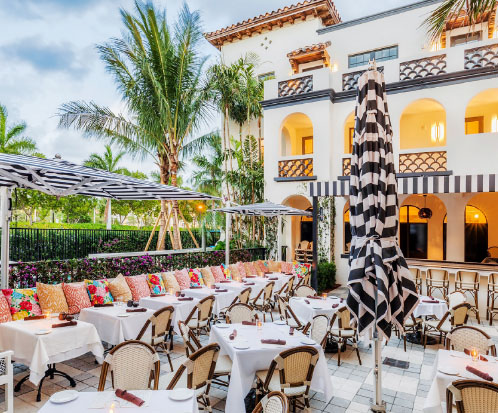 WHITE ELEPHANT PALM BEACH
Stay Built in 1924, re-imagined today, the structure's footprint and facade remain, but the interior has undergone a total transformation. This contemporary interpretation of Mediterranean-revival architecture reflects the pulse and excitement of Palm Beach while capturing the spirit of a stately home. White Elephant Palm Beach continues the rich tradition of outstanding hospitality established at White Elephant Nantucket while bringing its style and excellence to this new yet already legendary Palm Beach resort destination.
Info: whiteelephantpalmbeach.com
Dine Located at the luxurious White Elephant, Lola 41 is an alluring Palm Beach hot spot with a welcoming bar and large outdoor patio for alfresco dining within a beautifully landscaped courtyard. Signature dishes include a wide selection of sushi rolls, sashimi as well as King Crab Rangoon, Lobster Fried Rice, Portuguese-style Grilled Octopus, Korean Beef Bulgogi, and the all-time favorite Lola Burger served with Foie Gras sauce. Private label wine and craft cocktails elevate the experience along with stunning interior design elements. Info: lola41.com