Carlisle Bay
Inner Peace In The Caribbean
By Natasha Bazika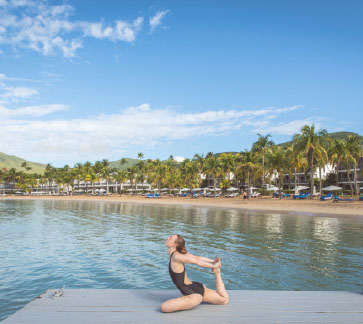 Spring brings a sense of renewal for the body, mind, and soul. But if you have been feeling stressed with day-to-day living, you're not alone. It's real!
I found a health retreat to be the best remedy to help me find the inspiration and motivation I needed. They are popular, and with the wellness trend taking over this year, I sought a quiet respite in Antigua, where I found the sounds of lapping waves, the rustle of palm trees, and my own space was enough to find inner peace.
Antigua is ringed with coral reefs, has a rich culture in English Harbor, and boasts endless sandy beaches. It's by far the opposite of city living and just what the doctor ordered. My journey to find peace begins at Carlisle Bay, a luxury resort hidden on the southern coast with an emerald green rainforest backdrop. The traditional warm hospitality already convinced me that I was miles away from the city and the West Indian conviviality solidified it. Upon arriving at the resort, I was escorted to my oceanview suite, which boasts a terrace with daybeds to lounge on and direct access to the resort's private beach. After a quick tour around my suite, I headed to East— one of the on-site restaurants—to taste Japanese, Thai, and Indonesian cuisine. The restaurant serves a tempting menu of shrimp, Peking duck, and lobster tempura. I've hit nirvana!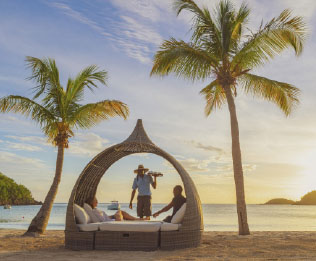 WATER
Did you know Vinyasa yoga can reduce stress, improve balance, and build muscle? I didn't either. But on my first morning here, I woke up to the flow of yoga on the jetty at sunrise. Finding my inner calm was more relaxed than the headstand pike up pose. The instructor guided a group of fellow yogis through breathing and moving in one flow. It's harder than you think, but it will change your life once you get to achieve this.
From Warrior I to Warrior III and Halfmoon pose, we collectively moved together, using the breath to change positions in one swift move. After a relaxing morning, I strolled down to Indigo on the beach, an open-sided terrace restaurant facing the beach and serving up classic Caribbean cuisine including lobster benedict and rice congee—among many others. A big breakfast fueled me for the rest of the day, filled with activities from a tennis clinic to a sailing lesson. Yes, I fulfilled a lifelong dream of learning how to sail.
The afternoon was reserved for lounging beachside on a day bed, watching a brilliant red and orange sunset. The best part about the resort is it guarantees glowing ombre afternoons almost every day. For dinner, I reverted to the adults-only Jetty Grill for great cocktails and a taste of the Caribbean with a side of ocean views and sea breeze. I couldn't go past the seafood roti—a classic.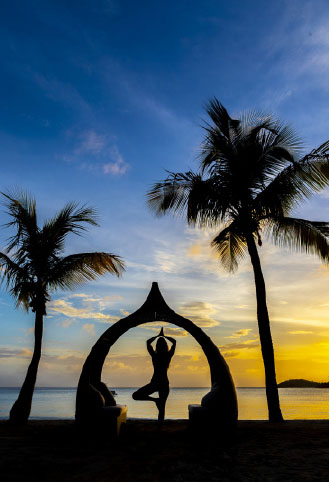 EARTH
Of course, New York City is known for its skyscrapers, and going to a rooftop bar will give you a great view on a clear day. But hiking Signal Hill in Antigua brought me closer to the island's natural beauty and inspired a new life perspective. The rainforest, which sits behind the resort, has many different trails, but Signal Hill was my goal, as I heard it has the best views of the entire island. A short drive from the resort took me to Wallings Dam, where I met the locals, signed my life away, and made my way up the trail. It starts in dense forest but quickly opens to ledges and smaller lookouts, where the coast is visible.
I carried myself up rocky steps, lunged over logs, and wide-stepped up steep hills to come to a clearing fortified by flat rock and a ledge, which was perfect for practicing yoga poses. The views of the surrounding mountains, which are immense and lush, brought comfort. And on a clear day, you can see other Caribbean islands beyond the horizon. Taking the time to sit and breathe in the new altitude was the unspoiled experience I needed to replenish myself. After taking a moment to reflect and appreciate my surroundings, I continued onward, following the familiar smell of lemongrass until another clearing appeared. Ideally named lemongrass view, the mountaintop offers views of the entire island.
However, the vibrant green and deep blue hues are reason enough to seek higher ground. The journey back down the mountain was breezy and slippery, but it was the perfect lead up to the therapeutic spa appointment that awaited. The resort's Cara Organic Beauty Spa encompasses a natural and therapeutic way of living with deeply restorative massages and natural products. The West Indian massage offers a peaceful journey, where tired muscles are soothed to the touch, and skin is refreshed and renewed. I emerged from my hot stone induced coma feeling energized with a renewed focus and lasting positivity.
After soaking up my last picture-perfect Caribbean sunset, I headed to Indigo on the beach for dinner, of which I indulged in a seafood feast from lobster bisque to the chef's daily catch and a fresh fruit tart for dessert.
The next day, I reluctantly packed my bags and headed back to the city life, but this time I felt ready to tackle whatever the concrete jungle was going to throw my way!
For more information on Carlisle Bay, visit carlislebay.com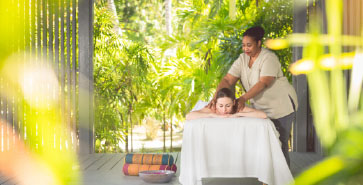 RESTORE SERENITY
Looking for a more personalized experience? In that case, Carlisle Bay offers programs with entirely private, one on one yoga and meditation instruction, coupled with therapeutic spa treatments to regain your balance while enjoying a carefree getaway to yourself to revive the spirit. The health retreat is designed to help individuals find a healing and uplifting breakthrough with these activities, health consultation, and meditation.