Central Park North is an often-overlooked corner of New York City's most famous green space. Compared to its counterparts that also face Central Park—Fifth Avenue, Central Park West, and Central Park South—it has dramatically lagged in both price and awareness. But that's about to change.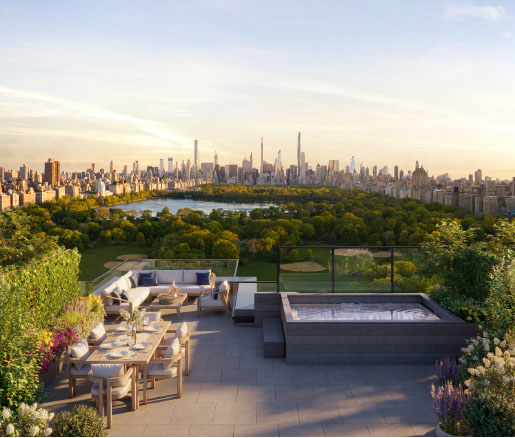 In recent years, the neighborhood has dramatically transformed into a community rich with history and culture. Access to transportation here is excellent, with the B, C, 2, 3, and 6 subway lines within a 10-minute walking distance.
Curious about the neighborhood? We were too. We found one new development to consider—145 Central Park North, designed and built by GLUCK+, the New York City-based architecture and construction firm.
THE PROPERTY
With 37 one- to four-bedroom homes, it is the only residential building in the neighborhood that affords every single residence exceptional views of Central Park. This feat is enabled by the site's unusual footprint being wider than deep, spanning 100 feet wide facing Central Park. "145 Central Park North is the culmination of many years spent meticulously mapping out an unconventional site," says Yiannes Einhorn, Principal at GRID Group. "The unique footprint of the development enabled us to capture views of the most spectacular skyline in the world for every residence, and we're thrilled to introduce these homes to the market."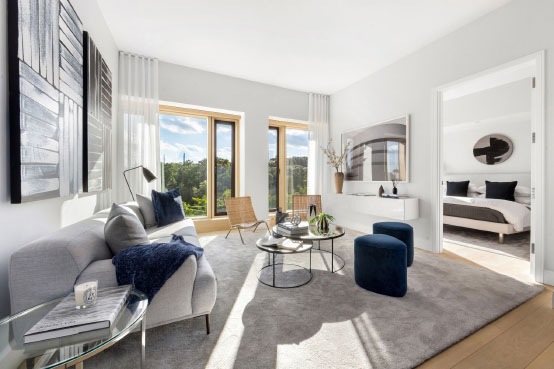 GLUCK+ designed 145 Central Park North to be in context with the surrounding neighborhood. A rare opportunity to complete the street wall around Central Park, this new building will add to the rich history of special moments along the park's perimeter.
The building façade's design features a highly articulated skin for the lower nine floors with a deep bronze profile to relate to the height, rhythm, and texture of the neighboring residential buildings from the 1930s, and a taut all-glass skin wrapping the top four floors above. "Our goal was to create a building that was worthy of its place in the city and had the depth and richness of iconic buildings that surround the park while being a building of its time that can endure far into the future," adds Thomas Gluck, Principal at GLUCK+.
THE RESIDENCES
Homes at 145 Central Park North feature unique floor-to-ceiling windows facing Central Park with white oak frames and wireless automated window shades. The residences include beautiful white oak floors, vented Electrolux washers/dryers, Wi-Fi-enabled thermostats, and VRF heating and cooling systems along with individual ventilation systems so that no air is shared between residences. The building features two spectacular penthouses, both with private rooftop terraces and custom stainless-steel spas overlooking the park.
The timeless kitchens at 145 Central Park North offer a clean and sleek aesthetic with custom millwork and no exposed hardware. They are equipped with honed Jet Mist granite countertops, custom matte gray lacquer and glass cabinetry, two dishwashers, and fully-integrated Fisher & Paykel appliances.
Nestos Gray marble floors subtly play off Bianco Alanur marble walls in the master bathrooms. Floating vanities include chic Hansgrohe satin nickel fixtures. Deep soaking tubs and walk-in showers with wide showerheads make for a spa-like experience coupled with radiant heat flooring. Secondary bathrooms are wrapped in Bianco Alanur marble tiles with custom floating vanities, Hansgrohe fixtures, and tub and shower combinations with built-in toiletry niches.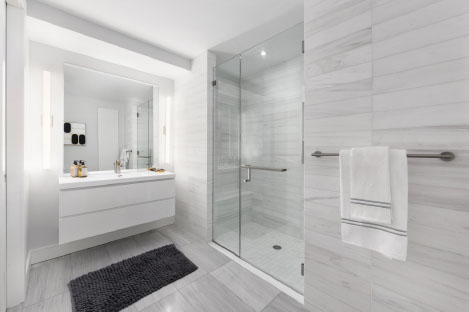 Amenities include a full-time doorman, children's playroom, state-of-the-art fitness center, resident's lounge, common terrace, cabanas, and a furnished rooftop deck with breathtaking views of the park and the Manhattan skyline. On-site parking and storage units are available to purchase.
145 Central Park North is situated between Malcolm X and Adam Clayton Powell Jr. Boulevards and sits directly on Central Park in Harlem's iconic neighborhood. The building is steps from dozens of popular restaurants, cafes, bars, and shops, and it is five minutes from Harlem Meer, North Woods, and The Blockhouse. 
For more information on 145 Central Park North, visit 145cpncondos.com or email info@145cpncondos.com.