A TRIP FOR ALL REASONS
The Hamptons & Jersey Shore: Two Perfect Escapes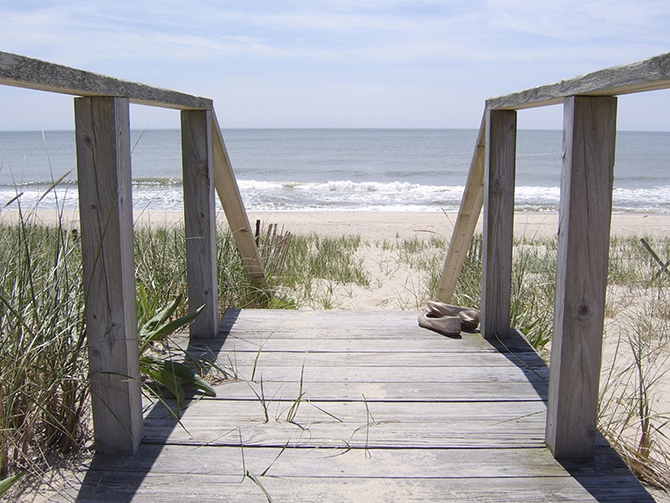 The sizzle of a barbecue grill, melting ice cream cones, the sound of music floating out an open car window, the first taste of chilled wine or an ice cold brew are just some of the charms linked to summer. You will also experience beautiful landscapes, the relaxing outdoors, and just-picked summer foods. So, whether you are looking to head to Long Island's East End or Jersey's shorelines, we've got you covered.
In fact, throughout this issue, you will find fun ways to soak up the sun on the perfect summer getaway—in a safe environment. With most destinations open and ready for visitors, public and private establishments are now following CDC protocols for making the 2020 summer season a successful one.
THE HAMPTONS
Sunny Days With Glitz & Glam
By Norah Lawlor
With its flower-lined hamlets, high-end boutiques, and excellent restaurants, the Hamptons are an ideal summer getaway with endless attractions for anyone to escape the city life with a side of glitz and glamour. Long Island's East End has become especially popular among celebrities and affluent New Yorkers who are drawn to its relaxed vibe. This playground is known as the Hamptons encompassing Southampton, Bridgehampton, East Hampton, Sag Harbor, and Montauk.
SOUTHAMPTON
The first of the South Fork Hamptons, it's the closest geographically from New York on the LIE or Long Island Railroad. Originally, it was settlers from Massachusetts who established the Town of Southampton in 1640 after purchasing the land from Shinnecock Indians.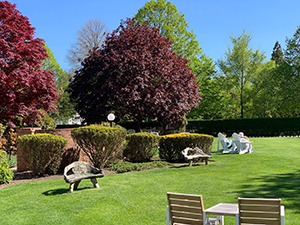 Southampton Inn Lawn ©Southampton Inn
STAY
Southampton Inn The award-winning classic haven is situated in the heart of the historic Southampton Village, offering the personal attention of a bed & breakfast with the services and amenities of a hotel. The Southampton Inn has taken to heart its desire to care for their guests, thoroughly implementing social distancing rules, mask orders, and CDC cleaning and disinfecting protocols in response to the COVID-19 pandemic for the safety of guests and staff alike. Surrounded by world-renowned beaches and estates and Rockwell-esque village life, the inn is the perfect place to relax, indulge in a romantic rendezvous, or enjoy precious time with the entire family with the inn's child-friendly facilities. Info: southamptoninn.com.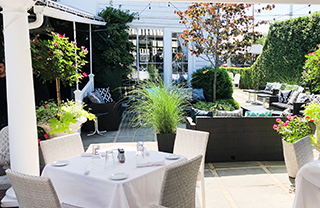 T-Bar Steak & Lounge SH Back Lounge Area ©T-Bar
DINE
 T-Bar Steak & Lounge Southampton  Like its Upper East Side sister restaurant, the Southampton branch offers guests innovative Contemporary American cuisine in a warm and inviting ambiance. The outdoor terrace and garden, with dining spaced sensibly apart, will make it the quintessential location for evening cocktails on those warm summer evenings. The menu features a wide range of dishes from renditions of classics, to refined and inventive plates. Info: Call 631-283-0202 for reservations.
Union Sushi & Steak The all-new restaurant makes its debut this summer! Launched by the team that brought Southampton Social Club to the forefront, Union Sushi & Steak has been created to be the go-to, year-around, modern sushi, and steak experience specifically for a Hamptons audience. Aimed at a clientele looking for a place to enjoy cocktails, good conversation and a classic vibe with additions such as a piano and good socially responsible dining well into the wee hours. Info: dineatunion.com.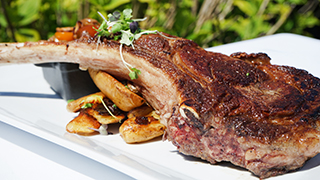 Steak ©Union Sushi & Steak
Union Burger Bar For those who crave a comfort-food break, here's your place. Choose from a menu of specialty gourmet burgers: hormone, anti-antibiotic and additive-free, fresh hand-cut fries, delicious milkshakes, and desserts. And, of course, there's an elaborate craft beer and small-batch bourbon selection. Info: unionburgerbar.com. 
Claude's The popular restaurant has been transformed into The Great American Picnic Place, daily from 7 am to 7 pm. Menus consist of all of your favorite breakfasts as well as sandwiches, salads, soups, and freshly baked sweets. You can take your picnic basket (a traditional wicker basket with 21st-century insulation—with a bottle of Rose or Champagne, fruit smoothies, or home-made iced tea to outdoor seating in the beautifully planted courtyard, pool patio, the lawn or nearby Agawam Park. Enjoy your old-fashioned picnic—Hamptons style! Info: southamptoninn/restaurant.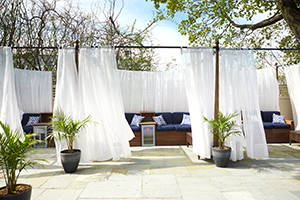 SSC Cabanas ©SouthhamptonSocialClub
DO 
Southampton Social Club This season, SSC is setting the standard for the Hamptons nightlife. Re-inventing the concept that it launched a decade ago, SSC offers the Vintage Supper Club Experience. Savor an elegant, high-energy dining experience and then remain to enjoy time with friends, bottle service and, of course, dancing under the stars at a pre-arranged table with your selected friends, family, and VIPs. The key ingredient this Summer 2020 at SSC is a reservation since space is limited. Time to mask and dance up! Info: southamptonsocialclub.com. 
DAY TRIPPING

Taking a ride to the North Fork? The newest arrival to the North Fork's dining scene is the latest incarnation of the Upper East Side French bistro classic, Demarchelier Restaurant at the Menhaden Hotel in the charming Village of Greenport. Led by Emily and Benjamin Demarchelier, this restaurant is a family affair, that builds on the legacy of the Demarchelier family's eatery in New York which served popular dishes include the Steak Tartare appetizer, and the Duck a L'Orange and Moules Mariniere entrées for over 25 years to a dedicated following. Their traditional French menu is paired perfectly with a wide range of predominantly French wines. Demarchelier looks to bring the North Fork of Long Island a taste of France! Info: demarchelierrestaurant.com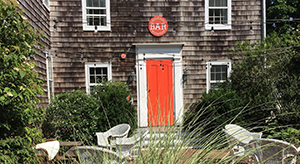 ©Bridgehampton Inn & Restaurant
BRIDGEHAMPTON 
Between Southampton and East Hampton and close to Sag Harbor, Bridgehampton, whose name is an improvement on the original Bullhead, was re-named for the bridge built across Sagg Pond by the early settlers linking Sagaponack and Mecox.
STAY
The Bridgehampton Inn Enjoy one of the splendid 12 rooms at this boutique inn, from the family behind Loaves & Fishes food store. The inn's restaurant is helmed by Executive Chef Brian Szostak, whose commitment to variety and seasonal ingredients is essential to every menu dish. Info: bridgehamptoninn.com.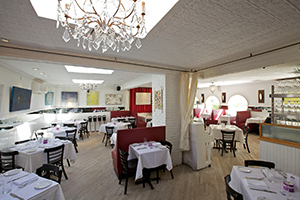 Pierre's Bridgehampton
DINE
Pierre's Since 2002, Pierre Weber, a fifth-generation baker, has kept his vision blending French tropical outpost St. Barths with jet set-central St. Tropez into a casual-chic French dining experience alive on Main Street. Open daily for breakfast, lunch, dinner, and a healthy slice of people-watching. Info: pierresbridgehampton.com. 
DO
SoulCycle Head here for high energy workouts at the central Bridgehampton location and new Bridgehampton Annex. After you have finished the class, be sure to stock up on phytonutrients with Stacey's GrifFiT Green Juice bottled locally at the East Hampton Gourmet on Newton Lane. Info: soul-cycle.com/instructors/47/stacey.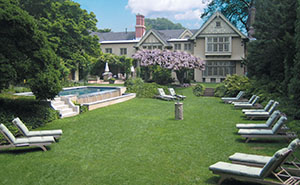 The Baker House 1650 purple wisteria
EAST HAMPTON
Holding the distinction as the first English settlement in the State of New York, East Hampton for a short period was its own colony, separate from New York or Connecticut between 1648 and the end of the War of Independence.
STAY
The Baker House 1650 In the heart of East Hampton Village lies this award-winning boutique inn. The luxurious 17th-century English-inspired inn offers relaxing and comfortable amenities all year round. You may not want to leave! The inviting, gorgeous grounds, stunning common areas, opulent on-site spa, and lavish home-made daily breakfasts are enough to convince anyone to stay another day. Also available for guests are two outdoor pools. Info: bakerhouse1650.com.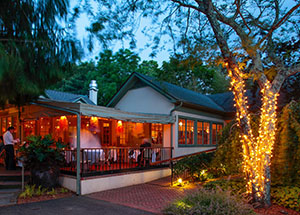 Nick & Toni's ©NickandTonis
DINE
Nick & Toni's It's hard to believe this celebrity spot is now into its fourth decade. This restaurant is the East Hampton hub for classic, seasonally inspired dining in their Tuscan farmhouse-style location. Reserve an outdoor table and engage all five senses from the sights and sounds to the delicious taste of the cuisine. Info: nickandtonis.com
DO
Above and Beyond VIP Concierge Jackie Botelho is the expert on everything from dining and entertainment to wellness and next-level networking. Her elite concierge company, Above and Beyond VIP Concierge (ABCVIP), partners with local businesses to provide curated all-inclusive Experiential Packages that are customizable and personalized for a reasonable price, as well as hosts virtual and live events that give back to the community. ABCVIP showcases these packages and events and sets a new standard for the hospitality industry and can't wait to impress you! Info: abcvip.nyc.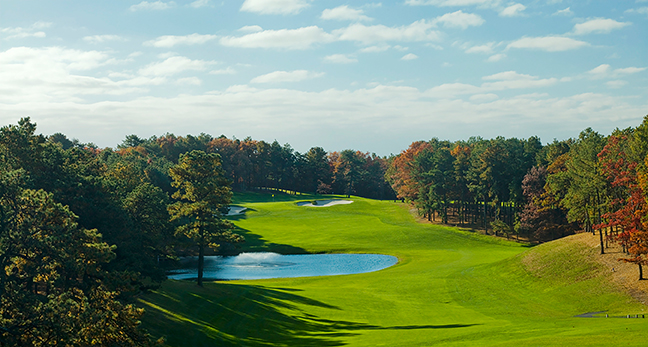 NATURAL SPLENDOR ON THE GREENS
Hampton Hills Golf & Country Club is the Hamptons best-kept golfing secret, nestled on acres of the Pine Barrens. Respected as one of the more challenging courses in the Hamptons, the masterfully designed golf and country club promises exciting activities for the entire family. The club's peaceful, wooded setting allows club members to escape the city life and participate in friendly competition against a challenging Par-71 - 148 slope golf course featuring dramatic elevation changes. Info: hamptonhills.com. 
FROM THE GRAPEVINE

Since 1988, Wölffer Estate Vineyard has been committed to producing premium, distinctive wines, ciders, and spirits through our dedication to quality, a penchant for style and celebration of place. The winery is located on the same property as Wölffer Estate Stables, a premier equestrian facility that lends the iconic horse imagery to Wölffer Estate Vineyard's elegant packaging. The tasting room and terrace offer airy yet cozy spaces and views of the vines that make visitors feel as if they've escaped to Europe for a day. Info: wolffer.com.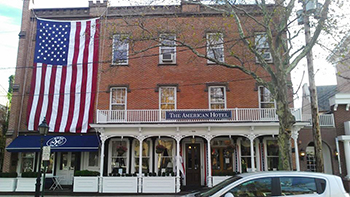 The American Hotel ©The American Hotel
SAG HARBOR
This popular haven is a former whaling community and first official port on entering the United States. Today, instead of whales, you'll see gleaming white yachts berthed close to town. During the War of 1812, Sag Harbor was the frontline for the British efforts to regain the Colonies.
STAY
The American Hotel A social mainstay of Sag Harbor since 1846 at the height of the whaling era, the American Hotel's patrons continue to enjoy one of the eight double rooms. There's luxury in every corner: Frette sheets and comforters. En-suite bathrooms feature double whirlpool bathtubs, hairdryers, imported Italian towels, bathrobes, and Occitane amenities. Info: theamericanhotel.com.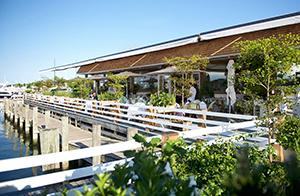 Le Bilboquet ©Le Bilboquet
DINE
LeBilboquet For that sense of chic dining alongside the gleaming white yachts, why not reserve a table at the Sag Harbor marina eatery. The clientele represents a mix of the beau monde and New York personalities, all seeking one of this year's must-haves—an outdoor table with a full view of the marina. Info: lebilboquetny.com.
DO
Sag Harbor Sailing Charter a yacht or rent a boat to experience the waters around Sag Harbor. Also featured here are instruction/lessons created by the American Sailing Association. Info: sailsagharbor.com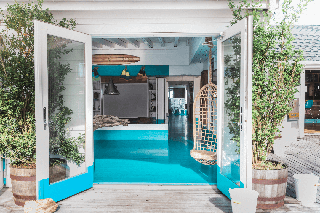 The Surf Lodge ©TheSurfLodge
MONTAUK
Although the Montaukket Indian tribe has long departed due to smallpox brought by European settlers, their name remains as the hamlet of Montauk. Famed for its fishing, Montauk claims to have more records in the sport of saltwater fishing than any other place. Period.
STAY
Surf Lodge, Montauk At the end of the line on the Long Island Railroad, the beginning of a fabulous escape at one of the most well-known places to stay and play. In recent years, the Surf Lodge has featured regular live performances—an absolute must visit to listen, dance, drink and dine. Info: thesurflodge.com.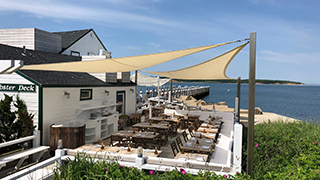 Duryeas Lobster Deck ©Duryeas
DINE
Duryea's Lobsters For a dose of the South of France, this popular haunt offers a raw bar with seating alongside the team who prepare the oysters, clams, and seafood for all to see. Outside, the deck has those hard to get tables overlooking the waterfront where you can take in that sun, sea, and those magnums of rose wine. Info: duryealobsters.com.
DO
Hang Ten Experience East Coast surfing at Ditch Plains beach. The beach has a cliff face at its western end, outdoor showers, restrooms, and lifeguards during the season. For more experienced surfers, head to Turtle Cove, just west of Montauk Lighthouse on the Atlantic Oceanside, is a challenge. Be on guard for rocks and rips.
THE JERSEY SHORE
Pleasant Towns, Festive Boardwalks & Family-Friendly Beaches
By Patricia Canole
Going to the Jersey Shore is a popular summer tradition for most sun worshippers from New York, Philadelphia, and New Jersey. Whether it is for a weekend or month-long stay, busy city-dwellers trade a subway for the beach scene and a vacation of beachcombing and cruising the boardwalk. While hotel accommodations—and there are plenty!—are available all along the 130-mile shore, most visitors choose to get comfortable in a rented house, simple condo, or even a beachfront mansion. Here is what to see and do on the Jersey Shore.
Atlantic City
ATLANTIC CITY
Home to four stops on the 
Anthony Bourdain Food Trail
, Atlantic City is one of the most notable destinations on the Jersey Shore, known for its world-class casinos, bustling four-mile-long boardwalk, the longest in the world, 
Absecon Lighthouse
, the tallest lighthouse in New Jersey, 
Lucy the Elephant
 and more. Noted for being one of the world's entertainment capitals, Atlantic City is also widely regarded for its welcoming LGBT scene. Visitors will find all forms of fun and relaxation on the city's miles of free beaches. Do not miss the famous saltwater taffy!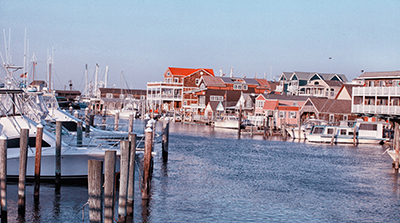 Cape May Marina
CAPE MAY
Best known for its quiet beaches, incredible Victorian architecture, historical sites such as the lighthouse dating back to 1859, Cape May is one of New Jersey's most charming towns that keeps visitors returning each year. Marked as a National Historic District, the entire city is home to nearly 600 preserved Victorian buildings with a popular trolley tour available to explore it all. More to see in Jersey Shore's southernmost beach town includes exceptional restaurants as well as 
Cape May Winery
 and 
Cape May County Park and Zoo.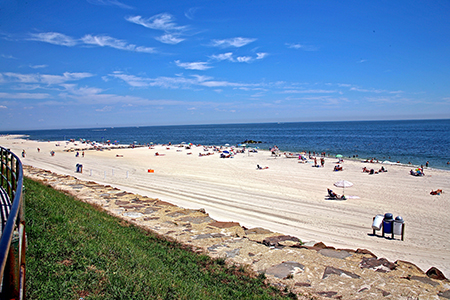 Long Branch Beach
OCEAN CITY
Known as the America's Family Resort, Ocean City is often voted the best beach in New Jersey. There are 8 miles of shore waiting for swimming, boogie-boarding, and building sandcastles. A boardwalk lines 2.5 miles of beachfront. Families enjoy mini-golf, carnival games, and a water park. Go sky high on the Ferris wheel followed with a few bites of homemade fudge—always a treat. 
LONG BRANCH
Within easy reach by train from New York City, Long Branch offers a clean and wide shoreline with attentive lifeguards. Pier Village sits at the beach entrance and boasts a wide array of restaurants, shops, and activities for everyone to enjoy for fun diversions.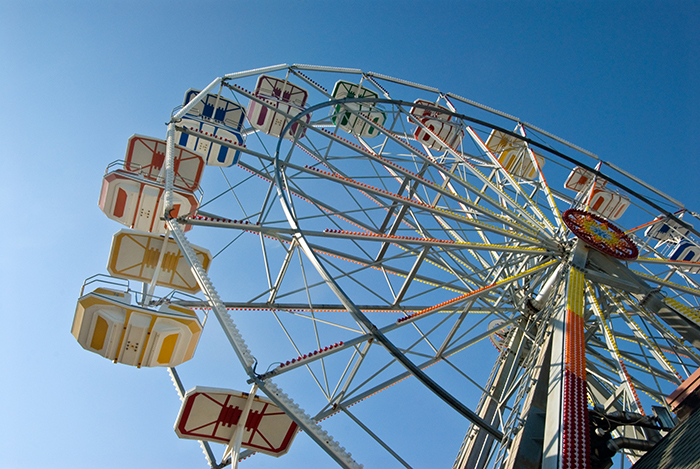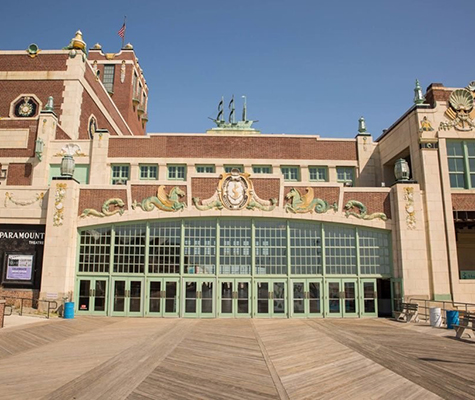 WILDWOOD
Here is New Jersey's most popular family beach destination, Wildwood has a free beach that is so wide—nearly 2,000 feet in spots—there is a taxi service to get you to the water. The boardwalk is lined with attractions, stores, restaurants, arcades, and water parks. Morey's Piers is the classic amusement park here, family-owned and operated since 1969, with more than 100 rides ranging from an Instagram-worthy Ferris wheel and roller coaster little kid-friendly spinners on three separate piers along with six beach blocks in addition to two spotless beachfront water parks. 
ASBURY PARK
This little bit of urban cool offers arts, music, and great food—plus the sand and sea. Teens will love the foodie options, and the Pinball Museum where you can play as much as you want for a small fee. And a boardwalk would not be complete without unique shops and crafts. Most notable, of course, is Asbury Park's mark on the music scene with The Stone Pony, where Bruce Springsteen and Bon Jovi both played here in the early days, the Wonder Bar, Asbury Lanes, and the restored Convention Center. 
SPRING LAKE 
Considered by many to be one of the more refined spots on Jersey Shore. Stately homes, quiet beaches and a non-commercial boardwalk await visitors. Then there is the gorgeous lake, lined with weeping willows and quiet nooks, perfect for a serene evening stroll.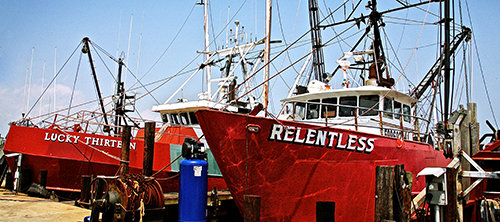 Long Beach Island
LONG BEACH ISLAND 
Commonly known as LBI, this is a beach lover's paradise with its 18-mile-long stretches of shoreline, small and charming beach towns 
Surf City, Barnegat Light
, and 
Beach Haven
. Famous sites include the 
Barnegat Lighthouse State Park
, colloquially known as "Old Barney" dating back to 1835, 
Fantasy Island Amusement Park
, and popular shopping spot, 
Schooner's Wharf
, with stores located within the reconstructed ship.
BEST STAYS
One thing the Jersey Shore provides in abundance—aside from miles of beaches and sunny days—are places to rest and relax in style. Here are some choice resorts and hotels which opened as recently as last year.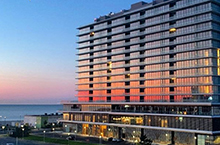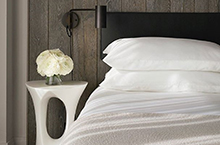 Asbury Ocean Club Hotel A unique blend of intimacy and grandeur is the hallmark of your stay in any of its 54 guest rooms. With magical views, soaring ceilings, and private balconies, there is no question why it is so popular with guests. Gracefully understated design and handpicked furnishings create the sense of beach house straight out of a dream. Info: asburyoceanclub.com.
---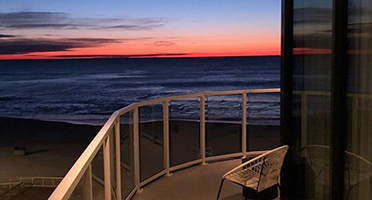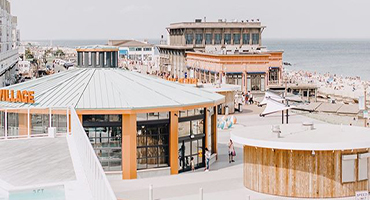 The Wave Resort This six-story, 67-room hotel with seven new restaurants and bars also offers guests an outdoor pool deck with fire pits, 180-degree beach views, on-site spa, fitness center, and blow-dry bar in one of the state's trendiest beach towns of Long Branch. Info: waveresort.com. 
---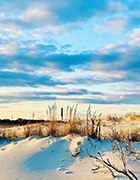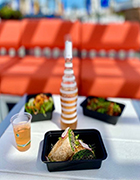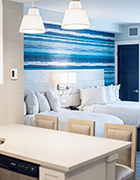 Hotel LBI The luxury boutique resort offering the charm of a summer home paired with world-class amenities serves as the first site of Long Beach Island to all incoming visitors and traffic. A stunning structure, Hotel LBI's amenities for all visitors, include the Lighthouse Beauty and Wellness Center with your choice of spa services, an indoor tropical pool with retractable rooftop, and relaxation on the rooftop firepit deck. Info: hotellbi.com.  
---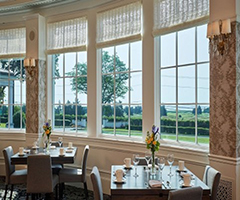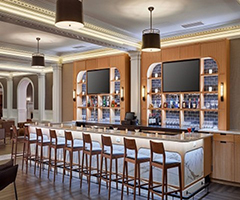 Seaview, A Dolce Hotel  With a recent $18 million renovation, this seaside resort steeped in history offers a wide array of modern amenities. From the elegant lobby, 270 well-appointed guest rooms, southern New Jersey's only golf and spa resort offering 36 holes of championship golf on two world-renowned courses, and a full-service Elizabeth Arden Red Door Spa. Info: seaviewdolcehotel.com. 
---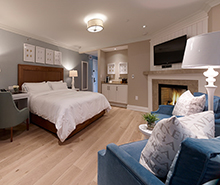 The Reeds At Shelter Haven Adding a new spa and 21 modern guest rooms, The Reeds is further proving why it was named in Conde Nast Traveler's 2019 Best Hotels for New Jersey. The year-round luxury boutique hotel and resort is located directly on the bay in Stone Harbor. It offers breathtaking seaside views and convenient access to downtown Stone Harbor's shopping and restaurant district. Info: reedsatshelterhaven.com.
---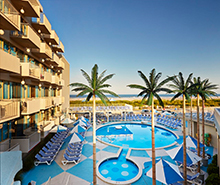 Pan American Hotel There are plenty of B&Bs and resorts in the Wildwoods, but a stay at Pan American—part of the Morey's Piers' Hotel Group—is par excellence. Of course, there are the amenities, but it's the staff that makes the difference. Service is utmost and is practiced every day. A good reason why families return to this sunny gem year after year; it is that intoxicating. The hotel accommodates families large and small and provides a comfortable place to spend a beach vacation, complete with a pool, beach, onsite dining, and the added plus of attractions. Since Pan American is nestled on the beach, those who want to soak up the rays have several options. Head to the beach for the day or relax by the pool. While adults relax on the beach or poolside, a social director can lead kids on supervised activities (in season). Info: moreyspiers.com/hotels/pan-american.
---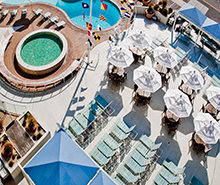 Port Royal Hotel Chill or Thrill! Mild or Wild! In the Wildwoods, you can do as much—or as little—as you like. There are miles of white sand beaches and boardwalk fun. Everything you could ever dream in a family vacation is right here in the Wildwoods. A stay The Port Royal Hotel, a Morey's Piers' hotel, is steps from the beach, known for its long boardwalk, which allows families to enjoy the sun without feeling crowded by other beachgoers. The hotel offers guest rooms and suites catering to families looking to spend an enjoyable vacation along the Jersey Shore. The rooms range from Standard to Deluxe Ocean Suite and feature flat screen TV's, refrigerators, and Wi-Fi. Guests also enjoy the outdoor pool, kiddie pool, patio, snack store, game room, and a popular Doo Wop 50s-style restaurant. Yes, it is the place to be. Info: moreypiers.com/hotels/port-royal.
---
WINE & DINE
No matter what type of food you are in the mood for, you will find the best choices. Here are some of the best from steakhouses and seafood to Italian fare, plus sports bars and more.
| | |
| --- | --- |
| Knife & Fork Inn Established in 1912, the Atlantic City staple has been renovated to maintain its retro Prohibition-era vibe. It is now owned by the Dougherty Family of Dock's Oyster House fame (see below). Known for seafood, steaks, and an extensive wine list, the restaurant is part of the state's Anthony Bourdain Food Trail, which launched in 2019 and spotlighted 10 New Jersey restaurants featured on the Emmy Award-winning Anthony Bourdain: Parts Unknown. Info: knifeandforkinn.com. | Dock's Oyster House Anchored in Atlantic City, the restaurant opened in 1987 and continues to blend the classic oyster bar feel with upscale dining and maritime touches. Dock's menu features a wide variety of the highest quality fish and shellfish expertly prepared to showcase the seafood's natural flavors. The seafood-centric menu features house-made soups, sides, and salads featuring local produce and meats that will rival any steakhouse. Locals love dining early and visiting for happy hour, which is offered daily. Info: docksoysterhouse.com.  |
| | | |
| --- | --- | --- |
| JBJ Soul Kitchen A favorite of visitors and residents alike, JBJ is a non-profit community restaurant, run by the Jon Bon Jovi Soul Foundation, that serves paying and in-need customers. There are no prices on the menu at all three locations throughout Jersey. However, a suggested donation of $20 per meal. Those who are unable to donate are encouraged to help the community by volunteering. Info: jbjsoulkitchen.org.  | The Sawmill What began as a small hot dog stand outside the entrance to Funtown Pier in 1977 has evolved into a staple of the Jersey Shore, known for the signature Jumbo Slice. The restaurant is in the Park Pavilion building at the south end of the Seaside Park Boardwalk. The restaurant also highlights many New Jersey craft beers on its rotating tap list. Info: sawmillcafe.com.  | Kubel's A Long Beach Island tradition since 1927, Kubel's is known for its impressive hangout for locals. After all, it is the oldest tavern on the island. Try the signature crab cakes, old-fashioned crab pie, Barnegat Light scallops, and the special half-pound "K" burger. The restaurant is also part of the Anthony Bourdain Food Trail. Info: kubelsbarnegatlight.com |