MY NEW YORK STORY
Lizzie Asher
By Anne Grenier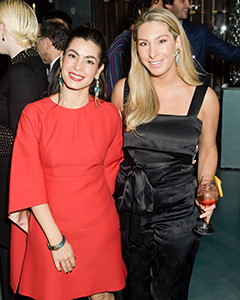 American Foundation of Savoy Orders and Young Friends of Save Venice Hosted Cocktail Reception in honor of H.R.H. Prince Emanuele Filiberto of Savoy, Prince of Venice ©BFA
Elizabeth "Lizzie" da Trinidade-Asher—better known simply as Lizzie Asher—loves hosting numerous galas and charity events throughout the year. Last year was especially busy for Lizzie who organized with Save Venice's Young Friends Steering Committee an event to host H.R.H. Prince Emanuele Filiberto of Savoy. The Prince of Venice joined the celebrations to raise awareness of conservation efforts following the horrific floods in Venice.
Lizzie has not stood still, and in the current environment has become very involved with close friends launching a non-profit to aid frontline workers across various industries including healthcare workers. New York Lifestyles caught up with Lizzie to understand more about her motivation and passion for giving as a New Yorker.
What inspired you to get involved in philanthropy?
I do not know that I was inspired per se. Instead, it was always the way of life in my family. Since I was little, my mom taught me a phrase that has become part of my DNA, noblesse oblige. I must admit that I might have lost sight of it upon moving to NYC at first with all the distractions in the city, but my mom soon rectified that and challenged me to identify some causes to which I would dedicate my time and resources.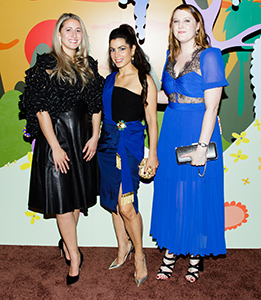 The Museum of Arts and Design's: MAD Ball ©Max Lakner/BFA
While I might have chosen a couple of causes that are immensely close to my heart, such as City Squash and Save Venice, I love to support my friends who are involved with other incredible organizations. All that love and desire to help others has translated into a group that includes Mercedes de Guardiola, Laura Day Webb, and Casey Kohlberg. We have founded Cura Collective after recognizing that communities needed support across many fronts. Workers across industries have lost their jobs and livelihoods at an unprecedented rate, restaurants are collapsing, and small businesses are devastated—while healthcare workers fight to contain the pandemic on the frontlines. All of us have connected with various organizations and our goal is to leverage those affiliations to bring resources together for those in need right now. Cura means to care, and the most powerful care comes from communities coming together to help those who need it the most.
Tell us more about your charities and how supporting them in New York makes a difference.
One of the greatest things about NYC is that it is replete with so many generous people. In recent months I was busy co-hosting the Parrish Art Museum's Annual Midsummer After Party. I was part of the Benefits Committee of the Frick's Young Fellows Ball and New York Botanical Garden Winter Wonderland Ball. Also, I was engaged with various other charities. I celebrated their achievements, such as Gabrielle's Angel Foundation's Angel Ball, The White Cross Ball of New York, and SEA's 25th Anniversary Gala and most recently participated as a Vice-Chair of the Young Collector's Night of the Winter Show.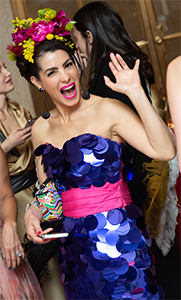 Un Ballo in Maschera – Artista e Musa for Young Friends of Save Venice ©Save Venice
Cura Collective, which launched this month, can say that thanks to the generous hearts of the Peninsula Hotel and Oars & Alps, it has delivered to Columbia Presbyterian. Over one thousand toiletry kits were distributed to frontline workers housed in dorm/hotel rooms. Our new non-profit, like other charities in the city, is the lifeblood of so many needed services that complement public sector efforts—and just as importantly provide a safety-net for those with whom we share this incredible city and beyond! Imagine, through City Squash, the generosity of New Yorkers provides after-school opportunities for at-risk children in the Bronx. At the same time, through the work of Save Venice, New Yorkers ensure that the artistic treasures that represent the genius of humanity are preserved.
With so much going on, how do you remain in touch with your home culture?
It is effortless to stay connected to Peru since I continue to have family there, and Macchu Pisco, the company my sister and I helm, operates out of Peru and the USA. After all, the US-based importing company, which I run, brings to the US the product that my sister produces—a sublime line of piscos, or as I like to say, the cleanest spirits in the world. Why bother with vodka that has zero aroma or flavor or get overwhelmed by botanicals of gin when you can have pisco that sits rights between those categories?
Pisco delivers the bouquets of grapes and the taste profile of the fruit, all in an 80-proof format. Most importantly, the grapes embody the terroir of the Pisco Valley, an area in Peru south of Lima that is a desert valley sitting between the foothills of the Andes and the shores of the Pacific Ocean. It is a picturesque oasis that harkens back to a different time. Yet, we have brought to the Valley modern ideas of creating products under the fair-trade ethos and ensuring that our grapes are grown free of agrochemicals to create our hypernatural, Macchu Pisco, La Diabalda and Nusta Piscos.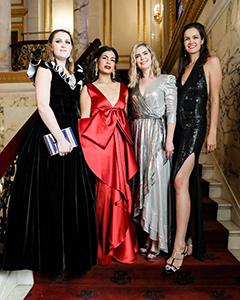 NYC White Cross Ball ©Samantha Nande/BFA
Please share some of your favorite places in the city and times of year.
My family has participated in the Bronx Zoo's Run for the Wild 5-K race the last couple of years, and this year we were very much looking forward to our third consecutive year. However, due to the COVID-19 restrictions, the race was canceled. However, that did not mean that we stopped racing. Instead, we have taken our runs as opportunities to explore the city far and wide. Some of the newer locations have become favorites: Clove Lakes Park in Staten Island, the Cloisters for some heart-pumping hill runs, and to hear the waves crash as you run, try the Rockaway Beach Boardwalk.
What have you learned from your time in the city which will always remain with you?
One of the greatest lessons that I will always carry from NYC is that you might be born into a family, but here you can create your own. I arrived in NYC with one sister and yet now I boast a plethora of "soul sisters". I have "soul siblings" as there are some remarkable people that I have met in this city, and whether they continue to live here or not, we continue to be deeply rooted in each other's lives. I can travel as far as Hong Kong, Dubai, Singapore, and I know that I have friends waiting for me there with whom we can relish about our time here. We will always have the magnificence of NY as the tie that binds us!
For more information on Lizzie Asher and Macchu Pisco, visit macchupisco.com.