THE WOMAN BEHIND SWEET VEGAN
From Architecture to Healthy Treats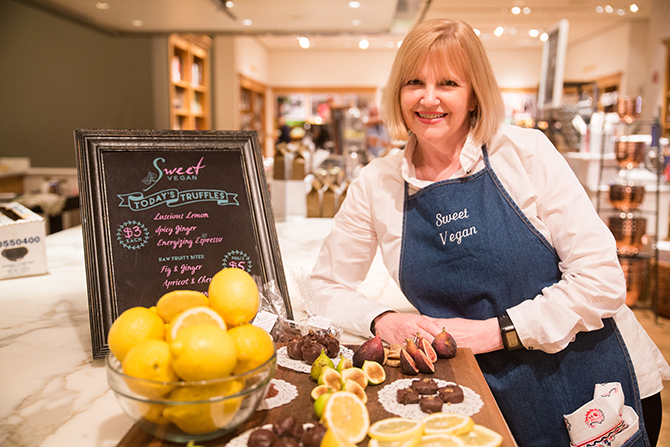 By Andrea Young
The road from architecture to vegan chocolate has had many twists and turns starting with my grandma, Georgia May, back in Indiana. She taught me everything I know about cooking with love and passion, along with a dash of good old-fashioned work ethic. While she cultivated this cooking, I was introduced to the visual creativity of my father who would take me to open houses for properties under his management.
Unconventional as it was, I enjoyed imagining the families that had lived in these beautiful old homes. Some of them needed a lot of work, and I could envision beautiful hardwood floors, fresh coats of paint, new kitchens with the latest appliances and, of course, floral curtains in the living room. There at age 8, my love of interior architecture was born.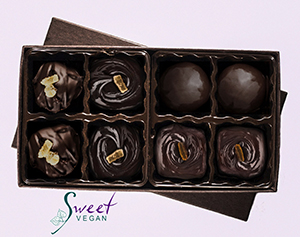 SKY HIGH DREAMS
Living in Finland as a foreign exchange student, I studied the contemporary architecture of Alvar Aalto. My studies continued in Seattle, and from there, I became an assistant field engineer in Prudhoe Bay, Alaska. Finally, I was lured to the world of skyscrapers and diversity: New York City, and there I found my niche. I was accepted at Parsons School of Design, where I studied environmental design and started my career becoming a lead designer at the oldest interior design firm in America. McMillen, Inc.
I never abandoned my curiosity about experimenting and creating new recipes. During one of my mother's visits to NYC, she accidentally fell and had to be hospitalized. As her caretaker, I wanted to provide her with the best nutrition. I was introduced to vegan chef Christine Waltermyer who taught me how to prepare plant-based meals. With improved nutrition and care, my mother's health improved rapidly. This inspired me to enroll in Christine's Natural Kitchen Cooking School. While still working full time, I became a certified vegan chef, although my heart always belonged to architecture.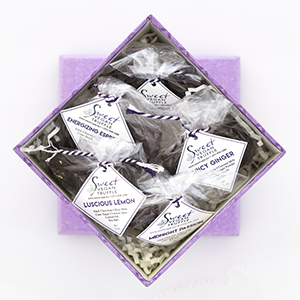 WHIPPING UP A NEW CAREER
When the economy hit a crunch, my design position was reduced to four workdays. During this time, I reflected on my life and realized my most impactful memories were cooking with my grandma. I tested the waters by teaching cooking classes at Integral Yoga and preparing plant-based dishes as a personal chef for a celebrity clientele.
Healthy treats, including chocolates, were a popular request. The vegan lifestyle has gained momentum due to bone and heart health benefits and lowering the risk of some cancers. This inspired me to create chocolates that are entirely plant-based, gluten-free, and without dairy, nuts, or soy. I wanted to target a health-conscious audience as well as those with food-based allergies. Besides, I wanted to create a sweet treat that not only promoted a healthy lifestyle but also came with exceptional quality and taste. As part of a career makeover, I also completed a Columbia University/SBDC entrepreneurial program. I believe that this education gave me a healthy start with the right ingredients to succeed. At this point, I traded in my hard hat for a hairnet, and in 2016, Sweet Vegan was born.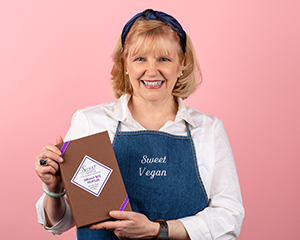 A VISUAL EXPERIENCE
My experience in architecture and food science gave me the confidence to create and discover a unique recipe for Sweet Vegan. Thus, Dreamy Bites were born. With distinctive flavor and personality, Dreamy Bites are a vibrant, velvety and creamy ganache dipped in a luxurious 70 percent organic dark chocolate with four distinctly robust flavors including Energizing Espresso, Luscious Lemon, Midnight Passion, and Spicy Ginger. The chocolates are fresh, natural, preservative-free, and contain six recognizable ingredients. Dreamy Bites are artisan handcrafted and made in small batches using only the highest quality organic ingredients.
In interior architecture, we visually absorb and make subjective judgments about color and how we feel when we enter a room. Therefore, my design choices for Sweet Vegan packaging had to reflect an eye-catching color scheme that was inviting and memorable. I chose rich chocolate brown, royal purple with touches of green to encourage customers to discover Sweet Vegan. Conscious of the environment, Sweet Vegan packaging is committed to using sustainable materials.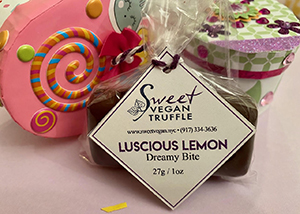 SWEET REWARDS
My company's mission statement also takes an architectural approach, one that's very direct and user-friendly: Creating a healthy food-body connection that drives me every day to deliver the best-tasting chocolates—that happen to be vegan. To this day, my customers comment they can't believe the chocolates are vegan!
One significant difference from my years in architecture is the unbelievable amount of joy that I get when I see people trying Sweet Vegan chocolates for the first time. They light up because they taste amazing, and I know the love and care that goes into making every single Sweet Vegan chocolate. It's these values of creating and my passion that is expressed in every bite.
For more information on Sweet Vegan, visit sweetvegan.nyc.