MEMORY FLAVORS
Comfort Foods Are Just A Call Away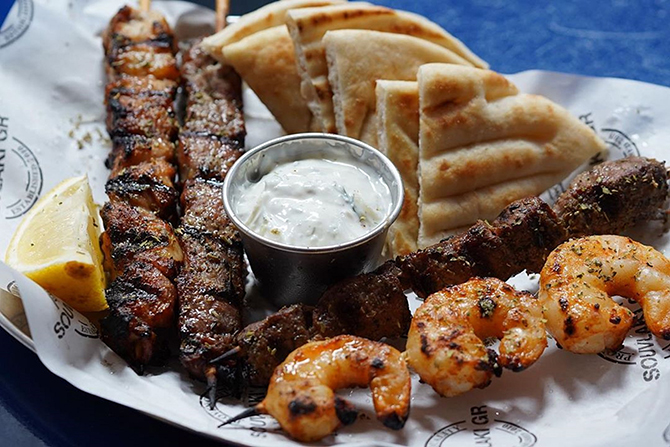 Souvlaki GR
By Irvina Lew
Our restaurants are our dining rooms, our gathering places; they are where we meet best friends and new acquaintances, celebrate special occasions and enjoy our favorite meals. Some restaurants are finds; others provide memory flavors that remind us of dishes that we've discovered while traveling. Still others recreate childhood memories, à la Proust's madeleine.
Whether it's a Sunday morning bagel, an afternoon pasta extravaganza or a singular experience, like patatas bravas lined up like pieces on a chess board, foods are associated with memory. With most restaurants closed during this challenging time, there's no use heading downtown to Tim Ho Wan, to sample the same stupendous Dim Sum that Chef Mak served me at his first restaurant in Hong Kong, nor to our other regular rendezvous.
What's next best—and still readily available—are all the good pick-up and some delivered dinners that restore memory flavors. Online and telephone orders will support our local restaurant staffs, expand our ordinary repertoires, remind us of past culinary pleasures, and revive us with childhood comfort foods.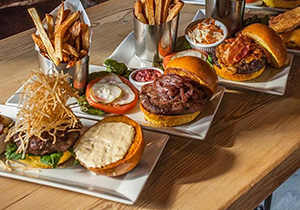 Tavern on Jane
AMERICAN
I craved and cooked meatloaf, this week; it's one of my "stay home, stay safe" staples. I binged on something that I loved as a teen: a leftover, cold meatloaf sandwich with lettuce, sliced onion, and ketchup on soft, taste-the-sugar, Wonder white. Happily, for those who don't cook it, meatloaf is a weekly special and available for pick-up at Tavern on Jane the cozy and friendly West Village-style Cheers. In a neighborhood brimming with choices at every price point, ethnicity and degree of culinary achievement, I often meet my BFF for a burger, by-the-fire at Tavern. Owner Michael Stewart makes a variety of meatloaf specials on Wednesdays. "We call one 'Ma Stewart's,' because it's what my mom used to make for her twelve kids; she used oatmeal instead of breadcrumbs and served it Southern style, with sweet tomato gravy, as we do." Other varieties include jalapeno & barbecue sauce meatloaf and bacon and cheddar meatloaf, with a slice of bacon on each piece and a cheddar cheese sauce topping. The daily soup specials range from beef barley, barley and vegetable, white bean and chorizo, to split pea and kale and garbanzo. Roasted wild North Atlantic salmon is always on the menu. Info: tavernonjane.com; 212-675-2526.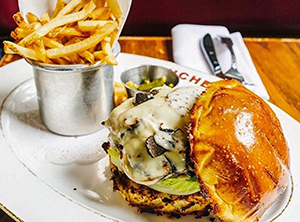 Boucherie
FRENCH
Desolé, most of our French favorites are fermé, so we can't head downtown to Le CouCou, where Daniel Rose updates traditional bistro fare, as he did at Spring, in Paris' First Arondissement, or to Lincoln Center where the warmth of Provence is toujours present, seated near the authentic Provençal pottery that Daniel Boulud displays on shelves at Boulud Sud. Happily, for those who share my affection for rotisserie chicken—and regret the loss of Rotisserie Georgette, which served the best—there's Poulette which offers mouth-watering chicken—and delivery, too. Info: poulettenyc.com; 212-956-9488.
Boucherie on Union Square, 7th Avenue South and Christopher Street serves chicken, too, and classic Soupe à l'Onion Gratinée, even Mousse de Foie Gras. Best of all, the restaurant delivers! Info: boucherie.nyc; 212-353-0200.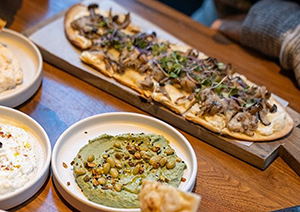 Ousia
GREEK
In Manhattan, where top Greek restaurants serve the best authentic imported olives, olive oil and honey, I favor Ousia, the far west side baby sister to Molyvos, which reminds me of a long-ago trip to Greece. Nick Livanos, of the Livanos Group, tells me that Ousia is open for pick-up orders. With a shared whole roasted fish, I opt for the appetizer spreads, including melitzanosalata, a roasted eggplant and garlic dip, and tzatziki (Greek yogurt, cucumber. and dill spread) that's a cinch to replicate at home and serve with grilled pita—add splash of olive oil and a sprig of oregano). Info: ousianyc.com; 212-333-2000.
Foodie friends rave about Souvlaki GR, which has three Manhattan locations. They ordered moussaka and pastitsu (she, a medical doctor, reheated it as added protection against COVID-19) and baklava and added: "We should have eaten while watching Zorba the Greek!" Info: souvalakigr.com; 212-777-0116.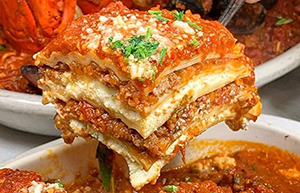 Carmine's
ITALIAN
Even if you have stocked up on sauces and can easily boil pasta, time-intensive favorites like fried calamari, baked clams, a whole stuffed artichoke, bresaola, scampi or parmigiana dishes might soothe your spirits and remind you of feasts past. Carmine's temporarily shut their Times Square location but is open on Broadway for pick-ups. So, mangia! Info: carminesnyc.com, 212-362-2200.
The Serafina team has vegetarian options at a multiplicity of locations thoughout the city and ready to handle on-line orders and even deliveries. Info: serafinarestaurant.com; 212-702-9898.
So, the next time you ask: "What's for dinner?" consider a neighborhood restaurant that offers pick-up service and order something that's as good for your emotional well-being as for your taste-buds and good health. Or, try your favorite delivery service: Delivery, DoorDash, Postmates, Seamless and Uber Eats. Another delivery service, Caviar, is gifting a month of free deliveries.
And, to all those of you who can, please support your local food banks, City Harvest (cityharvest.org), Rethink Food NYC (rethinkfood.nyc) and all the generous restaurants that have transformed into community kitchens, including Jose Andres' Mercado Little Spain (littlespain.com).
Salut! Salute! Salud!