TIME OUT WITH...
SANTA CLAUS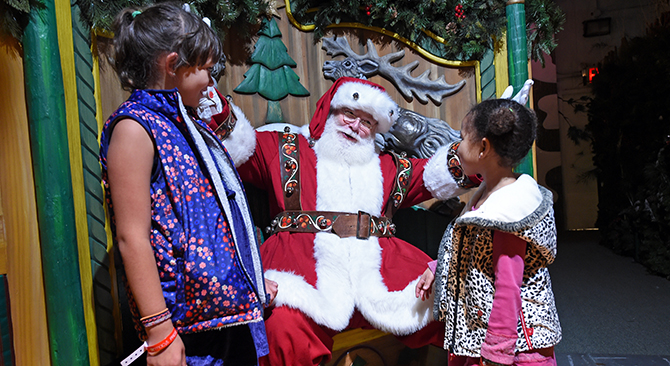 By Griffin Miller
Catching up with Kris Kringle is tricky this time of year. So many lists to check twice, so many fans to greet at Macy's Santaland at Herald Square. Fortunately, the man of the hour found time for a very merry interview with New York Lifestyles. He really is the best!
You're a busy dude, Mr. Claus…
Call me, Santa.
Wow, thank you, sir.
It's what the kids call me, you know. You did, too, when you were little.
That's right, I did! Okay, Santa. As I was saying, this is pedal-to-metal time for you, jetting back and forth between Macy's Herald Square and the North Pole.
I Skype.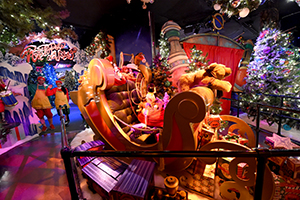 Really?
Of course not… I'm magic!
Ah hah!
I think you meant Ho, Ho, Ho.
I did, Santa, thanks! You were saying…
While I need to be checking out how things are going at the North Pole, I need to be here, too, listening to everyone's Christmas wishes.
Well, it certainly is gorgeous in Santaland.
I know. The pine trees glitter, the mountains are topped with snow, the lights are fantastic… and everywhere you look, you see elves and kids of all ages.
Even grownups?
Ah, ah, ah… tall kids!
But how do you see so many people, Santa?
Magic happens.
Can you be more specific?
I rely on my wonderful elves who work their own magic. Many people don't realize that Santa is also an elf—a jolly old elf.
So with the elves helping out, that frees you up.
Yes, to listen to the wants, the hopes, and the joys of kids and their families.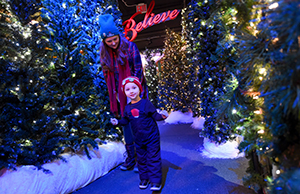 But Santa, not all children and their families who visit you here come from New York.
Not to worry. On Christmas Eve, I magically travel everywhere with my team of hearty reindeer.
That's a lot of miles to cover, even magically. Don't the reindeer get hungry? And what do they eat?
Thank you for asking. As you know, many people are kind enough to leave cookies and milk out for me. But it's extra nice when they remember to also leave some carrots for the reindeer. It's no easy job carrying all those toys everywhere in a fancy sleigh.
Speaking of cookies, do you have a favorite?
I can't say I do! Whatever you decide to leave me is automatically my favorite.
More magic?
Of course.
Even with all those cookies to keep you going, you must be exhausted at the end of the night.
Well, officially, I only work one night a year, so I have 364 days of stored up energy to tap into.
I recently found out that approximately 200,000 people visit you each year in Santaland. Does that surprise you?
Not at all! And it's my privilege to give everyone who comes to see me their special moment. Every little kid—and tall kid, too—is unique, and I always love hearing what they want for Christmas, or just what's on their mind.
Thanks so much, Santa, and FYI, I can use a new laptop if it's not too much trouble.
To make a reservation for Macy's Santaland visit macys.com/santaland and for further information, contact Macy's Holiday Hotline at 212-494-4495.