NYC Celebrates
NEW YEAR'S EVE
By Natasha Bazika
Few nights are more magical than New Year's Eve in New York. The anticipation of watching a ball covered in 2,688 Waterford Crystal triangles drop in the last 60 seconds of the year, the thousands of spectators celebrating a fresh start—it's one of the most enchanting sights you'll see in Manhattan. But there's more!
Throughout the city, there are hundreds of parties and celebrations taking place in bars, clubs, and on rooftops. One of the many sights you'll see are revelers dressed in their best, and with an entourage in tow, lining the streets waiting to get into clubs and bars. It's a time to celebrate with our friends and family and welcome a brand new year.
So, whether you're looking for the hottest party of the year, a concert with an incredible line-up, or want the best views away from the crowds, follow this guide to welcome 2020 in a city that knows how to throw a party.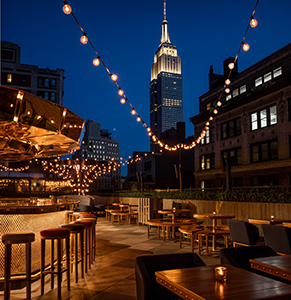 Magic Hour ©Warren Jagger
BARS & CLUBS
Moxy Times Square
If you want a magical New Year's Eve in New York City, you can't go past Magic Hour at Moxy Times Square. As the city's largest indoor/outdoor hotel rooftop bar, Magic Hour is an urban amusement park made just for adults, complete with epic views of the Empire State Building and skyline views. Enjoy the open bar from 9 pm to 1 am with a Champagne toast at midnight. For the rest of the night, dance, sip, and cheer your way to a New Year with friends and family surrounded by carousel seating, and oversized topiary gardens. Tickets start at $125 for general admission and $3,750 for the Elephant Room, which seats 10. If you want to make a night of it, you can opt-in for the Ball Drop, Booze, and Bedroom package starting at $299 per night.
Info: moxy-hotels.marriott.com.
Baccarat Hotel New York Over 2,000 crystals surround the iconic ball hanging above Times Square, but who says your New Year's Eve can't be surrounded by crystal? The Baccarat Hotel New York offers guests the chance to celebrate New Year's as it should be—surrounded by crystal. In the Grand Salon, enjoy live music from 7 to 11 pm and bites from Michelin-starred Chef Gabriel Kreuther, including Langoustine with Saffron and Roe, Wagyu Beef, and Valrhona Dark Chocolate Mousse Dome with Salted Caramel Sauce for dessert. In The Bar guests can enjoy a similar experience with bites served on a Baccarat Crystal three-tier server, paired with two glasses of Dom Ruinart 2007 Champagne, followed by an assortment of Chouquettes. Reservations are $300 per person and $100 per child for the children's menu at the Grand Salon.
Info: baccarathotels.com.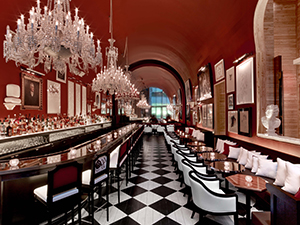 ©Baccarat Hotel New York
The Times Square EDITION
It didn't take very long for The Times Square EDITION hotel to gain a reputation as the place to be. Just take a look at the famous clientele including Hailey Bieber and Kendall Jenner. The hotel has several venues that are ripe for welcoming 2020. Info: editionhotels.com/timesquare.
• The Paradise Club This year, they are offering for the first time, New Year's Eve experiences to help you ring in the New Year the best way possible with New Year's Eve in Paradise. Dance the night away in the Paradise Club, an electric nightclub inside the hotel. Guests will enjoy a 4-hour open bar starting from 8:30 pm as well as hors d'oeuvres until 10:30 pm. As for entertainment, there will be cabaret-style performances and world-class DJ entertainment that will have you dancing into dawn or at least until 3 am. You can even capture every moment of the ball drop live on TV and toast with Champagne when that moment we've been waiting for finally arrives. Doors open at 8 pm, but we suggest getting there early as entry into the Times Square area is not guaranteed after 9 pm. Tickets range from $195 to $495.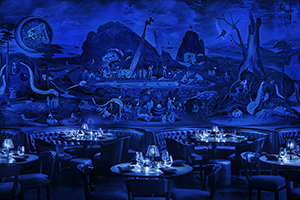 Paradise Club ©EDITION Time Square
• The Terrace and Outdoor Gardens If you're looking for a chic soiree to ring in the New Year, look no further than The Terrace and Outdoor Gardens. Guests will indulge in an all-inclusive feast featuring an array of savory dishes from 8 to 10 pm, followed by sweet delicacies from 10 to 11 pm. Once the food is cleared, get ready to dance and sip your way to midnight with a 4-hour open bar and live DJ entertainment. Of course, there will be a Champagne toast when the clock strikes 12, and the ticket includes access to the after-party at the Paradise Club.
• 701 West Restaurant You're going to want to sport your best frock for this fancy soiree. At 701 West, the hotel's premier fine dining restaurant, guests will revel in a 6-course menu curated by Michelin-starred Chef John Fraser. There will also be a 5-hour open bar, wine, and cocktail pairings throughout and live entertainment all night. The best part, guests will have access to an outdoor terrace that overlooks Times Square. From 7:30 pm, guests are welcomed with signature cocktails and canapés in the Salon, before being seated for dinner with a viewing of the ball drop and, of course, the Champagne toast at the end.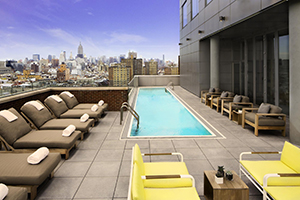 Mr. Purple ©Gerber Group
PHD Midtown/Dream Hotel
Enjoy one of the best skyline views in the city at PHD Midtown in the Dream Hotel. The Times Square hotspot known for its illustrious Fashion Week parties is throwing an epic New Year's Eve party with appetizers served from 9 to 11 pm and open bar from 9 pm to 2 am. The Fish Bowl Bar & Lounge will also be hosting a party, including a 5-hour open bar from 9 pm to 2 am. As will The Rickey at Dream, a vintage-style lounge with velvet seating and a live DJ to count down the New Year. Tickets start at $89 to $210.
Info: phdterrace.com
Mr. Purple/Hotel Indigo Lower East Side
For those looking for a party, Mr. Purple at Hotel Indigo Lower East Side is where you can find a live DJ and a live feed of the ball drop. For a truly exclusive experience, purchase the all-night access to the Clicquot Chalet, a private terrace offering bottles of premium liquor and magnums of Veuve Clicquot Champagne and two hours of chef-inspired plated appetizers as well as a midnight toast.
Info: mrpurplenyc.com
The Roof/Le Meridien Central Park
Ring in 2020 at The Roof which boasts spectacular views of the fireworks over Central Park. Guests will enjoy tunes from a live DJ, fill up on appetizers and welcome the New Year with a Champagne toast. There will also be a live feed of the Times Square ball drop. Tickets start from $85 per person to $600 for table packages.
Info: theroofny.com.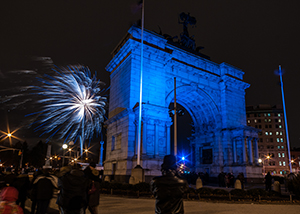 Prospect Park Grand Army Plaza ©2012 Andrew Gardner
FIREWORKS
New Year's Eve in Prospect Park
Skip the masses in Times Square and head out to Brooklyn for a spectacular fireworks celebration at Prospect Park's iconic Grand Army Plaza. Brooklyn borough President Eric Adams and the Prospect Park Alliance will hold its annual fireworks display. The free event will showcase live entertainment starting at 10:30 pm, followed by fireworks at the stroke of midnight. Locations for the best viewing spots include Grand Army Plaza, the Park's West Drive, and along Prospect Park West between Grand Army Plaza and 9th Street. Info: prospectpark.org.
New Year's Eve in Central Park
It doesn't get any more classic than New Year's Eve fireworks in Central Park. At the stroke of midnight, hundreds of people gather to run four miles under a sky lit by fireworks for the annual New Year at the Midnight Run. The course follows the inner loop of Central Park starting on 72nd Street and finishing back on 72nd Street, near Bethesda Terrace. If your new year's resolution is to be more active than this one's for you.
Info: nyrr.org/races/nyrrmidnightrun.
New Year's Eve at Coney Island
Make a day of it at Coney Island and welcome 2020 with friends and family at the people's playground. Coney Island will turn into a magical circus of live music, sideshow performances, and a spectacular fireworks display at midnight. Although the rides will be closed because of the cold, there is plenty to see and do all night, including eating at many well-known restaurants in the amusement park. Grab a great spot on the boardwalk and watch the sky come alive as you look forward to the New Year and its endless possibilities.
Info: coneyisland.com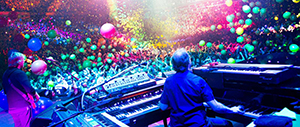 Phish @MSG
CONCERTS
New Year's Eve with Living Legend Stephen Sondheim
Multi-award winner and living legend Stephen Sondheim's oeuvre takes center stage at New York Philharmonic's annual New Year's Eve concert. Tony Award winner Katrina Lenk (The Band's Visit)—soon to star in Company—and music from Into the Woods, Sunday in the Park with George, and Sweeney Todd and more will also be joining this year for a concert to remember 2019 and a perfect start to 2020. Tickets range from $110 to $299.
Info: nyphil.org.
Phish at Madison Square Garden
Phish is back again this year at Madison Square Garden. The American rock band known for their oriented and group improvisation that draws on funk, reggae, hard rock, and acoustic genres will return for a 4-night run beginning December 28th through December 31st.
Info: phish.com/tours/2019-2020-new-years-run.