BLUEBIRD LONDON
Fine Dining With A Brit Twist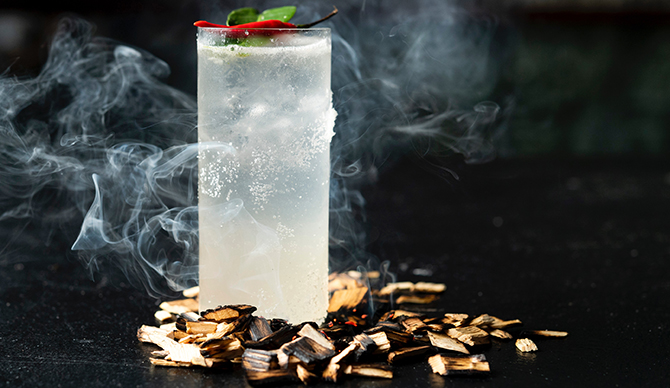 By Kristie Kellahan
When Bluebird London opened in New York City a year ago at Columbus Circle, expectations were high for the Brit-influenced bar and restaurant. With the DNA of its UK namesake venue—Bluebird London has been a favorite of Chelsea's fashionable set for more than two decades—and picture-perfect views of the southwest corner of Central Park, it has caught the attention of city diners.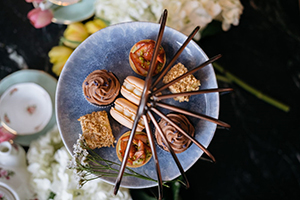 What came next would challenge most restaurateurs. Harsh reviews in the New York Times and Eater NY criticized the food, reinforcing stereotypes of Britain as a culinary meh-land. So it's good to see the team at D&D London (owner/operators of Bluebird London and Queensyard at Hudson Yards, as well as dozens of restaurants in the UK) took the criticism square on the chin, rolled their sleeves up and revamped the menu. A year on, the venue has found its feet and has a new confidence.
Located in a 10,500-square-foot cavernous space on the third floor of The Shops at Columbus Circle (adjacent to David Chang's bang bar and noodle shop), you could call Bluebird London three venues in one: Upscale restaurant, relaxed bistro, gin-lover's bar.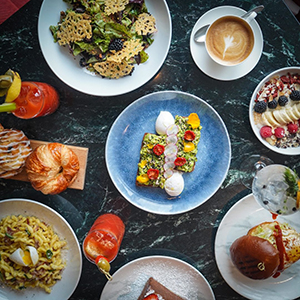 AN UPDATED MENU
The fine dining restaurant—the one with those park views—is a place you could bring a date you wanted to impress, or your visiting-from-out-of-town parents. With its chic interior design and extensive wine list, it's also a solid choice for expense-account business meetings. The menu is seasonal, with a changing roster of specials dictated by availability of freshest produce. On the advice of our waiter, we tasted a light-as-a-feather Cornish Crab dish with Chilled Shrimp Consommé, and a deliciously buttery Banana Tarte Tatin with Earl Grey Ice Cream for dessert. Both were recent additions to the menu. The Branzino with Portavogie Prawns, Sea Beans and Mustard Veloute delivered a satisfying textural and taste combination.
Many will come for the Brit-centric classic dishes that are always on the menu: the Fish & Chips with Minted Peas, Berkshire Pork Loin and Sticky Toffee Pudding are all popular. For a hearty Fall/Winter dinner, the Beef Wellington with Horseradish Potatoes and Sauce Bourguignonne is rich, though diners might want to keep in mind the meat is served medium-rare inside the pastry shell. If your tastes run more to the well-done, order instead the 8 oz. Prime Filet Steak with Bearnaise Sauce.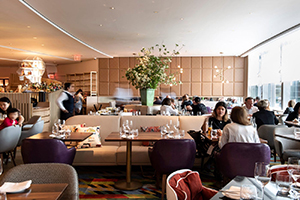 In the relaxed bistro and bar space, Bluebird London has found a reliable audience in locals and those who work in the area around Columbus Circle. With the closure of Landmarc in July, many were looking for an after-work spot to enjoy happy hour drinks and comfort food favorites in an elegant, grown-up environment. They'll find it here, with a menu that features affordable bites—Cilantro & Lime Fried Chicken, Crispy Lobster & Avocado, and British Cheese & Charcuterie each run under $20—and crave-worthy dishes to order after a few rounds of cocktails. We're looking at you, Buttermilk Fried Chicken Sandwich.
A CLASSIC G&T MENU
One thing we know we can always rely on the Brits for is an extensive commitment to gin. Here, Bluebird London does not disappoint, with a dedicated Gin & Tonic menu. The Botanist features Fever Tree elderflower tonic, lemon, thyme, rosemary and juniper, while Are You Curious packs a citrus punch with blood orange and juniper mixed with a classic G&T. Drink your way through all six cocktails on the gin list, and you'll definitely be ordering the Parmesan Truffle Fries.
For more information on Bluebird London, visit bluebirdlondon.nyc.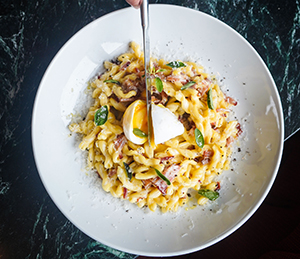 A TASTE OF BLUEBIRD AT HOME
Fusilli Carbonara
Created by Chef Danila Bogdan for Bluebird London NYC
3.5 oz. Fresh Fusilli pasta;
1.5 oz. Guanciale (Italian cured pork);
2 Eggs; .
1 oz. Pecorino Romano; .
2 oz.;
Pinch of Salt and Black Pepper.
Preparation: In a fry pan, slowly heat the Guanciale until you cook off the fat. Set aside. In a mixing bowl, combine 1 egg, Pecorino Romano, Salt and Black Pepper. In a large pot of boiling salted water, cook the pasta. Drain and reserve some of the water. Combine the egg mixture with the pasta over medium heat until egg is cooked. Add a bit of the pasta water until you create a creamy sauce. Add the Guanciale. Top with the remaining Egg, which has been poached.