DAVIO'S NORTHERN ITALIAN STEAKHOUSE
A PRIME MIDTOWN SPOT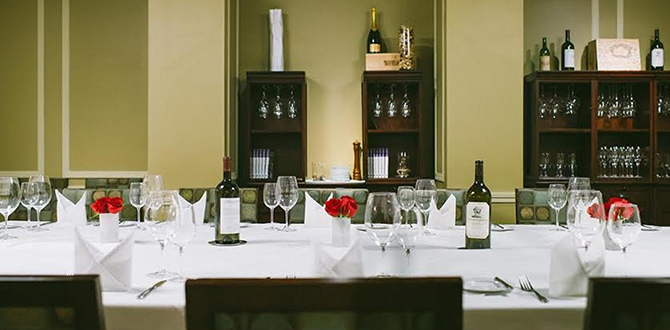 Davio's interior
By Anne Raso
Davio's Northern Italian Steakhouse accomplishes the rare feat of equally excelling at serving prime, grass-fed meats as putting a modern spin on Northern Italian specialties. Portions are generous, and the wait staff is accommodating and friendly. Your dietary specifications/preferences are always taken into consideration.
Conveniently located just a stone's throw from Grand Central at 441 Lexington Avenue, Davio's is easy to access. The earth tone-hued dining room is modern and spacious, with some of the most "cushiony" chairs in New York and plenty of space between tables. Despite Davio's size, the noise level is at a minimum, which diners prefer.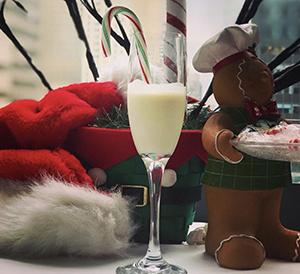 Annise Hernandez-Scott was just recently named Executive Chef by owner/restauranteur Steve DiFillippo. She's been with the restaurant since it first opened six years ago (the very first Davio's opened in Boston's Back Bay in 1985). The young Hernandez-Scott cut her teeth in the kitchens of the legendary Five Star Diamond Award-winning Fairmont Scottsdale Princess, followed by stints at The Plaza and other notable NYC hotels.
KITCHEN TLC
New York Lifestyles recently visited Davio's and had the pleasure of not only dining there but also meeting Hernandez-Scott in person. She is about the youngest-looking executive chef in NYC, and we jokingly asked if she was about 19—but in all seriousness, she knew she wanted a career in the culinary arts since she was in grade school. We pointed out that we not only admired the quality and care put into her dishes but the fact that she has mastered both Northern Italian and classic steakhouse fare. She humbly pointed out that she doesn't do it alone. Hernandez-Scott enthused, "I love being in the kitchen with a great group of chefs beside me, and the team at Davio's is more than I could hope for."
Admirably, Hernandez-Scott is very hands-on in selecting meat, fish, and produce. She explained to NYL: "We get all our fish from Foley Fish out of Boston, and our beef comes from Brandt Beef in California. Quality is so important not only to me but everyone in the Davio's kitchens."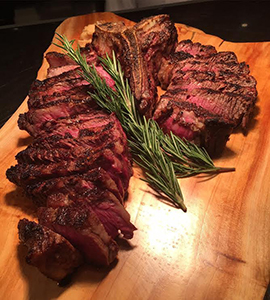 Porterhouse for two
We wondered what are the challenges as well as the rewards of working for a major New York steakhouse. The affable executive chef answered, "One of the challenges is keeping up with all the crazy food trends, but we manage to stay true to our roots while evolving with the industry at the same time." She added with a smile, "The way I see it, there is much more to love at a Northern Italian Steakhouse! Northern Italian fare focuses on heavier and richer cuisine. Our steakhouse offers handmade pasta, made from scratch daily. At Davio's we want everyone to feel like family, so we are very conscious of our guests' potential dietary restrictions. We offer a gluten-free menu, almost always have a vegan entree, and our staff is highly trained to accommodate most guest allergies."
So just who is the typical Davio's clientele? (We had to ask if there have been any celebs lately!) Chef Hernandez-Scott answered, "We serve everyone from CEOs to United Nations Ambassadors to pro athletes to families with children in tow." Davio's strives to offer the same hospitality whether it's a dinner for two or business event.
Hernandez-Scott has nearly no time to mingle with these notables or any guest for that matter, which seems to be her only regret while helming the extra-large Davio's kitchen. She states, "I am usually so busy with my team in the kitchen that I don't get to greet guests in the dining room very often. Luckily, we have a beautiful open kitchen, so I still always feel the energy of our guests. We also participate in many charity tasting events throughout the year, and I like to take the opportunity then to talk to our guests as much as possible! I love getting feedback, and I find that many people are pleasantly surprised by our wide variety of menu offerings. The dessert cart is always a big hit as well!"
Davio's Bolognese
A STEAK MASTER'S SECRET
Davio's most popular dishes, according to Hernandez-Scott, are "our Tagliatelle Bolognese, Kobe Meatballs—and of course, a juicy Ribeye never disappoints!" Speaking of Ribeyes, the talented chef gave us the secret to cooking a perfect steak: "The beautiful thing about steak is that it's naturally delicious. The key is not to touch it too much. You cook it on one side, turn it over once and finish it in a hot oven. You should literally touch it once."
If you visit Davio's, you will be drawn in by the aforementioned attributes, including a considerable diversity of menu items that cover everyone from prime beef connoisseurs to pasta maniacs. We adored our perfectly cooked steaks, and we would argue that it would be impossible to find a finer 14-ounce New York strip anywhere else in town, but there are little dishes that fly under the radar that are genuinely unique. A great case in point would be the remarkable Artichoke Alla Romana appetizer, which is four hearts with melted Gruyere and Parmigiano and finishes with a lemony kick. The Tuna Tartare appetizer with Avocado, Meyer Lemon, Harissa, and Davio's pasta chips is a "fan favorite" as well.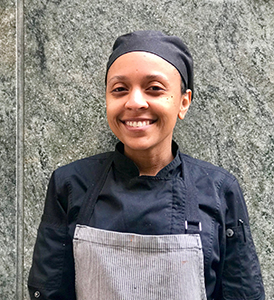 Chef Hernandez-Scott
Hernandez-Scott sums up the restaurant's diverse appeal: "Davio's is a white tablecloth establishment that embodies modern sophistication. We are the perfect restaurant for a business lunch to an evening cocktail tasting or private dining event. We especially love the holiday season, and our decor this time of year is especially festive, giving the ambiance an extra layer of warm, inviting elegance. This reflects in our cooking, especially through the seasonal menu items, which are diligently planned by our fantastic culinary team. We switch up everything from entrees to desserts and even curated seasonal cocktails—so there's always something extra special awaiting the arrival of our next guest."
Like at any great steakhouse or Italian eatery, Davio's has a remarkable wine list, and the servers are extra-knowledgeable on wine pairings for each course. The staff believes in "big finishes" and every meal ends with an old-fashioned rolling dessert cart that will tug at your heartstrings even if you cannot partake of the gooey goodness on it!
For more information on Davio's Northern Italian Steakhouse, visit davios.com. Reservations are strongly recommended but not necessary.