PALM BEACH
The #1 Winter Playground For The Rich & Famous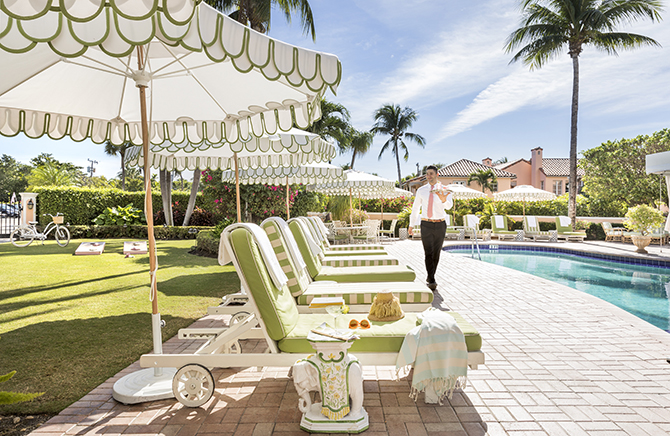 By Maxine Albert
For many New Yorkers, the first wintry chill also cues the warm, comforting sensation that soon it will be time to head down to sunny Florida. Certain places ooze luxury at the mere mention of their name, and Palm Beach is one of them.
Palm Beach became the winter playground thanks to oil tycoon Henry Flagler's vision. In 1894 he built the railroad that brought the mega-wealthy here. This posh enclave, home to 38 billionaires owning grand estates on ritzy Billionaires Row—looks every bit as fashionable as its glamorous habitués. Think Bentleys, Rolls-Royces, palatial Greco-Roman mansions, socialites, extravagant parties, and bubbly to spare.
The Season kicks off in November and continues through April with a full calendar of lunch events, soirees, and the crème de la crème of charity galas. Though things have changed quite a bit since the days of Henry Flagler, the enchanting locale with its striking European architecture still radiates a delightful cocktail of elegance, class, and charm. This attracts many types of travelers—from the stylish set to anyone seeking sun-kissed beaches, swaying palms, azure blue water, gorgeous resorts, golf and gastronomic indulgences such as the annual Palm Beach Food & Wine Festival taking place Dec. 12-15 this year.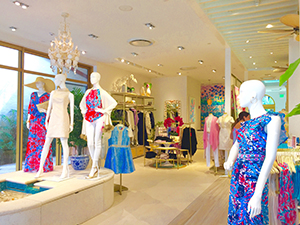 A SHOPPING MECCA
The four-block stretch of Mediterranean-styled Worth Avenue is arguably the most beautiful shopping venue in the country with its winding alleyways, manicured courtyards, and scenic piazzas called vias. Stroll the pretty palm tree-lined promenade dotted with upscale designer boutiques such as Gucci, Chanel, Valentino, Pucci, Cartier, and Louis Vuitton, among others. Many of the stores have bowls of water and treats out front. Here dogs are as cosseted as their owners.
LILLY-LAND
For the quintessential Palm Beach Look: Lilly Pulitzer's colorful resort wear has been synonymous with Palm Beach since 1959. Her mother was a Standard Oil heiress; her husband was the grandson of the publishing Pulitzer. Last December, the brand opened its new flagship store on Worth Avenue, where you can have both a handbag and a dress customized just for you. If you enjoy the personalized touch, continue to the nearby showroom where the Ferretti Group will build you a bespoke yacht.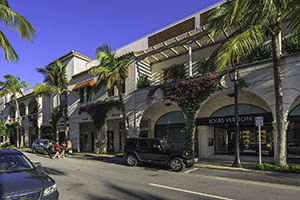 DIVINE DINING
Don't miss those hidden hideaways off Worth Avenue. You'll find art galleries, home furnishings, gifts, and antique shops plus some of the best dining available. Renato's upscale Italian restaurant, a local favorite on Via Mizner, offers superb classical fare amid a sophisticated old-world ambiance. While lunching on delicious red beet fettuccine with crab and black truffle butter served on Pierre Deux linen and Limoges china, I was also treated to a fashion show. This has been a Palm Beach tradition that started in the 1920s at the Everglades Club. Stunning models swanned around the eatery donning lustrous golden South Sea pearls from Jewelmer on Worth Avenue. It was quite a temptation. For dinner Chef Daniel Boulud's stylish eatery, Café Boulud which is housed in the Brazilian Court Hotel, serves up traditional French fare with the top local ingredients and seafood, including to die for sashimi. Other trendy haunts: Būccan Restaurant makes everyone's favorite list, the place to see and be seen. For a drink, tuck into legendary Ta-boo, where it's said the Bloody Mary was first concocted to soothe heiress Barbara Woolworth Hutton after a night of partying.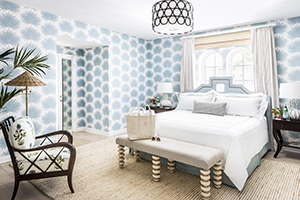 HEAVENLY HAVEN
The iconic pink-hued Colony Hotel, a paragon of glamour and grace, is the perfect place to park yourself while visiting Palm Beach. It's ideally located, just steps from the ocean and Worth Avenue. Since 1947, the hotel has hosted notable guests, including The Duke and Duchess of Windsor, Frank Sinatra, and President Clinton, among many others.
For 2019, The Colony unveiled a fabulous updated look under new owners Andrew and Sarah Wetenhal—splashed out in pink, green, blue, and coral. Décor is whimsical beachy-chic with banana leaf carpets, and palm frond adorned upholstery. Pink doggie beds are provided during your stay so that four-legged guests can enjoy a cushy getaway too. For beach lovers, a buggy takes guests to and from the nearby beach, complete with powder pink umbrellas, chairs, and picnic lunch. Or you can loll on the sun loungers by the resort pool.
In early 2020, the hotel will debut The Colony Event Garden and a newly designed pool. CPB, their new restaurant helmed by British Executive Chef Tom Whitaker, offers a contemporary American cuisine with a roster of live jazz and top local DJ's in CPB Bar. Dining on exceptional seared pompano, blue crab, and yellowfin tuna tartare, while snuggled up in a lemon printed cozy couch, I thought, "Isn't Palm Beach Grand!"
For more information on Palm Beach, visit thepalmbeaches.com.