CURAÇAO
The Caribbean's Most Colorful Island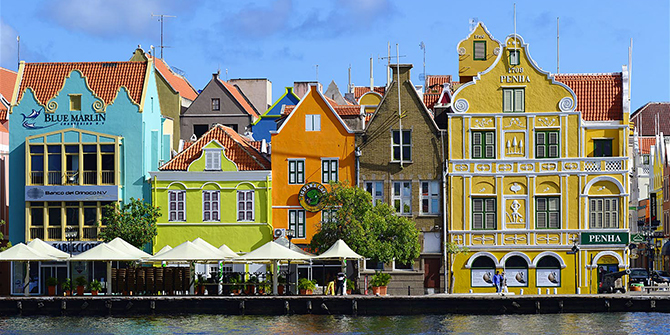 By Gerrie Summers
The lovely and vibrant Dutch Caribbean island of Curaçao is conveniently positioned in the southern Caribbean, outside of the hurricane belt, with an average year-round temperature in the mid-80s, often with a soothing breeze from trade winds. It is the third and largest of the ABC Islands (which includes sister islands Aruba and Bonaire.)
The capital city Willemstad, with its picturesque buildings and most notably the iconic, oft-photographed Handelskade, is a UNESCO World Heritage site. It is also gaining interest in the art world with the beautiful murals cropping up throughout the island. Willemstad provides the perfect place to start your journey.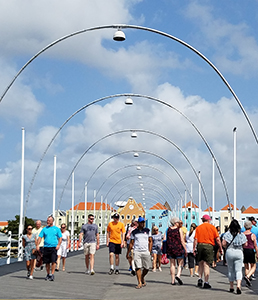 WHAT TO SEE & DO
A tour of downtown Willemstad always includes a walk on the landmark Queen Emma Bridge that spans St. Anna Bay. Also known as Our Swinging Old Lady, the pontoon bridge swings open to allow ships through and links the Punda and Otrobanda neighborhoods of Willemstad's historic center.
In Punda, you'll also find two other well-photographed sites—the giant Dushi and Curaçao signs. Of cultural and historical interest is the Kura Hulanda Museum. Located at the city-center harbor, where Dutch merchants once traded and purchased enslaved Africans, Kura Hulanda has exhibits of the Transatlantic Slave Trade from the Middle Passage to relocation into the New World, as well as African and multicultural heritages that have influenced Curaçaoan life. Another place of interest is the Mikve Israel-Emanuel Synagogue & Museum, the oldest synagogue in continuous use in the Western Hemisphere.
On a stroll through town, you'll find art galleries, boutiques, and shops inside brightly painted colonial buildings. One place that caught my eye was Art By Eve, which features local handmade art by Elly Hogenes, including the Selma figure (reminiscent of the famous Curaçao chichi doll). Selma is inspired by a "sweet lady from Curaçao" and is found on paintings, driftwood signs, key chains, and postcards.
For a unique experience, try a workshop at Serena's Art Factory. You can't miss the iconic Chichi dolls (created by Berlin artist Serena Janet Israel)—colorful sculptures of a beloved "well-rounded" Caribbean figure sold throughout Curaçao. Chichi is the Papiamentu word for "big sister," and represents the wise, eldest daughter, who keeps the family together. You can paint your own souvenir Chichi doll at the factory in Santa Catharina on the east side of the island in the delightful garden. (If you are in Willemstad and can't make the 12-minute drive, you can attend a workshop at the Chichi shop in Punda).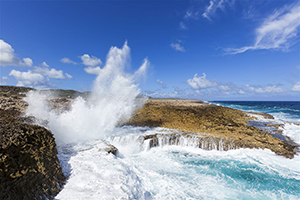 INTO THE DEEP
Curaçao is excellent for snorkeling. Ocean Encounters provides trips to see the Tugboat, a 30-foot shipwreck, colorful tropical fish and beautiful coral reefs. If this is not your thing, you can get your ocean fix at Mambo Beach (also called Seaquarium Beach because the Seaquarium is located there), hang out at Lions Dive & Beach Resort, and peruse the shops on the boardwalk.
Another must is a visit to Shete Boka National Park in Westpunt. While the name stands for "seven inlets," there are more than seven to see. It begins at Boka Tabla, where waves dramatically crash against an underground cave presenting a striking view and backdrop for photos. For a beach, stop try Playa Knip, also in the area. Curaçao boasts more than 35 beaches, including secluded cove beaches. Playa Knip is suitable for snorkeling from the shore, and if you're a good swimmer, there's a nearby reef (but it's a bit of a hike—or rather, swim).
Then take a tour of the Senior Curaçao Liqueur Distillery located in the 17th-century Landhuis Chobolobo. The original liqueur was made from the dried skins of laraha oranges, a variety of local oranges developed from Spanish orange trees. The trees planted by Spanish colonists turned out to be too bitter to eat but made a tasty alcoholic drink. More flavors were introduced, including the famous Blue Curaçao liquor. After the tour, take a mixology lesson and learn how to make your own cocktail.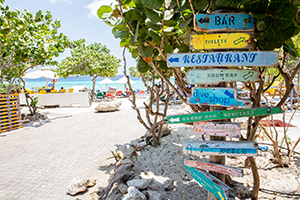 DIVINE DINING
Curaçao also boasts colorful cuisine. For a lunch break, try Beans in Pietermaai, tucked amongst quaint buildings that look like colorful gingerbread houses with white frosting trim. It's the island's first specialty coffee bar and a trendy hotspot, serving coffee, a variety of teas, sandwiches, pastries, and poke bowls. Number 10 housed in the Landhuis Bloemhof garden, serves breakfast and lunch, with a modern, unique menu. At Karakter gaze at the sparkling ocean and nosh on tapas like Bitterballen & Spring Rolls and the Mixed Tapas Platter, delightfully presented sandwiches, and sip refreshing Karakter cocktails.
For dinner, Landhuis Brakkeput Mei Mei is an open-air restaurant located on the front terrace of an 18th-century plantation. At night it has a romantic ambiance with lights strung around the trees. There is live entertainment as well. The restaurant serves meat, chicken and fish cooked on a charcoal grill, and Caribbean specialties. Zest Mediterranean on Jan Thiel Beach is lovely at sunset with a Mediterranean menu featuring pasta, seafood, and meat dishes, plus great desserts. Kome (the Papiamentu word for "eat" and you'll definitely want to eat here) is in the Pietermaai district. The hotspot serves Caribbean and International food. Don't miss the desserts, which are made from scratch.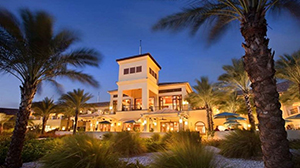 HEAVENLY HAVENS
Livingstone Jan Thiel Beach Resort features 114 rooms, 41 villas, and 49 apartments surrounded by flora gardens, tropical plants, and palm trees. On the property is a large tropical pool adjacent to Don's Bar & Restaurant. There's free access to Jan Thiel Beach at the bottom of the hill, and Jan Thiel Plaza (a beachside center with restaurants, shops, water sports, a casino, and more) is just a two-minute stroll away.
Santa Barbara Beach & Golf Resort has 350 luxury rooms and suites located within a two thousand-acre gated plantation. The inviting scene is complete with a beautiful white sandy beach, three resort-style pools, 24-hour fitness center, spa and wellness center, two marinas, and more. The fine-dining restaurant Shore features an open kitchen overseen by Chef Heinrich Hortencia.
For more information on Curaçao, visit curaçao.com.