ON STAGE
MOULIN ROUGE COMES TO BROADWAY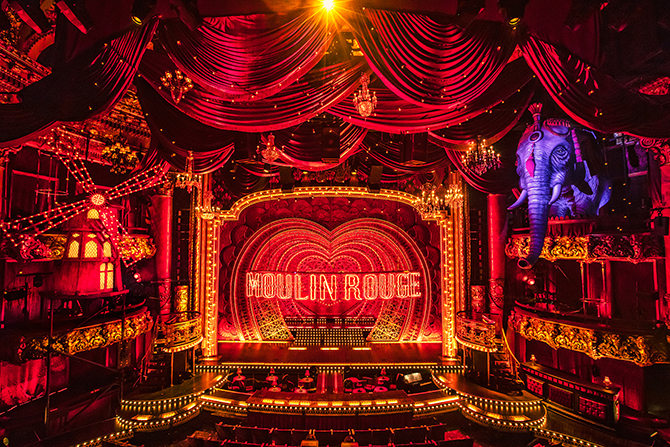 MOULIN ROUGE! set designed by Derek McLane,
By Lori Zelenko and Marcy MacDonald | Photos By Matthew Murphy
Once upon a time Moulin Rouge was a movie, a glamorous spectacle with Nicole Kidman and Ewan McGregor, an extraordinary and fantastic Oscar-winning vision created by Baz Luhrmann in 2001 to be exact.
Now this fave film is a Broadway musical slated for official opening on July 25th. What's it all about? Love. And music. And even more music. Actually 50 years of hits, from "Lady Marmalade," a super-standard for Patti LaBelle to "Diamonds are Forever" with cinematic echoes of Dame Shirley Bassey. Not every song is as famous as the Rolling Stones "Sympathy for the Devil," but taking his cue from pop and rock hits we know only too well, music supervisor Justin Levine has included a vast number of top 40 love songs never out of style, as well as new music written specifically for this production.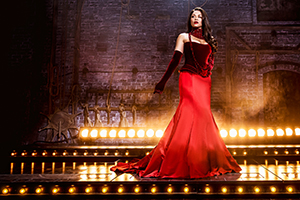 Karen Olivo as Satine
THE GLITTER AND GLITZ
It is taking the grand sum of $28 million to create a spectacle for the stage that is just waiting to wow Broadway when it opens this summer. Heroine Satine is perfectly played by Karen Olivo (who won the Tony for West Side Story), as the beautiful but jaded star of the Moulin Rouge, who started turning tricks at 13. She falls in love with penniless composer Christian, played by an incandescent Aaron Tveit (whose "Rolling in the Deep" may make you forget Adele's rendition for a moment or two) who sees past the glitter and glitz, and into her heart. He is taken to the famous Parisian nightclub by his friends, Toulouse-Lautrec (the amazing Sahr Ngaujah looks nothing like the painter, but convinces appealingly) and Santiago (thanks to Ricky Rojas, born to play this role) who have written a play within a play which appears in the lengthy second act, starring Satine who, ever-focused on the beauty of transactional relationships, has by this time launched a lucrative affair with The Duke who will be the play's producer.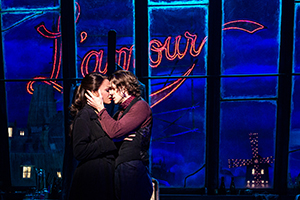 Karen Olivo as Satine and Aaron Tveit as Christian
WELCOME ALL!
This is supposed to be the show that saves the nightclub—and her old friend, the dubiously intentioned Harold Zidler (aka: the incomparable Danny Burstein)—from ruinous bankruptcy. When the Master of Ceremonies raises his cane, confetti shoots out of it as he announces the delights of Moulin Rouge, a venue ready to accommodate wonderfully wayward visitors, welcoming all with a no boundaries invitation, "no matter your sin, no matter your desire." All of this is essentially a prologue for the story of two naive lovers who actually expect to survive the third act.
It's 1889, and those 21st century patrons who come to the theater have their own parts to play as they find themselves looking into a psychedelic stage decorated with cascading hearts by uber designer Derek McLane. Catherine Zuber's costumes are ready for sin, from the phallic cigars to the female sword swallowers who look as if they're about to devour one another before they begin on the vast array of men clad in top hats seen in so many of Toulouse-Lautrec's paintings of the era.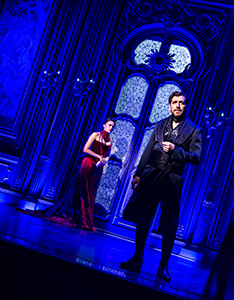 Karen Olivo as Satine and
Tam Mutu as The Duke of Monroth
John Logan captivates us all with his original book an ode to lust and decadence steeped in romance headed for glorious disillusion. Director Alex Timbers (of Peter and the Starcatcher fame as well as the Tony-nominated Bloody Bloody Andrew Jackson) has the deft touch that could bring him yet another avalanche of awards. The credits are long, and the list of musical numbers even longer.
Just take yourself back to turn-of-the century Paris, accompanied by the sounds of your own—hopefully—misspent youth. Pack a whole box of Kleenex: the end is both expected and devastating. But the trip is divinely rewarding thanks to the clever direction of Alex Timbers. This Broadway show is a movie-lovers dream come true, a cinematic spectacle now appearing on stage. Grittier than the film but no less entertaining, memorable tunes punctuate the narrative fleshing out characters with wit and passion. Tunes from Lady Gaga, Beyonce, Elton John, Adele, Britney Spears, Katy Perry, Sia, Lorde and more create new memories of Moulin Rouge. Come for the sexy spectacle, engage with the lovers determined to find happiness, and stay for the music. A feast for eyes, ears, and soul.
For more information on Moulin Rouge, visit moulinrougemusical.com.