ANTOINE HODGE
A Mixologist Taking Cocktails To A New High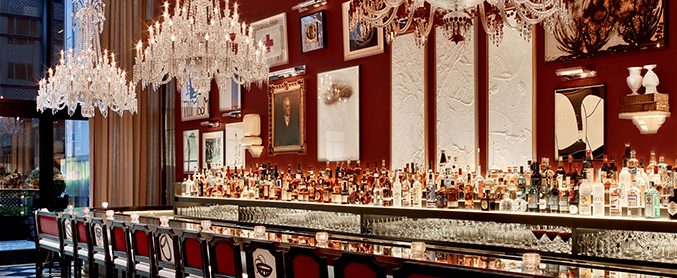 By Bailey Beckett
Antoine Hodge isn't your typical mixologist. But then again, the Baccarat Hotel isn't your ordinary establishment. Just like its namesake, it's so opulent you're afraid to touch a thing. Including your credit card, because Hodge has just invented the most tempting—and expensive—cocktail for the city that's never meek.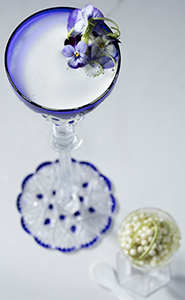 Sip this: The "L'Imperial" at $5,000 is a potent blend of gin, green Chartreuse, Maraschino liqueur and lime juice perfectly presented in a majestic Tsar glass designed in 1909 for Nicholas II. Double-cased with colored crystal covering the clear crystal, the glass was crafted by Meilleurs Ouvriers de France and is rarely commissioned by Baccarat and cocktail connoisseurs around the world. Until now.
A COCKTAIL WITH A STORY
"Having just acquired an impossible-to-get vintage bottle of green Chartreuse (circa 1921-1926) from France, I was very intrigued and felt as if I was holding a piece of history in my hands," says the mixologist, whose official title is Bar and Spirits Director at the Baccarat Hotel. "This drove me to do the unexpected and used it in a cocktail. After all, great things in life are created to be enjoyed in life."
Does it ever! But it's apropos for Hodge, who brings a classic, old school vibe to The Bar. A veteran of Harlem's eclectic Afro-Asian restaurant Cecil, Minton's Jazz Club, Danny Meyer's Tabla and finally the three-star Michelin restaurant The Modern (across the street from The Baccarat, no less), Hodge is a purist. "Every cocktail has to have a reason and a story," he says one evening, as The Bar goes from bustling to bursting as soon as the clock strikes 5 pm. "Cocktails need to have a background, or they become boring."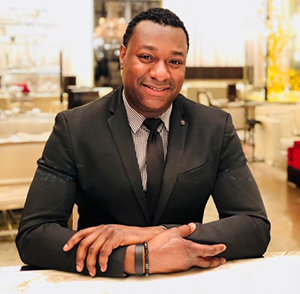 Antoine Hodge
That's not likely to happen. For Fashion Week, Hodge created a light and refreshing "The Little Black Dress" black martini, with Louboutin shoes made of red floral garnish. Tequila, Cappelletti, Yellow Chartreuse, lime, activated coconut charcoal and orange bitters made up the sinful surprise. "I wanted to show a contrast of the dark rich look of the drink, as it is actually bright, balanced and refreshing," Hodge says. "The activated coconut charcoal is a trend in the health and beauty industries. This food-grade product adds mostly color and texture and is naturally made from coconut shells. Charcoal is a natural filter and helps to relieve hangovers." He also delighted fashionistas with the "Heart of a Woman," a smoky scotch Manhattan with Carpano Antica Vermouth, Cappelletti, and bitters. The martini glass is sprayed three times with Laphroaig 10-year-old scotch before the drink is poured. "There are lots of layers of flavor that build the unique complexity of this scotch cocktail," he says.
But it's "L'Imperial" that is getting the most adulation. "My vision for it was focused on its history and simplicity with a desire to elevate it through the use of premier ingredients, rare spirits, and a glass that takes your breath away," Hodge says.