ENTREPRENEUR'S CORNER
Laurice Rahmé, Bond No. 9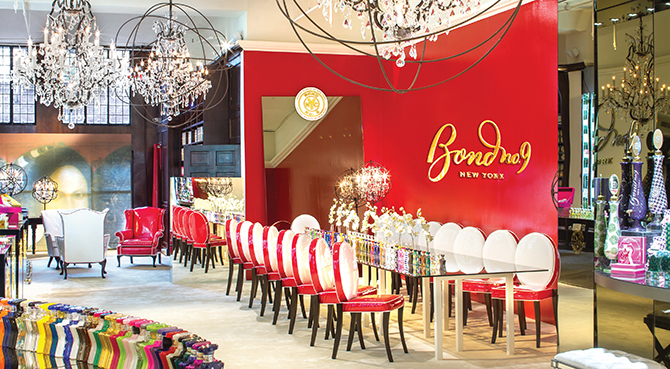 By Patricia Canole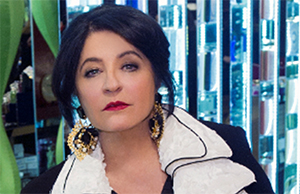 Laurice Rahme ©Vital Agibalow for Hense
Laurice Rahmé holds an abiding belief that fragrance has the power to enrich our lives. She has realized her ultimate dream to share her passion for the authentic perfumery experience.
Rahmé is the founder, creator and president of Bond No. 9 New York. She launched this edgy, taboo-breaking fragrance collection for women, men and unisex in 2003 to restore artistry to perfumery and to create a scent for each neighborhood in New York. Today, Bond No. 9 is New York's most iconic fragrance and color house and a top-selling globally recognized luxury brand. As of 2019, Bond No. 9 has produced over 80 fragrances that encompass many New York neighborhoods, beaches, places and also exclusive co-branded fragrance collections for Saks Fifth Avenue, and Harrods. In fact, Rahmé pioneered the concept of the world's first at-home fragrance system: Private Bond. This super-luxe offering invites consumers to blend and bottle their own customized metro-fragrance, and is the ultimate in exclusivity and desirability.
This year, the company introduced New York Lips, the first refillable collection of luxury lip colors. Made in New York, Bond No. 9's first foray into color includes a family of timeless red and nude statement shades conceived as love letters to the city. Bond No. 9 has six eponymous boutiques and is also sold at Saks Fifth Avenue, select Bloomingdale's stores, Harrods UK, Selfridges UK and, of course, online.
HOW IT BEGAN
Born and raised in France, the elegant and international Rahmé has enjoyed varied cultural pursuits. She began her career as an antique dealer and also studied art at the Louvre Museum in Paris. Success continued to shine and in 1973, Rahmé joined Lancome-Paris as International Training Director, tripling the company's skincare business in the Middle East. Three years later, she assumed the role of Director of the Lancome Institut de Beaute, and relocated to L'Oreal USA's (then Cosmair, Inc.) headquarters in New York.

Madison Avenue, Nolita, Spring Fling
Traveling was part of her busy life and took her back to Paris, where she met with fragrance designer Annick Goutal and became Partner and President of their operations in New York. For six years, she was responsible for introducing the small French company to the U.S. and creating a unique niche marketing approach focusing on the brand's jewel-like boutique allure. Recognition and rapid growth followed, and her strategy transformed a small-scale business into the international success story it is today. Then, following her achievements at Annick Goutal, she served as U.S. Distributor of Creed for nine years.
In an industry that has long been dominated by men, Bond No. 9 is the first New York parfumerie to be headed by a woman. Rahmé, who oversees every aspect of Bond No. 9—from creating the New York-centric concept behind Bond's collection, to guiding the development of each fragrance and bottle design, and designing the interior of each Bond No. 9 boutique.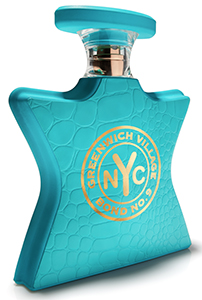 Greenwich Village
A NEW ADDITION
Introduced last month, Bond No. 9's Greenwich Village joins a long list of iconic fragrances. The vibrant scent brilliantly captures one of New York's most beloved neighborhoods in scent. It is a celebration of individuality and creativity, and the rich heritage of the city's artists and intelligentsia, and the community they created. "We had to do Greenwich Village. It's so rich in culture," Laurice Rahmé says of the latest fragrance in her portfolio of legendary New York City-inspired scents. "I was thinking of painters and musicians, the jazz clubs and the chess cafés where I went in the seventies when I first came to New York. The Village is intimate; it's real."
To capture the essence of Greenwich Village's eclectic spirit, the fragrance is a bold bouquet with notes of Cassis, Lychee, Mandarin, Peony, Waterlily among others.The result is an oriental vanilla with a touch of light floralcy. "This is a fragrance that's not afraid to be different—like the Village itself," says Rahmé.
AN INDUSTRY ICON
Beyond a brand, Rahmé has made Bond No. 9 a singular force to be reckoned with in the world of luxury goods. After all, while perfumery has always been about head-turning, Bond No. 9 has turned perfumes on their head. And because of this, she's been recognized many times over for her efforts. In 2015, Rahmé became the world's first perfumer to win the coveted United Nation's Women for Peace Award for her efforts in spreading peace internationally through her universally loved Scent of Peace. This was her first introduction to civic scents. Bond No. 9's Liberty Island honors freedom, liberty, and multiplicity.
Bon Bon Box
Ms. Rahmé is a passionate business woman with an uncompromising nose. She operates on feelings… intuition… instinct, supported by a deep knowledge of the fragrance industry and her travels to all corners of the world discovering innovative ingredients, artisans and perfumers. She has always celebrated the unexpected. She has also been an advocate for Women Power ever since she started the brand 16 years ago. Bond No. 9 is 100 percent independently owned and operated by Ms. Rahme with her company being comprised of 80 percent women.
Rahmé's driving force is her insatiable curiosity, her romantic spirit and sense of adventure. Her philosophy is simple: give the consumer freedom of choice and never attempt to dictate. When it comes to scent, Rahmé believes in the power of the individual. "A woman should always strive to be herself, never outrageous, never outré… but always singular," notes Rahmé.
For more information on Bond No. 9, visit bondno9.com.