Paws Down, Tails Up
Flirty Fashions For Your Pet…And More!
The Pet Lifestyles Selection by Lori Simmons Zelenko
You could say being a pet mom is a gift in itself. After all, you are on the receiving end of unconditional love. This Mother's Day, Pet Lifestyles opts to share the gifts that are about togetherness and celebrating the one you love with fun, as well as finding clever ways to keep your four-legged best friends with you at all times. From glamping vacations to glittering pet jewelry with a host of playful lifestyle accessories in between. It's all here for every pet mom who loves their fur kid!
---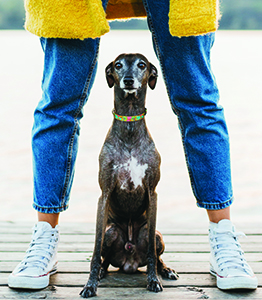 GET SPORTY
Handmade and hand sewn with love, the sporty look of The Bristol Collection of ribbon leashes and collars from Up Country works for city or country. The blue elephants on this outdoorsy pup's collar are fresh and fun, one of a playful selection suitable for a day of sailing or a stroll down 5th Avenue. Info: upcountry.com.
---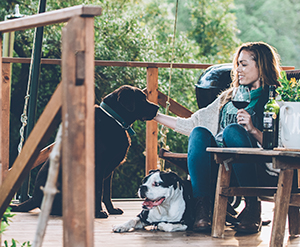 CAMPING GETS GLAM
Looking for the best Mother Nature has to offer? Pet moms can choose from 33,000 tree houses, tipis, yurts, safari tents, campervans, cabins, and more! Go glamping in style with Fido or Fifi in tow. Go glam and skip the hassles of traditional camping. You can't put a price on memories, but you can gift them! Info: glampinghub.com.
---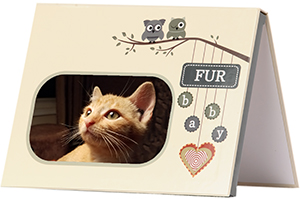 HEART TO HEART
Record your furry friend's heartbeat, bark, or meow! This Audible Photo Frame is a 5" x 7" cardboard frame table display with a space for your favorite photo and allows you 20 seconds of recording time. It features a heart that when touched activates the recorded sound. Keep Fido or Fifi close by always with this gift of love. Info: mybabysheartbeatbear.com.
---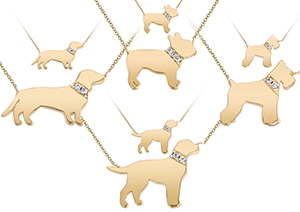 GOLDEN GLOW
Cherish your fur kid? Show it off with golden, glistening pet charm necklaces, new from celebrity stylist Carrie Cramer. Expertly handcrafted with love in Los Angeles, this fine jewelry will brighten your life with sparkle. Each piece has a little touch of glamour ready to enchant long after Mother's Day. Info: carriecramer.com.
---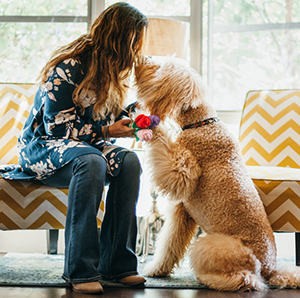 TIME FOR P.L.A.Y.
Stop and smell the roses the next time you›re out with your pup and toast to the best kind of friendship. Rover's Roses toy from P.L.A.Y. Puppy Love Collection celebrates all the fun times you've shared with your fur kid. These charming toys will have tails wagging and signify a love that will last fur-ever. Info: petplay.com.
---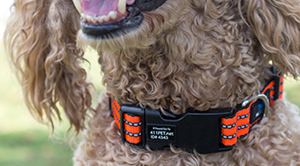 KEEPING TABS
This Mother's Day the last thing you want to worry about is tracking Fido or Fifi if they've taken a road trip all on their own. Smart Buckle increases the odds of getting your furry loved one back home with seamless technology embedded into an ultra-protective pet collar that's sleek, secure, and cost-effective. Info: smartbuckle.com.
---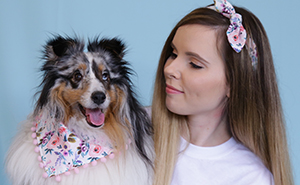 PERFECTLY PRETTY
Victorian romance arrives in time for Mother's Day in this adorable ensemble from a Fox Named Todd. Sweet florals will charm you with a Mommy and me coordinated look—a bandana, headband and T-shirt—a natural for pet and parent from this fun, fashion forward collection. Info: foxnamedtodd.com.
---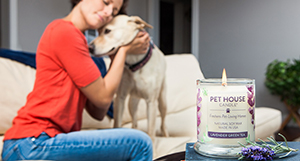 SMELL SWELL
Consider your pet your family? Pet House candles does too. Their mission is to make products that help create a more loving environment for pets and pet parents. Their 100% natural long-lasting soy wax candles are infused with their signature blend of essential oils specially formulated to freshen pet-loving homes. Info: onefurallpets.com.
---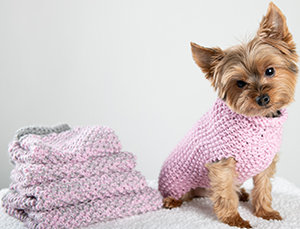 LOVIN' LILAC
This delicate shade of pale lilac blooms in a luxe sweater perfect for the littlest furbaby from Reme's Oggi Pets, available in the Sutton Place boutique. Lush and lovely, it's a great fit as the season's change. Chase away the last bit of chill in the air and keep your adored pup warm and cozy as Spring becomes Summer. Info: remesoggipets.com.
---

PAW PRINTS
Maybe you're into reading A Dog's Purpose way more than once and it's a good bet your fur buddy naps at your side while you read. So it's no doubt you, being the ultimate dog mom, will love these fun reading glass frames from Evolution Eye—so colorful with a zillion paw prints. Woof! Info: discountglasses.com.
---

IT'S PERSONAL
Toast to your fave furry friend with wine customized with your four-legged BFF's photo. Catch my Bikini here on a bottle of bubbly, he's never looked handsomer. He's the love of my life so why not celebrate him in an elegant, meaningful way that I can enjoy in the moment and treasure long after? Info: personalwine.com.
---

CAT'S MEOW
Even the most standoffish kitty will be happy to kiss the cook who wears the Design Imports Cat's Meow Printed Chef's Apron. Sure to capture the heart of cat lovers, the chic black and white design features playful silhouettes of all different kinds of cats. 100 percent cotton. Info: chewy.com.