BROADWAY: BEHIND THE SCENES
Be More Chill's Stephanie Hsu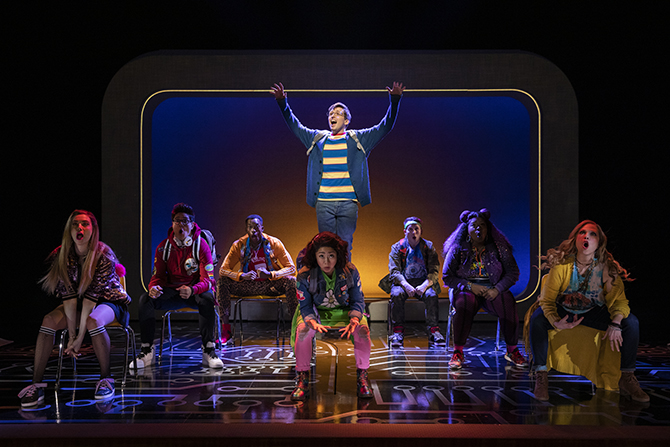 The cast of Be More Chill. ©Maria Baranova
By Ellis Nassour
Be More Chill is about a teenage geek possessed with becoming popular, portrayed by Will Roland, who many will recall from his Broadway debut in Dear Evan Hansen as Evan's friend Jared. Chill premiered in 2015 at Red Bank, NJ's 350-seat not-for-profit Two River Theatre (celebrating its 25th anniversary), where its cast recording not only became a Billboard Top-10 album, but also an Internet sensation. An enthusiastic group of 30-plus investors did a seven-week test Off Broadway last summer.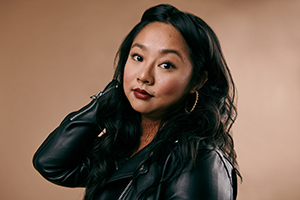 Stephanie Hsu ©Jenny Anderson
Broadway producers took notice of the response, and what began as a quirky, little show has become a mainstream hit—happily with its fabulous cast intact. Now, a film adaptation is in the works.
One of its stars is the sublimely-talented young Asian comedienne Stephanie Hsu, who made her Broadway debut in 2017 as Karen the Computer in the Tony-nominated SpongeBob SquarePants, which also garnered a cult following. "I am so fortunate to have been on this incredible journey, one that I never saw coming," beams Stephanie, who portrays Christine, a high school free spirit who's happiest when she's rehearsing musicals. "When we debuted the musical at Two River, we understood how fun and joyous it was, but none of us thought about the legions the show impacted. Along the way, they've made incredible efforts to deepen the characters, and certainly my role. Christine has really developed. I point to the denim jacket I wear. At Two River, it was a plain jacket. Now, it's loaded with all manner of patches. Christine has become a stronger totem of impassioned beliefs!"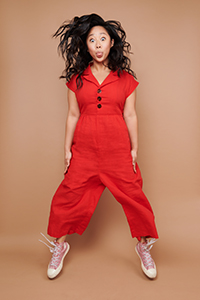 Stephanie Hsu ©Jenny Anderson
FROM LA TO NYC
Stephanie, who's 28, is an LA gal. Her background of being raised by her Chinese mother, who immigrated to Taiwan, and then was sent to the States for her education, "is important because it makes people ask about the culture and history." She started doing musicals in high school "because I wanted to work with a number of older people who I called my guardian angels and who kept telling me, 'You should try out for this show.' I said, 'Okay!' When I was a sophomore, a senior said, 'You can study this in college.' I didn't know that. I said, 'Okay!'"
And she did, at New York University's Tisch School of the Arts. That soon led to workshops and Off Broadway with Ars Nova and the Public Theatre; and regionally with Harvard's Tony-winning A.R.T. (American Repertory Theater), and MA's Williamstown Theatre. Stephanie has also been equally at home in countless TV shows since 2009. Her first series was doing three seasons of Hulu's acclaimed 2017 drama, The Path, as Joy opposite Hugh Dancy and Aaron Paul. "Shooting in New York was exciting," explains Stephanie, "because so many New York theater actors were involved." They included Tony winners Brian Stokes, Mitchell and Adriane Lenox, Tony nominee Raúl Esparza, and Tony nominee and Oscar winner Kathleen Turner.
She never felt her Asian background made it difficult to break into theater. One of her strongest mentors has been Liz Swados, director, composer, and Tony-nominated writer. "I was one among the many who were 'Liz's kids.' She wasn't a huge fan of corporate art, so I wasn't thinking Broadway. That may have had to do with not knowing where my place in it was. Of course, I never thought of the concept of originating a Broadway role, which I've now done twice."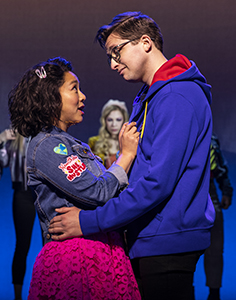 Stephanie Hsu and Will Roland In Be More Chill. ©Maria Baranova
ENJOYING THE RIDE
Another mentor was director Tina Landau, with whom she worked during the nine years of SpongeBob SquarePants' development. "She's a visionary. I would do anything with and for her. What she did with SpongeBob was nothing short of brilliant." Speaking of that show, Stephanie relates, "Even at the first table read in 2012 for SpongeBob, I knew it was something special, but I never thought, 'We're going to Broadway. It was completely unexpected.' I was a person in the room, whom Tina kept asking back, and I was enjoying myself. It wasn't a goal I was striving for.
"I really trust the universe in that way," she adds. "Be More Chill is a perfect example of when it's time, it's time—when it's your time, it's your job. This industry is really crazy and part of what can make you feel more crazy is the unmet expectations. I'm always practicing and enjoying the ride, surrounded by amazing artists and directors. I'm so lucky!"
Stephanie is quite the high-energy performer and in Be More Chill she has plenty of competition in the cast of 10. To no one's surprise, she more than holds her own, even bringing down the house with her comic antics and show-stopping number "I Love Play Rehearsal" and "A Guy That I'd Kinda Be Into."
A WILD & WEIRD SHOW
She describes Be More Chill as "this rambunctious, wild, weird show." As was the case with SpongeBob, the show is getting a good number of first-time theatergoers and, states Stephanie, "that is such an honor. Recently, students have been trying to bring about change following so many tragedies. There's also been much written about inclusiveness and diversity."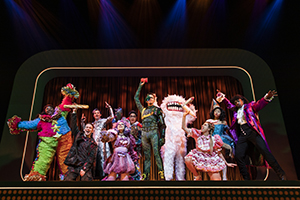 Stephanie tells of the fan mail the cast receives. "It's quite a blessing to be in a show with the type of response we're receiving, but it's also overwhelming. These young audiences look up to us. They handwrite beautiful letters of how the show has helped them through times of sorrow or difficulty. They give us fuel for the fire we try to create onstage. And, no, I haven't gotten any proposals. Yet!"
Be More Chill is Stephanie and her cast members' way to give back "at a time when we're asking one another to step up for each other. They give us so much, we want to please. While we have fun, you never forget your goal. It's not always easy to have the sort of energy to give so much, but we try to give a true gift to our audiences and fan base."
In discussions with director Stephen Bracket, Stephanie once told him, "I want to make sure we're creating a strong female character we can be proud of." She says, "They're special roles that can empower young people to plug into their own power. When I was younger, I didn't think I had a voice. I didn't think my voice was valid because that wasn't the culture around me. It's amazing how theater can change that."
For tickets and more information on Be More Chill, visit bemorechillmusical.com.