WILD FOR WILDE
NoMad Goes Mad For This Restaurant/Bar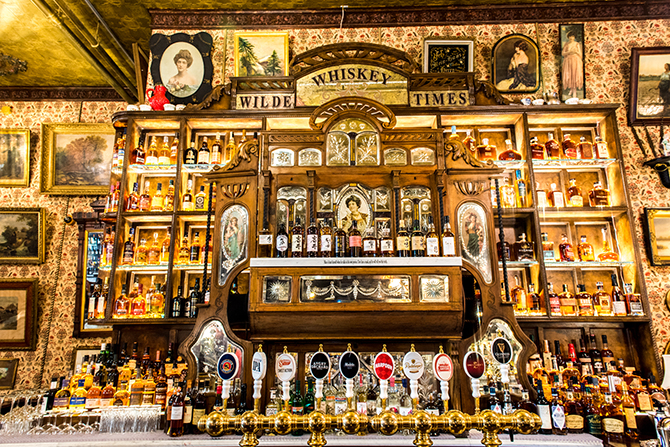 By Adam Morgan
It's only natural Oscar Wilde is housed in the former NYC's Bureau of Prohibition headquarters. The booze-infused uber boite is an all-hours delight, brimming with classic cocktails and inspired new ones, jovial vibe, time traveling décor and a hearty menu that leaves no one hungry. The ghost of its namesake, the famed Irish poet and playwright, is no doubt at a bar stool in mid-imbibe. "Everything in moderation, including moderation," he famously said. Just not here.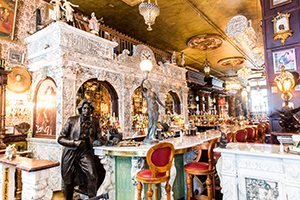 Oscar Wilde NYC ©Simmer Group
Opened in 2017, Oscar Wilde—the restaurant, not the boozy scribe—is a visual, gastronomic and liquid courage roller coaster all in one. It's an unabashed celebration of the beauty, decadence, and duplicity that marked his prose. The restaurant is most famous for housing New York's longest, continuous bar—measuring 118.5 feet long, it's almost enough space to accommodate its nightly patrons. Almost. Oscar Wilde has become the place for cocktails and work tales. The after-hours crowd is bountiful and boisterous, indulging in office gossip and Cemetery Gates (with Old Overholt Rye, Peach Combier, Amoro Nonino and Angostura bitters), not to mention signature drinks like Smokey Wilde Dove (with El Silencio Mezcal, Cocchi Americano, grapefruit lime, honey and Peychaud's bitters), and Flower of Love (with Destilador Resposado, elderflower, El Silencio Mezcal, Luxardo Maraschino and Thai chili ). In fact, there are 300 different spirits for more spirited patrons. "Work," Wilde once quipped, "is the curse of the working class." Well then suit up, sippers!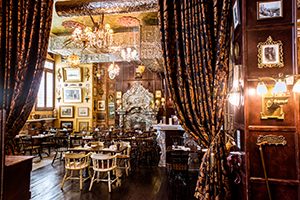 Private Event Room at Oscar Wilde NYC ©Simmer Group
The Celtic-inspired food menu is dominated by contemporary favorites, like Boxty (an Irish potato pancake with smoked trout, tobiko, and maple syrup ), Scotch Egg (with white bean, quinoa ragout and fine herbs), Shephard's Pie (with ground lamb, root vegetables, broiled mashed potatoes), Lamb Sliders (with seasoned lamb, house-made pickles, goat cheese, harissa aioli), and, yes, the Wilde Burger (with Guinness Cheese, fermented cabbage on a potato bun) and a side of frites and Faroe Islands Salmon, made with parsnip purée. "I can't stand people who don't take food seriously," said Wilde. He'd be proud: portions are heavy, delicious and hearty.
A JOURNEY THROUGH TIME
What most marks Oscar Wilde is its odd-biance. It makes no sense, in the best possible way. It's a trippy trip through time, designed with an impeccable grasp on curation and an insane perspective of color, light and space. It's a mental journey through time and country. Witness its 1884 French fireplace, acquired on Bond St. from Bonhams and Phillips Auctioneers… 1884 grandfather clock from England… porcelain entrance from Gosford Castle… original wood-paneling from Hope Castle… dining room doors from Argentina during WWII. Even its antique clocks—all 26!—are set to another era: specifically, 1:50 pm, the time of Oscar Wilde's death. Time is definitely on this restaurant's side.
For more information on Oscar Wilde, visit oscarwildenyc.com.