BITS & BAILEY
The Who, What & Wow Of The Jet-Set Scene
By Bailey Beckett
Cheers, dears. Summer is on its way, however slowly it crawls to us. April may have been the cruelest month (weather wise) but, truth be told, Bailey is thrilled whenever he can wear his Tom Ford navy cashmere pea coat. The man is a mad genius (exhibit A: My Amex statement!). So, as I'm rooting through the closet for happier haberdashery this coming season (Villebrequin in da house!), I'll multi-task and brief you on recent and upcoming happenings.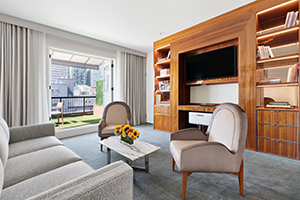 SEA AND BE SEEN
Bailey was incredibly charmed by the most unexpected visit: the Mr. C Seaport hotel in, you read right, the Seaport. Huh? That was my reaction: this area hasn't been hot since Imelda's shoe closet. But it's suddenly scorching. Gone are the cheesy chain restaurants, tacky tourist shops It's been replaced by buzzy bistros (Jean Georges in da house), chic boutiques (Milan's 10 Corso Como's first U.S. location!), the all-first-class iPic movie theater and the neighborhood's very first upscale hotel. The brainchild of Maggio and Ignazio Cipriani, scions of the hospitality dynasty, Mr. C is a 66-room property with sweeping views of the East River, Brooklyn Bridge and New York skyline, and the charm and ambiance of a cozy hideaway in a bustling center. Even the hotel's logo, a whimsical, dancing bow-tie, is adorable. The décor is a mix of stylish European glamour with nautical expressions (think lustrous teak veneers), housed in an historic red brick building on the edge of the neighborhood. Architect Thomas Juul-Hansen called on the simplistic Danish décor of his native country infused with the Cipriani family's classic Old World style. Mr. C's signature restaurant, Bellini, features modern Italian cuisine, punctuated with house-made pastas, finest prime meats, fresh seafood and complimentary Bellini's. The hotel also features a more intimate Lobby Lounge, which is quick becoming a must for New York's most discerning mobs. Info: mrcseaport.com.
---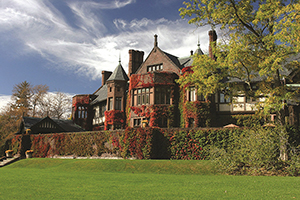 OLD BECOMES NEW(ENGLAND)
Those looking to get out of the city this summer had better hurry: there are only 23 rooms at the iconic Blantyre in the Berkshires. The Relais & Châteaux resort, which was renovated last year, is one of only 12 remaining Gilded Age mansions in the popular resort destination, but its modernity is the true surprise. Elegant rooms, cottages and carriage houses are complemented by a meditative sanctuary at its spa and four inspired, Michelin-worthy restaurants. Enjoy daily chef tastings at The Bistro Restaurant, where farm to table goes straight to the mouth. The restaurant features cozy fireplaces, an evening pianist and a 9,000-bottle wine collection. Before dinner (or after), indulge in some bubbly at the Perignon Champagne Salon. The speakeasy-style LaCave, hidden unground, offers champagne cocktails and lite bites year-round, while the lush garden patio restaurant The Cloister features seasonal treats, including an upscale twist on caviar. Info: blantyre.com.
---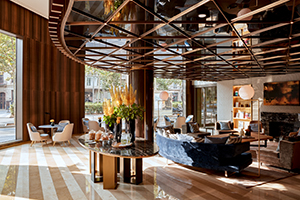 SPAIN-BRAIN
Those looking for a more exotic, international adventure had better grab their passports now because demand is bursting at Almanac Barcelona, a new boutique design hotel in the heart of the Eixample Derecho district. The Almanac Barcelona itself is housed in a combination of two historic buildings fused perfectly by award-winning architect Carlos Ferrater, whose neophiliac interpretation offers a twist to the grand hotels of the Art Deco era. Rich in history and architectural wonder, Almanac Barcelona is a feast for all the senses, including a décor by Barcelona legend Jaime Beriestain, whose elliptical lines are accentuated with brass, oak and walnut flourishes throughout. The lobby in particular evokes drawing room grandeur, with sapphire-hued velvet juxtaposed with earth-colored marble and ton-sur-ton bold prints, while its guestrooms feature cozy reading nooks flanked by floating bay windows and a Juliet balcony with views of bustling Gran Via. The dining is just as wonderous. At the all-day Mediterranean brasserie Linia, Chef Sergio Ruiz dazzles with local ingredients that highlight Catalan specialties. Indulge in delicacies like escalivada (roasted vegetables) with anchovies, olives and Iberian rice, or Iberian bellota ham (Jamón ibérico) paired with Dali's Bread, homemade smoked butter, payoyo cheese (from the Sierra de Cadiz), sobrasada, and artisanal mustard. Info: almanachotels.com.
---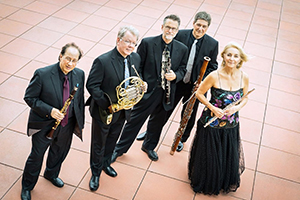 MUSIC TO MY EARS
One of Bailey's least-guilty pleasures (a lonely list, admittedly) is classical music, and my obsession of late is The WA Concert Series, led by world-renowned clarinetist Charles Neidich. The series was founded three years ago by Neidich and fellow clarinetist, chef and spouse Ayako Oshima to bring together the most talented chamber musicians in New York and from abroad. And talented they are! Last month, I was charmed by the "Wind Power" concert by the New York Woodwind Quintet, whose members include flutist Carol Wincenc, oboist Stephen Taylor, hornist William Purvis, bassoonist Marc Goldberg and the aforementioned Neidich. The concerts take place at the Tenri Cultural Center in Chelsea and attract a diverse crowd from intellectuals to young, foreign music students. The final concert of the season on May 10th will feature the Danish Midtvest Ensemble, whose program, "Nordic Voice," will include seldom-heard works by Per Nørgaard, Jean Sibelius, Vagn Holmboe, Carl Nielsen, and Niels W. Gade. Info: waconcertseries.com.
---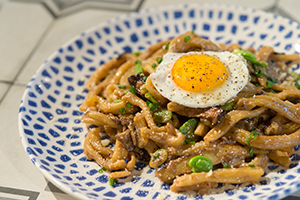 A(MORE), PLEASE
Speaking (err, writing …) of delicious fare, Bailey is savoring the recent opening of Rose's Daughter, an American trattoria in downtown Delray Beach, FL. The restaurant, by chef owner Suzanne Perrotto of the acclaimed Brule Bistro, will offer handcrafted, made-from-scratch pies in a rustic pizza oven, plus homemade pastas, charcuterie, cheeses, tableside presentations and dishes from her mom's original Italian menu. Its heirloom dishes include gnocchi verde, with house-made ricotta, pecorino cream reduction, freshly cracked pepper; house-made sausage Bolognese; and ricotta cheesecake for dessert. "Sunday dinners were the heart of our family," explains the chef, who is newly certified in Neapolitan pizza making. The vibe is friendly and familial, with a décor reminiscent of an authentic New York "burrough." Info: 561-271-9423.
---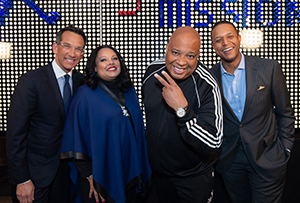 AND FINALLY
Bailey had a blast at the 80s themed "Two Charities, One Mission: Saving Lives" concert last month, benefitting The R Baby Foundation and Michael's Missions. The funds collaborated on the event, which was held in the Hammerstein Ballroom and featured performances by Rev. Run from Run-DMC and acclaimed DJ Mel DeBarge. RBaby is an organization that raises money and awareness in treating young infants with viral infections, especially in emergency rooms, while Michael's Mission focuses on education, research and patient support for people suffering from colorectal cancer. More than 1,000 guests enjoyed the music, as well as 80s activations like Pop Rocks Cocktails, a themed Candy Bar and classic arcade machines. In a touching tribune, WNBC-TV meteorologist, Dave Price, presented the Today Show's Craig Melvin with an award to honor his work with Michael's Mission. All in, the event raised $1.8 million. Info: rbabyfoundation.org.