THE PLEASURE OF YOUR COMPANY
See India And Attend A Wedding Too!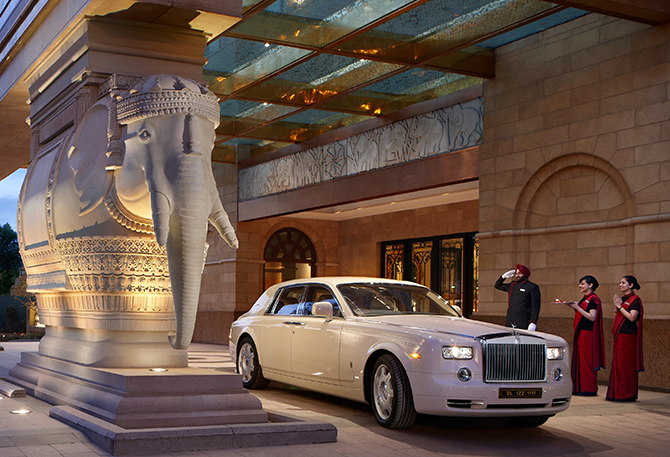 By Maxine Albert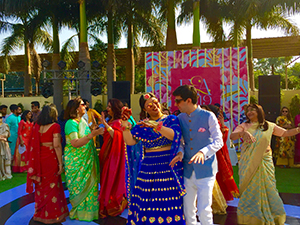 The Happy Couple with Aunties & Mom
From the Maharishi to the Maharajas, ragas to yoga, India fascinates with its riot of aromas, flavors, sights, and sounds. These are on full display at the world famous Indian weddings. The over-the-top spectacle lasts for days and nights with rituals, customs, vibrant colors, flowers, endless Indian food, music, saris accented with bling, turbaned men, traditional and Bollywood dancing all mixed in an exuberant celebration. Anyone who has been to India wants an invite to this dazzling cultural immersion.
Great News! Now visitors can work through travel professionals to attend and participate in these extravagant nuptials as a distinguished guest, interact with members of the wedding party and gobs of locals for a real insider experience of Indian culture. I was all in and contacted India expert Cox & Kings (it's key to have a good organizer) who arranged my itinerary for A Big Fat Indian Wedding spread across two cities, Mumbai and Delhi, over two weekends.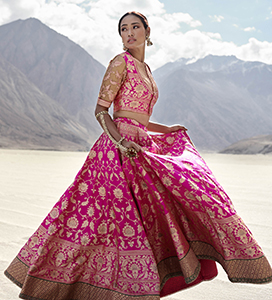 My Beautiful Lehenga Dress from Indian Designer Ritu Kumar
MUMBAI
The wedding party began in Mumbai, the nation's entertainment capital and film industry hub, where an international crowd of Bollywood stars, global financiers and India's young and restless flush with new wealth rub shoulders at stylish restaurants, nightclubs, and designer boutiques. In this city of extremes, be prepared for crowds and sensory overload. Sacred cows, Bentleys, and three-wheeled tuk-tuk moto-taxis share the streets with food carts, and pedestrians in business suits, dhotis, and brightly colored saris.
What To See & Do Some highlights of my lively Mumbai jaunt arranged by Cox & Kings included a visit to the private home of a celebrated art collector, strolling the historic Sassoon Docks, former trading port for all of India's riches, now a bustling fish market, plus a fun-filled Bollywood dance workshop to learn some steps for the upcoming wedding. They also arranged lunch at The Bohri Kitchen, a family who welcomes guests into their home serving delectable lamb, chicken and vegetable dishes prepared in distinctive Yemeni style. The storytelling son and his mother the chef could helm a Michelin starred restaurant.
Traditional All The Way Ever since Chanel created that little black number, we all know the importance of the dress. I could have attended the wedding in a stylish western outfit but opted to don traditional garb and headed to top Indian fashion designer Ritu Kumar's boutique in Mumbai. Mrs. Kumar began reviving the country's lost crafts in the 1970s when Indian fashions came from England. And what a stunning collection I beheld! I chose a voguish pink lehenga, an elaborately embroidered, pleated full ankle-length skirt, top and shawl crafted with gold plated yarns that sparkled in the sunlight. Info: ritukumar.com.
Heavenly Haven The iconic, historic Taj Mahal Palace overlooking the Gateway of India, frequented by royalty, heads of state and celebrities is a honeymoon favorite. Photographs of notable guests Bill Clinton, The Dalai Lama, John Lennon, Jackie Kennedy Onassis and Mick Jagger line the corridor walls. An opulent lobby with museum rich art collection and sumptuous suites in the Palace Wing exude the splendor and elegance of India's colonial era. Guests are cosseted with butler service, a pool, ten acclaimed restaurants including the superb Marsala Kraft for Indian cuisine, Jiva Spa and a colonnade of fabulous clothing and jewelry shops. Info: tajhotels.com.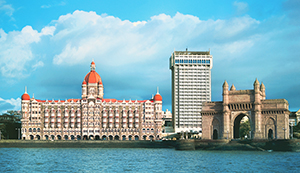 Taj Mahal Palace
NEW DELHI
Arriving in New Delhi for the final wedding celebration, I toured India's vibrant capital visiting the majestic Red Fort, historic India Gate, a Sikh Temple, Santushti Complex's upscale boutiques and relished a tasty lunch of local specialties at atmospheric Chor Bizarre Restaurant-cum-gallery. Old Delhi's bustling medieval bazaars contrast New Delhi's modern shops, trendy eateries, and chic nightspots.
Heavenly Haven The ultra-luxurious Leela Palace Hotel in the leafy diplomatic enclave is a favorite of dignitaries, the fashionable and fabulous. Many choose this five-star stunner with lavish interiors, deluxe suites, regal ballrooms and a beautiful landscaped open-air terrace for their wedding celebrations. Everything here has been done with exquisite attention to detail from the curated collection of art, striking silver elephants to the gorgeous floral displays. Guests are pampered with Rolls Royce transfers, butler service, Spa by ESPA, rooftop infinity pool, excellent Jamavar Indian Restaurant, and divine Mediterranean fare at Le Cirque (an outpost of the New York original). Info: theleela.com.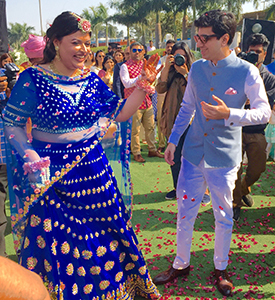 Happy Couple
THE WEDDING
A pair of drummers in pink turbans and gold-fringed kurtas greeted me as I arrived at the lavish Sangeet Wedding Reception, a palm tree-filled outdoor venue decorated with flowers galore. As is the custom, an astrologer had selected an auspicious day for the wedding after making sure the couple's astrological charts were compatible. Food stations lined the football field-sized perimeter offering every cuisine from India and beyond. Guests sported a dazzling bouquet of red, blue, pink, orange and gold outfits as glamorous as a fashion show and I fit in perfectly with my fashionable lehenga.
Mother of the bride, lovely Meenakshi clad in a mint green sari, treated me like an honored guest and introduced me as a friend from New York. Everyone was impressed, warm and chatty. Intricate Mehendi henna designs adorned the bride's hands and feet. Tradition says the longer the bride retains her Mehendi, the more love she receives from her husband. My new friends, bride Freyan and groom Anup, held hands under a veil as guests showered them with rose petals, a ritual bestowing our blessings.
Then a spectacular celebration began with the bride and groom's families followed by all their respective family members putting on a Bollywood-style show with choreographed song and dance numbers they had rehearsed, many themed around the happy couple. The whole place then erupted into a massive joyous Bollywood dance fest. I danced for hours with everyone, including the newlyweds, their parents, relatives, and friends.
Earlier, the happy couple had participated in traditional Tilak Ceremony. First, the groom's family entered, and the bride's family showered them with flower petals. The bride's mother placed vermillion powder in a tika or dot on the groom's forehead and performed an aarti, circling him seven times with a tray containing rice grains, a ghee lamp, flowers and a coconut (which is broken open at the door to ward off evil spirits and give an auspicious blessing). Offering tika on the forehead of the groom ensures a loving husband. Next, the bride entered, clad in a traditional red sari and exchanged garlands with the groom. The groom's mother placed a shawl over the bride's head, and various rituals ensued: a Hindu priest chanted mantras repeated by the couple who walked around the flame in the center of the altar while repeating vows and were tied together with a string. Groom Anup washed bride Freyan's feet in milk symbolizing how she is now the Lakshmi of his life—the Hindu Goddess of fortune and prosperity.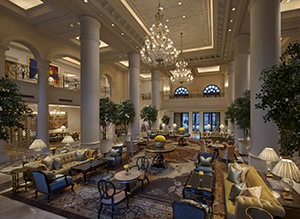 Leela Palce Lobby
The Big Fat Indian Wedding exceeded my very high expectations. It was both exhilarating and touching to be an active participant, to be treated like family at their wedding and learn the importance of family in this fascinating land.
How To Plan The Trip India expert Cox & Kings, specialists in creating the finest, authentic customized experiences, did an extraordinary job arranging my trip. This prestigious travel company provided top guides, impressive food experiences, transfers, VIP no waiting at the crowded airports plus a remarkable itinerary in Delhi and Mumbai including the grand wedding. Info: coxandkings.com.
For Personal Travel Around Mumbai and Delhi It's key to use a car service with a good reputation and Kalka Travels is excellent. Info: kalkatravelindia.com.