SANIBEL & CAPTIVA ISLANDS
The Bucolic Charms Of Florida's West Coast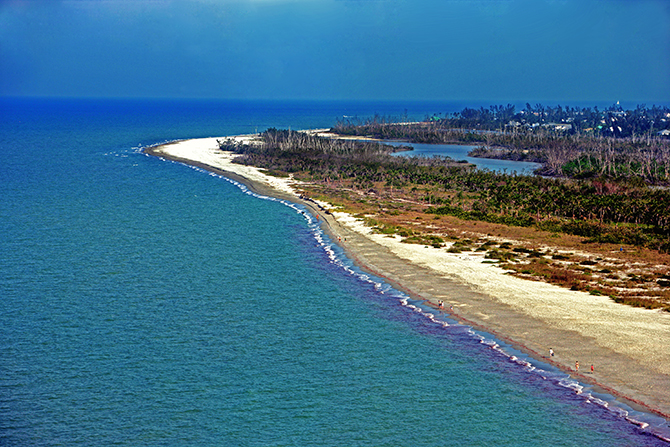 Captiva Island
By Jenny Peters
Ever feel like you just want to escape the madding crowd(s) of New York? Get the urge to just jump on a plane and find yourself so far from subway trains and sidewalks jammed with wall-to-wall people? Then we've found the perfect place for you.
Simply hop on a three-hour, nonstop flight to Fort Meyers (we keep seeing round-trip fares hovering around $200, well within almost anyone's budget), and head to Sanibel and Captiva Islands. Those two little gems located on the Gulf of Mexico just south of Fort Myers (and north of Naples) are places where time has stood still—or it sure seems that way.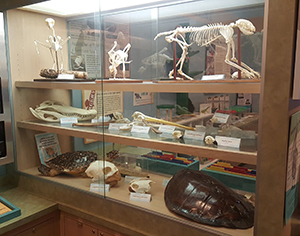 CROW visitors center ©Jenny Peters
WHAT TO SEE & DO
Both of these barrier island—Sanibel comes first, Captiva is at the end of this skinny little chain connected by a small bridge—have a few pretty hotels, cool little shops, fun restaurants and a slew of protected areas and empty beaches. The J. N. "Ding" Darling National Wildlife Refuge covers basically the whole eastern side of Sanibel, a refuge created by President Harry Truman in 1945. It is the place where migratory birds converge every year from January to March, including ospreys, raptors and spoonbills; alligators meander around the protected areas here too, without a care in the world.
This is a place that bird watchers adore, as over 245 species of birds can be seen here, nesting. roosting, and hatching their offspring. You can also kayak, canoe. and stand-up paddleboard through this watery refuge, the largest undeveloped mangrove ecosystem in America. So bring cameras, binoculars, GoPros and anything else that can record this majestic place and get out for a hike or a paddle.
However, when you are off the water and in your car, remember that while you are wandering these beautiful islands, despite being in a vehicle, you need to move a bit like a turtle. The island's police force delights in pulling over drivers who exceed the 35-mph speed limit on the two-lane road that meanders out from Sanibel all the way to the tip of Captiva, so be warned that the slow pace here is part of the protected landscape (and plan accordingly for travel times).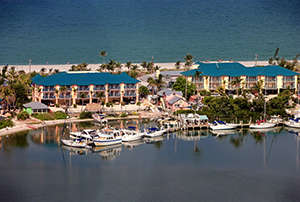 Tween Waters
Settle in for a day of doing absolutely nothing but sunning and swimming; and if that becomes a bit monotonous, there's an incredible place to explore called CROW—or the Clinic for the Rehabilitation of Wildlife—where adults and kids alike will be fascinated by the conservation and wildlife rehabilitation efforts happening there. CROW is Sanibel's incredible veterinary teaching hospital and education center, established in 1968 for the express purpose of saving injured wildlife on and around the islands.
Beginning with around 200 patients (think birds, reptiles, mammals, etc.), CROW treats over 4,000 wounded critters every year. Tour their fascinating visitor center, to see some of their recovered patients and sign up for a guided "Wildlife Walk" through the hospital. It's an enlightening and fascinating experience.
To see lots of birds in their natural habitat, be sure to book a trip out to wild Cayo Costa, the famed island state park just a short boat ride away from Captiva with Captiva Cruises, the venerable company that has been bringing visitors to this beautiful spot for over 30 years. It's a protected place that's the home of Shell Beach, where you're encouraged to collect a few of the thousands of shells that wash up on the island's pristine beach to take home as a memory of this wonderfully wild escape.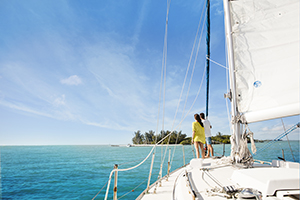 Sailing to Cayo Costa
STAY & DINE
Make the Tween Waters Island Resort and Spa home base, staying at that much-beloved inn built in 1931. It's located up on Captiva Island where Pine Island Sound and the Gulf of Mexico practically touch one another, offering picturesque cottages or more traditional hotel rooms, many with water views. Meander across the street to the beach, where sheltered cabana beds, soft sea breezes and fine white sand await.
Sanibel and Captiva Islands both have plenty of spots to relax with a beverage and a view, ranging from the Mucky Duck Pub, where convivial crowds have gathered since the 1970s for beer, raw oysters and sunset viewing every night. Head to the Bubble Room, one of the wackiest restaurants you've ever seen, where memorabilia from film and television vie with a massive collection of antique toys that fill the rooms of this family home that's been a meeting place for pie lovers since 1979. Check out more recent popular eateries like Doc Ford's Rum Bar & Grille, Keylime Bistro, and T2 Traders surrounded by cute little boutiques in the Village Shops.
But we'll warn you now: when you've fully embraced the bucolic charms of Sanibel and Captiva for the first time, you may never want to leave.
For more information on Sanibel and Captiva Island, visit fortmyers-sanibel.com.