SOPHIA ANNE CARUSO
Broadway's New Ingénue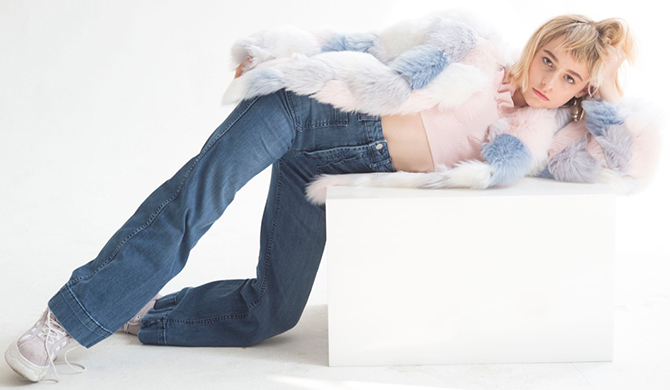 By Griffin Miller
Like Lydia Deetz, her character in the new Broadway musical Beetlejuice, Sophia Anne Caruso is "serious and unusual"—so much so, she's been tackling macabre droll roles since she was ten and cast as a stage-struck sociopath in the musical send-up, Ruthless! With only a few detours—like playing Birgitta Von Trapp in NBC's the Sound of Music Live—she's serenely embraced her Penny Dreadful side. It's a commitment that has paid off well for the 17 year old.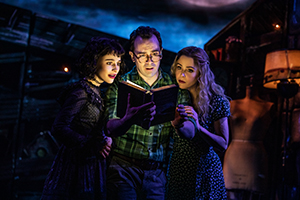 Beetlejuice Broadway Sophia Anne Caruso, Rob McClure & Kerry Butler
©Matthew Murphy
The youngest of three children—"My sister and brother are older and on their own"—Sophia moved east with her parents from Spokane, Washington seven years ago once it became clear her performing career was taking off. "I started doing shows regionally when I was six or seven. My mom, who has a business [jewelry and clothing stores], would sometimes drop me off at the theater," she said, adding that her first professional role came when she was nine: playing Helen Keller in a production of The Miracle Worker, directed by Patty Duke. A year later she moved into TV and was cast as Young Norma Jean in Smash, performing alongside Bernadette Peters.
ARTISTIC & MIND-BENDING
When asked about her favorite acting projects from around this time, Caruso homed in on one of her darkest roles to date: MCC's 2015 production of Jennifer Haley's The Nether—a bizarre detective story played out in a sinister Victorian-esque virtual reality realm where heinous things happen to young girls—a setup that fascinated rather than repelled the young actress. In what was her Off-Broadway debut, the role earned Caruso her first Lucille Lortel Award nomination, the second coming a year later when she worked alongside Michael C. Hall in the David Bowie/Enda Walsh musical Lazarus. Both of these works play into her passion for "informing artistic mind-bending pieces."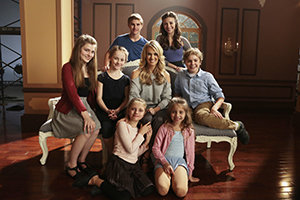 As Brigitta Von Trapp in NBC's
The Sound of Music
Clearly, edgy is Caruso's comfort zone, reflected in many aspects of her life, including her fashion sensibility (platform boots and such), and literary sensibilities. An avid reader, she recently finished You Know You Want This, a collection of short stories by Kristen Roupenian, that's been described as "perverse" and "utterly bananas". Her favorite playwright? Sarah Kane, a master of the disturbing and controversial (Cleansed; Blasted), while Maggie Nelson's poetry (Something Bright, Then Holes) matches Caruso's aesthetic.
Talking to Caruso, it's easy to understand why the writings of these three women and others fall in line with her choices as an actress. "I'm attracted to strong, authentic females… not stupid stereotypes." No surprise that her theatrical wish list includes George Bernard Shaw's Saint Joan and Sarah Ruhl's Euridice.
Her mature—make that beyond mature—choices seemingly impact all phases of her creative process,from the way she delivers her lines to the searing gaze she unleashes on certain characters in Beetlejuice—and, one suspects, real life.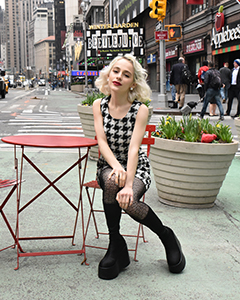 ©AnnieWatt.com
A STYLE ALL HER OWN
Based on the 1988 Tim Burton film, the musical Beetlejuice has been reconfigured for Broadway, not just through the addition of songs and dance numbers, but concept-wise as well, including the role originated onscreen by Winona Ryder. "I always felt close to Lydia," said Caruso, who recalls feeling a bit of an outsider herself growing up. "I always wanted to see more of her story in the movie, and now it's actually happening within our show! In our Beetlejuice Lydia's story is expanded and you get to know her much deeper than in the film."
A Goth gamin, with an unwavering sense of what she wants, Caruso's Lydia is in perpetual mourning for her deceased mother and is willing to try pretty much anything to reconnect with her, including hanging out with the title character—a deceased nutcase/conman played with crazed brio by Alex Brightman (School of Rock). "He's my monster," said Caruso. "He's a comic genius and he can make me cackle even on an off day. He's a cool older brother."
Caruso's praise doesn't stop with Brightman, though. She refers to her fellow performers as "a stacked cast" and to being a longtime fan of actress Leslie Kritzer, whose madcap Delia is far more upbeat than that of Catherine O"Hara's in the film. She calls Eddie Perfect, who wrote the score, "awesome," and describes director Alex Timbers as "brilliant, sensitive, open and honest… He's very visual and he has grand visions," she continues. "He's one of the best on Broadway."
So far—and I'm talking the early days of the show's run—Caruso has been able to measure the enthusiasm for the show through reactions of theatregoers who feel an affinity with both Lydia and Sophia.
"I'm very happy to say that we are getting wildly wonderful feedback!
At the stage door every night I hear young girls and boys telling me how much seeing a real teenager means to them, how they love the show's message." They also tell her and how they feel—that through Caruso's portrayal of a kid who wears her outsider status as a badge of honor, they feel seen and understood.
And maybe Caruso—on occasion—shares her personal precept with some of them: "So long as you cause no harm do what makes you feel best!"
AN OFF-THE-CUFF Q&A
©AnnieWatt.com
Knowing that you're constantly working, what's the story on your education?
I actually graduated two summers ago after taking online classes.
Do you have time for any relationships outside of the theater?
Some…it's cool to learn more about yourself through others. But right now my work is my true love.
I know you play the guitar. Do you compose as well?
I do. I write in pretty much every style. I also play a little bass and piano.
Do you have any pets?
I have a dog, a Shih Tzu. His name is Pucci. I love him so much! He's an old boy at 13 and he sleeps all day.
Might you be related to the opera icon Enrico Caruso?
Not that I know of, but my dad always plays his music.
Performance wise, who would you say inspires you?
So many people! What we do takes a lot of courage and I respect every kind of performer because I know how much it demands. Seeing others succeed inspires me.
What are your thoughts about social media?
I don't really look for myself or read about myself. I do think we live in a world where young people are exposed to a lot on the Internet. And some things especially can be disturbing for young women when it comes to self-esteem—the romance of a non-realistic ideal of beauty. I avoid any images of 'perfect' supermodels that can set me off and make me think I'm not good enough. I take days—even a week off, because negative things and thoughts can eat up your life. I try to be gentle on myself.