PAWS DOWN, TAILS UP
TIPS & TRICKS FOR A PET-FRIENDLY SPRING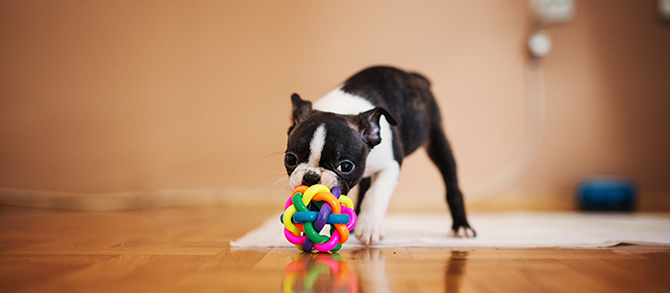 By Lori Zelenko
We recently met with Jodi Andersen founder of How I Met My Dog, the site that matches humans and dogs based on behavior and lifestyle, for her tips on how to get the dogs in our lives ready for Spring. Here, the top things you need to do to have a happy and healthy home together as the new season begins.
It's that time again for the annual ritual of spring cleaning. And for those of us that live with pets, the ritual not only includes our own stuff, it includes everything that our beloved four-legged best friend has spent the entire winter lying, rolling, chewing, and drooling on. Time to perk up your space—and your pet's too—naturally? Plant-based Grow air and fabric freshener is a mindful choice that is good for you, toxin-free, and safe for your pets.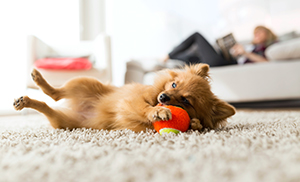 Here are three easy ways to help you and your dog kick-start the new season you've both been waiting all winter long for.
• Dogs have a tendency to hide their favorite things. Why not make a game out of finding those things by calling your dog over to help you peek under every couch cushion, chair, and pillow. If you happen to spot one of the errant toys (that you might have long forgotten about but your dog is just waiting to unearth) praise your dog by saying "good find it!" and continue the search for another toy. Don't forget to also look under outdoor hiding spaces (such as flowerpots and woodpiles). A long winter outside can dry out even the toughest toys. Spring is the perfect time to mend or replace any ball or toy that once was a treasure but with time has become treacherous. Toys can get slimy and yucky but when it's time to refresh them, be sure to use a toxin-free cleaning solution that's sure not to be harmful to your pet.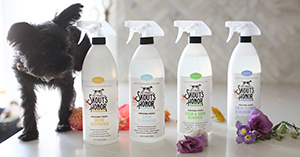 • Food and water bowls often get overlooked because we rinse and refill them every day. Unfortunately, the fat found in your dog's food is the perfect breeding ground for all kinds of bacteria and a rinse is not nearly enough to kill what's lurking in those bowls. If you don't already really clean at least weekly, now is the perfect time to start. The best option for bowls is either stainless steel or lead-free ceramic. Cleaning them daily in the dishwasher on "sanitize" or using a non-abrasive cloth with Skout's Honor toy and bowl cleaner will do the trick. If you're washing them by hand, be sure get down to the very bottom of the bowl where bacteria find the best hiding places and don't forget to rinse well. Most importantly, either method will render those bowls cleaner than a dog whistle.
• Another item that's often forgotten about is the collar. Because the collar is the one thing that stays on your dog 24/7 giving it a real cleaning is not only a good idea, it's a prudent one. First, remove all ID tags and check if they are still legible. All that clanging around every day can wear down the print of that vital information. Once all the tags are removed, wash the collar in a pet-safe laundry detergent like Seventh Generation and dry it with natural wool dryer balls like Pure Homemaker. These are great because you can put a drop of "calming" lavender oil on each one before tossing it in the dryer. If you chose to air dry, put the drop of lavender oil right inside the collar so your dog will not only smell good, he/she will feel good too.
Now that you have your spring cleaning regimen down, get out there and head off into the fresh, cool air and enjoy!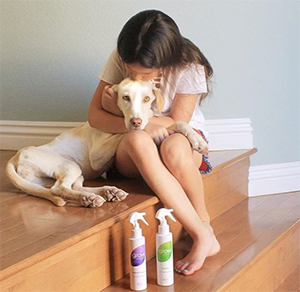 Jodi Andersen, ComPETibility expert, is co-founder of How I Met My Dog™ a website that custom matches the right people with the right dogs. Every year, a staggering four million dogs are surrendered to shelters or need to be rehomed by families who can no longer care for them. Sadly, only half of these dogs ever find another home. How I Met My Dog's mission is to break this cycle by giving adopters the much needed assurance that the dog they are bringing home is the "right" dog. Their P.E.T. Profile™ filters for 30 levels of human and dog compatibility, greatly increasing the odds of successful, long-term relationships.
For more information on How I met My Dog, visit howimetmydog.com.