ON STAGE
HUMOR RULES
By Lori Zelenko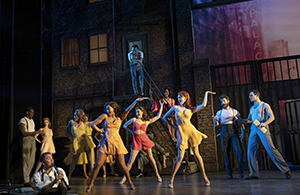 The company of KISS ME, KATE ©Joan Marcus
KISS ME KATE
Studio 54
Stylish, sexy, and sophisticated Kiss Me, Kate! hilariously invites us in to experience backstage passion and onstage romance in this revival of the musical loosely based on William Shakespeare's The Taming of the Shrew. With a sparkling score by Cole Porter including "Too Darn Hot," "So In Love" and "Always True To You In My Fashion," the show revolves around the power dynamic between Fred Graham (played by Will Chase, TV's Nashville, Broadway's The Mystery of Edwin Drood), the show's director, producer, and star, and the leading lady, his ex-wife Lilli Vanessi, played by Kelli O'Hara (The King and I, Pajama Game), two willful individuals who make us wonder if love can truly conquer all.
A WINNER THEN AND NOW
The winner of the first-ever Tony Award for Best Musical, the show has been updated to make Lilli more of an equal, after all it dates from 1949 and times have changed. Fans will welcome back Kelli O'Hara who has not appeared on Broadway since she won a Tony for her performance as Anna in The King and I. Four years later, she's back in this fresh, new, and even empowering version of Kiss Me Kate. The great Cole Porter score and the wonderful classic humor remain but the women in the show have more space to stand up for themselves, Kelli O'Hara observes, adding "Lilli is a woman behaving with intelligence and with class but is commenting on what she's surrounded by. She's not just crazy."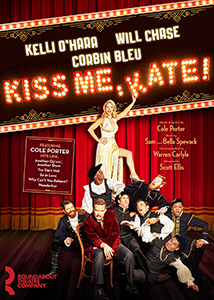 ROMANCE MADE MODERN
Today's times are not prim and proper and the show reflects this modern era, not holding anything back. The revival is timely in its look at misogynistic behavior that's being reexamined in light of #me-too, but humor is never lost as this theatrical play within a play made more contemporary now with new material by Amanda Green.
For Kelli O'Hara, playing Lilli playing Kate is "layering these two women on top of each other. I like to think of Lilli as much more of a shell—much more vulnerable, more insecure—whereas I think of Kate as a woman who knows a lot, one enhances the other. Kate gives Lilli voice when she's hurt and angry, and Lilli eventually gives Kate a softness and understanding." Spunky and fierce though Kate may be, she's still looking for love in this comic rollercoaster romance.
The Roundabout Theatre production of Kiss Me Kate! is directed by Scott Ellis with choreography by David Chase, costumes by Jeff Mashie and sets by David Rockwell, it is slated to run through June 2nd.
---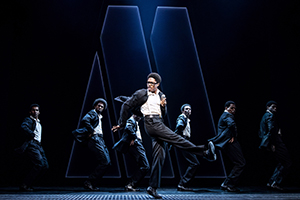 Christian Thompson, Saint Aubyn, Ephraim Sykes, Jeremy Pope, Derrick Baskin, Jawan M. James in AINT TOO PROUD ©Matthew Murphy
AIN'T TOO PROUD: The Life and Times of The Temptations
Imperial Theatre
From the streets of Detroit to the Rock & Roll Hall of Fame, Ain't Too Proud electrifies us as we become engrossed in the rise and fall of The Temptations, the mighty Motown hit machine. This new jukebox musical which broke house records in California at Berkley Rep and in D.C. at The Kennedy Center, arrives on Broadway this Spring with irresistible life. It's only natural to want to sing (and probably dance too) along to favorites including "Ain't Too Proud to Beg," "Get Ready," "If You Don't Know Me by Now," "I'm Gonna Make You Love Me," "War" and of course, "My Girl," among the 31 songs in this show that never stops moving or dazzling.
Sergio Trujillo's choreography does more than recreate this group's signature dance moves, it reinvents them brilliantly lifting this jukebox musical into another realm.
THE UPS AND DOWNS
The story takes us through the ups and downs, onstage and off, entertaining consistently as we learn how this fab five met, the groundbreaking heights they hit and how personal and political conflicts threatened to tear them apart as the United States fell into civil unrest.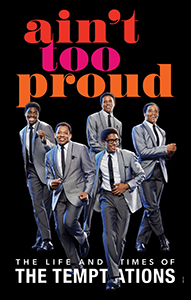 It wasn't all harmony within The Temptations. The difficult relationship between two of the five "classic" Temptations, Otis Williams (played by Derrick Baskin) and David Ruffin (Ephraim Sykes), becomes the center of the show, with Baskin serving as the far from volatile narrator. (The 2012 memoir by Williams, the last survivor among the original group members, is the basis of the musical.) Sykes's intense, ego-driven Ruffin struggles with the dictation of the group's homogeneous style and Williams demand for shared credit—an issue that plagued the group, with 24 men rotating through over the past six decades. Despite the simmering internal conflict, The Temptations produced 42 Top Ten Hits with 14 reaching number one, many written by Smokey Robinson and Norman Whitfield.
Ain't Too Proud is a story of brotherhood, family, loyalty, and betrayal. Smooth though their sound was, turmoil raged behind The Temptations seemingly slick façade. Their success was extraordinary and they were for a time a worldwide sensation (the show takes us from their start in the 1960s to 1974) but it's lonely at the top and as we see in this exceptional and exciting show not so easy to sustain success.
Ain't Too Proud written by threetime Obie Award winner Dominique Morisseau, directed by twotime Tony Award® winner Des McAnuff (Jersey Boys) and featuring choreography by Tony nominee Sergio Trujillo (Jersey Boys, On Your Feet), brings the untold story of this legendary quintet to Broadway. Get ready—'cause here they come.