KELLARI TAVERNA
Traditional Greek Cuisine Goes Modern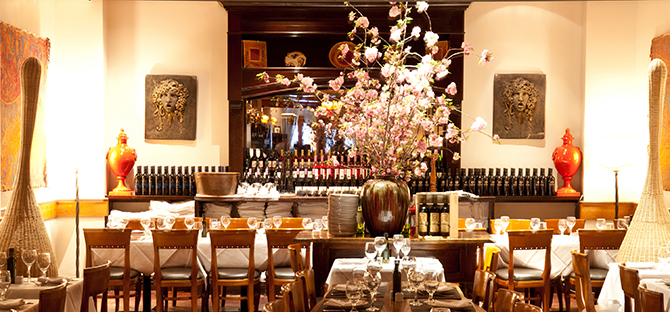 By Anne Raso
Kellari Taverna is a stand out among Manhattan's Mediterranean eateries for a number of reasons: authenticity, friendly service that never gets intrusive, spacious atmosphere and a huge amount of menu choices.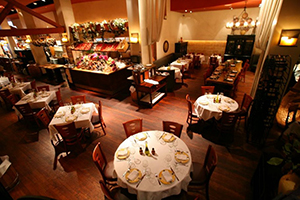 Speaking of atmosphere, the online photos of the wood-paneled main dining room with its large floral arrangements, seafood displays on ice and majestic light fixtures definitely look inviting—but you will be totally awestruck in person. The dining room is the perfect blend of traditional and modern with medium-hued wood abounding and the remarkably high vaulted ceilings. There is an underlying wine cellar-theme with barrels lining the area above the bar.
Owner Stavros Aktipis arrived from Greece in his 20s and soon after opened his first eatery Evvia in Palo Alto, CA. It was here he met a New Yorker whom he eventually married and together they moved east. He also thought that it was as good a time as any to expand his restaurant empire. Today, there are a total seven restaurants that make up the Kellari Hospitality Group.
New York Lifestyles asked Aktipis to share the highlights of his hospitality career—so far. "I have been involved with many restaurants during the past 20 years. With Kellari, everything is Mediterranean related, you have to have great food and a great product, and that's what I try to do. Coming from Greece, everything is grilled merely using lemon, herbs and olive oil." Aktipis' passion for food is unrelenting. "I want guests to leave knowing they were treated with excellent hospitality. I want to make guests feel relaxed and at home."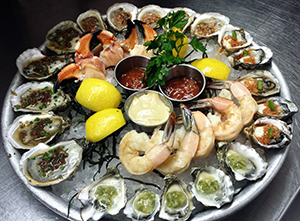 Kellari Raw Platter
A DIVERSIFIED CROWD
Look around Kellari Taverna and you see a great diversity of patrons—an after-work bar crowd, families dining together, friends celebrating birthdays or about to go to the theater, and couples wanting quality time together. Aktipis says, "Some of the regulars have their own needs regarding the size of tables, and the staff connects well with everyone. The wait staff, hostesses and bartenders know the regulars by name."
Not surprisingly, Kellari Taverna has had many VIP guests including former Mayor Bloomberg. The restaurant does play it cool when a politician or celebrity visits—all clientele is treated equally special and "like family." Aktipis comments, "Bloomberg was a friendly guy. And, of course, we try not to make a big deal about it. We have had movies filmed here as well. Kellari is very low key as we want everyone to return!"
And they do return. Kellari's fresh and healthy cuisine is tops with New Yorkers and visitors alike who crave the classic Mediterranean menu. The restaurant owner states, "It's not the fresh and healthy reputation that makes Mediterranean food popular, I think that it's the classic flavor. It is, however, healthy by nature as we use olive oil, lemon, and herbs for everything. The freshness and flavor stand out. It has a relaxing feel to it. There is a comfort level there as well."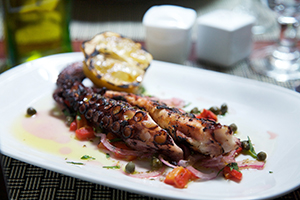 Kellari Grilled Octopus
A FARM TO TABLE EXPERIENCE
Kellari Taverna offers a first-class farm to table experience and since it has an immense selection of fresh seafood that is presented to the guest before cooking, let's also say that it provides an "ocean to table" encounter as well. The Dover Sole is considered in a league by itself, and it's truly a show when your server so neatly debones your fish in under two minutes into a presentation with a big "wow factor." Aktipis is definitely hands-on and is proud of Kellari being "farm to table" and using local produce and meat vendors. He says, "We only use top quality produce and meat that's seasonal. You can see the fish display at the restaurant; the customer chooses directly from it, and you have to have the best products available. We want all guests here to see that."
Kellari has several unique dishes being added for Easter and the Spring season. Aktipis tells us with excitement, "We go in with the seasonal approach to find the best foods. For Easter, we will offer fresh seafood dishes and do the traditional lamb roasted on a spit on the sidewalk. We love doing that annually for the holiday."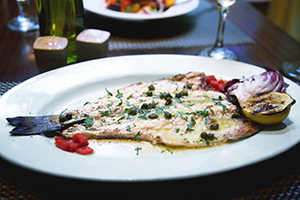 Kellari Lavraki Dish
FABULOUS SPECIALS
Another unique touch is the best-kept secret: A three-course Mediterranean lunch in Manhattan for only $30—and, yes, that includes the savory high-end seafood dishes created with salmon and shrimp straight out of the ocean. (There is no reason to wait for New York Restaurant Week when you can get a deal like this—the portions are super generous, too!) And don't miss their three-course pre-theater menu that includes the widely heralded Vegetarian Mousaka with béchamel sauce and Lamb Shank with red wine rosemary sauce and parsnip puree. Lastly, there is a post-theater menu with many of the items seen on the pre-theater menu (both are reasonably priced at $42.95). On weekends, take note that all brunch entrees come with a complimentary drink including Bellinis, Mimosas and Bloody Mary's (pricing starts at $15.95).
For more information on Kellari Taverna, visit kellarinyc.com.