FIJI
Where Happiness Abounds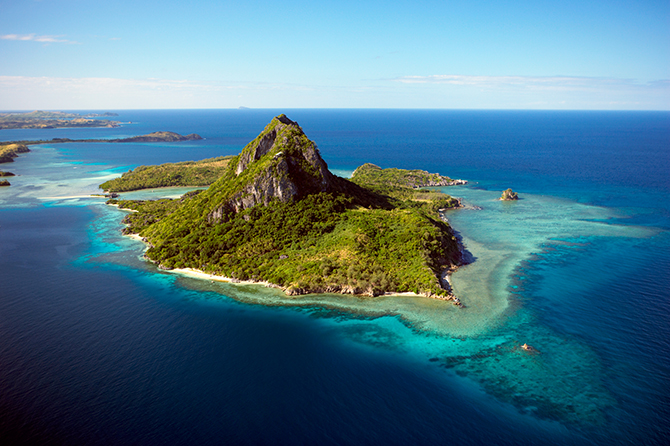 By Jenny Peters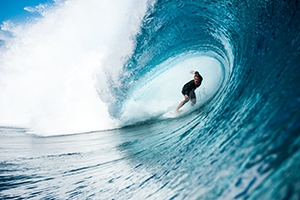 Surfing Cloudbreak Fiji photo via Tourism Fiji
The moment you land in Fiji, the singing begins. For even at Nadi Airport on Viti Levu, the country's largest island and the gateway to her 106 populated islands, you're greeted by a band of local Fijians making music to welcome you.
It's a lovely introduction to one of the friendliest places on the planet and one that is repeated throughout your visit. Close your eyes and imagine warm azure waters, swaying palm trees and a boat ride to the dock at your chosen Fijian island destination. Can you hear the lilting voices raised in song to greet you, as "Bula Mayela," the welcoming melody, soars in the sun to greet you?
That gorgeous, emotional experience is only the beginning of what promises to be a trip that will linger in your memory forever. Fiji is fabulous because of its indigenous Melanesian-Polynesian people, whose clans again have ownership of their lands (after British occupation for nearly 100 years). You will usually find that the vacation spot you visit has a chief and a village nearby associated with it, who rent their land to the resort.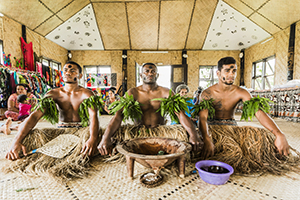 Fijian kava ceremony photo courtesy Tourism Fiji
SOMETHING FOR EVERYONE
Be sure to visit the local village when invited, for this is a way to show respect for the clan and to see how every day Fijian life is lived. Expect to sit on the floor or the grass and experience the kava ceremony, involving the making and serving of kava, a drink made from the root of the kava shrub; you'll meet the children, too, and likely hear a song or two during this wonderful, homey experience.
Fiji is a place for everyone, from honeymooners to families to backpackers to lovers of pure luxury, for those looking for underwater adventures or the perfect wave to those wanting spa treatments, frozen cocktails and deserted white-sand beaches. Choose your slice of paradise based on exactly what makes you happy: Fiji will deliver, we promise. Here are a few of our favorites.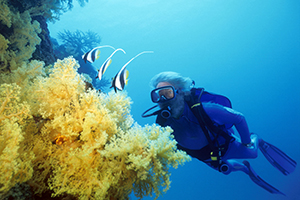 Jean-Michel Cousteau diving at JM Cousteau Resort Coral Reef
SCUBA DIVING & FAMILY FUN
Jean-Michel Cousteau Resort When he chose a place to open a resort, Jean-Michel Cousteau chose Vanua Levu, the second-largest island just a quick flight or ferry ride from Nadi Airport. For this spot, with its famed Namena Reef Marine Reserve and other soft coral diving areas is a Mecca for scuba divers, the underwater system that Cousteau's father Jacques helped invent. In fact, if you're lucky, Jean-Michel just might be visiting and join you on your morning dive into these pristine waters that teem with sea turtles, rays, sharks and tropical fish.
With only 25 beautifully appointed bures (private villas), this is a gorgeous, cozy place that gets you away from it all, even if you have children. For when you bring your kids to Cousteau, you'll find nannies ready to take them under wing (every child under five gets a dedicated nanny for the duration of your stay) and whisks them off to the Bula Kids Club, where they are immersed in Fijian culture, games, ecological experiences and more, from early morning well into the evening.
World-class food, lots of local excursions (pearl farms, open-air markets, hiking, etc.) and the chance to sail, SUP, snorkel and dive to your heart's content right out your front door make Jean-Michel Cousteau Resort a place you'll never want to leave. Info: fijiresort.com.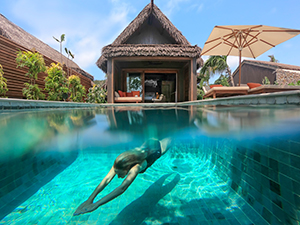 Six Senses Resort Pool Villa
LUXURY, PRIVACY & GNARLY SURF BREAKS
Six Senses Fiji
Just a quick boat ride west from Nadi are the Mamanuca Islands, where resorts of all kinds are to be had. From backpacker hostels to the ultimate in luxury, the choice is yours. The Six Senses Fiji, one of the newest additions on Manolo Island, boasts total luxury with a wellness bent, offering private air-conditioned beachfront bures with personal pools and butlers ready to serve your every whim. The spa there is massive, the food sublime and you can even watch a movie under the stars while eating pizza from an outdoor stone oven.
If your whims include surfing, bring your boards and they'll whisk you out to Cloudbreak, where pro surfers compete and amateurs line up to catch one of its legendary waves that break out in the middle of the ocean. That's near Namotu Island, where other, less gnarly breaks like Swimming Pools and Wilkes Pass allow even beginners to catch a wave. Info: sixsenses.com.
THE ULTIMATE ESCAPE
Yasawa Island Resort and Spa
Fiji has numerous private island resorts that are small, private, romantic and filled with personal service; one of the very best is way to the north in the Yasawa Island chain. Accessed by charter plane, the Yasawa Island Resort and Spa is almost invisible as you descend, camouflaged naturally into the tropical landscape. Here, this 13-mile-long island is your personal playground, with home being one of 18 pretty private beachfront villas.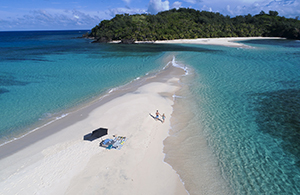 Yasawa Resort Private Picnic
There's a lovely pool and a convivial restaurant/bar serving up excellent local fare along with fine wines and spirits, but the real fun happens on your own private beach. Just ask and the Yasawa staff jumps into action, putting together a bespoke picnic and whisking you and yours away to a totally empty beach—except for the little comfy camp built just for your day away from everything. You can try this on a different beach every day (there are 11 to choose from), but tear yourself away to also see the famed Blue Lagoon caves, take a few dives along the coral walls that line the island and visit the spa to have a massage with the table right out on the sand.
You'll probably tear up as the charming Fijian staff begins to sing "Isa Lei," the goodbye song, for saying so long to this resort—and all of Fiji and its wonderful people—will break your heart. Happily, there's always next time. Info: yasawa.com.
For more information on Fiji, visit fiji.travel.