SENSATIONAL SAINT LUCIA
Caribbean Lazing In Style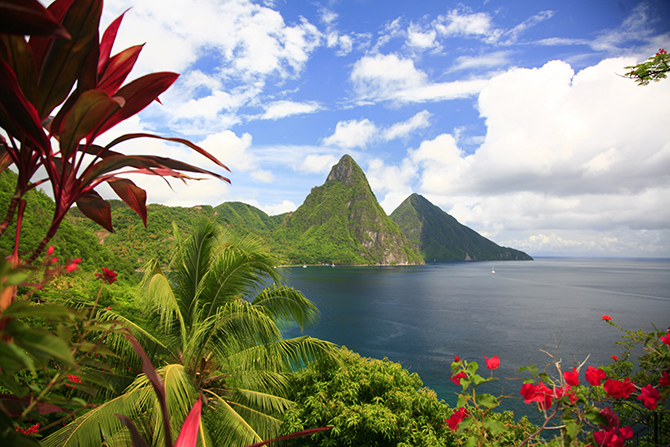 By Ruth J. Katz
It is clearly an unusual distinction to crow about: The Caribbean isle of Saint Lucia, a Windward Island of the Lesser Antilles, can brag about being home to the second-largest number of Nobel Laureates per capita in the world. Not too bad for an island that is a mere 238 square miles, with a population of 190,000. St. Lucia is so proud of its two Laureates, that annually, it devotes the entire month of January to a Nobel Laureate Festival, with no less than two dozen educational and celebratory events sprinkled throughout the island. For the record, these two eminences grises are Sir William Arthur Lewis, who took the prize in 1979 for Economics and Sir Derek Walcott, who garnered his laudatory plaudits in 1992, for literature.
There is so much more to enjoy, savor, and celebrate on Saint Lucia than the Nobel Laureate Festival. Of course, there are all the usual water sports—snorkeling, scuba-diving, paddle-boarding, parasailing, and the list goes on. It is no wonder that Saint Lucia receives more than 400,000 visitors a year, and was voted the World's Leading Honeymoon Destination at the World Travel Awards last year.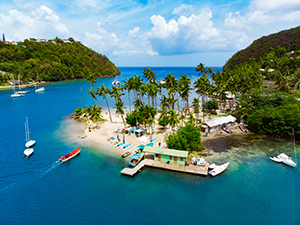 Marigot Bay
WHAT TO SEE & DO
Not into water-centric activities? This West Indies islet nirvana offers some unique pastimes and attractions: Notable is the stimulating and soothing Soufrière Sulfur Springs, a hot springs and volcano (fear not, it last erupted over 200 years ago), where a soak in the hot, mineral-rich mud baths might just bring a renewed youthful glow to your skin. It is exhilarating to immerse yourself in the hot gook that comes from the volcano; then scrub down with more mud, and ultimately soak in the hot springs. Finally, a refreshing shower…and a new you!
An adrenaline-charged activity might include zip-lining in the Morne Coubaril Historical Adventure Park, where you can glide through the heavens, metaphorically, in the shadow of the landmark Petit Piton, one of the two massive volcanic spires that are iconic to Saint Lucia. This "baby" Piton is a towering 2,438 feet high, and its sister, the Gros Piton, a bit taller, at 2,530 feet. Their lush, verdant silhouettes tower over the island from their perch near the city of Sourfrière. It is interesting to note that 80 percent of the island is uninhabited, and is protected national land.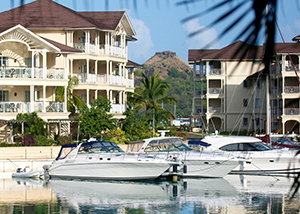 If you'd rather spend quality time with Mother Nature on terra firma, then consider a hike in the rainforest or along the Tet Paul Nature Trail. The latter features a guided trail (it's a 45-minute hike), dotted with exotic flora, and punctuated with breathtaking views. Diamond Falls and Botanical Gardens is also a treat to visit. For slightly different flavors—literally—there are rum and cocoa plantation tours. Or, take off for Pigeon Island, which is under the aegis of the Saint Lucia National Trust, and connected to the northern tip of the island by a causeway. There you'll find the ruins of forts constructed during a time when Europeans fought over this territory.
Of course, Saint Lucia is also famous for its world class annual Jazz Festival. This year Jazz at Lincoln Center is joining this already popular celebration of music to create a more electrifying event (May 4th through 12th). Info: stlucia.org/experiences.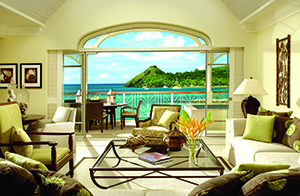 Landings Living Room
WHERE TO STAY
The Landings Resort & Spa, near the Pigeon Island Causeway on Gros Islet, is part of the Elegant Hotels Group, and offers a sublime sanctuary. Built in 2007, the 85 condo units are spacious, gracious, and all have a water view. There are one-, two-, and three-bedroom apartments handsomely furnished with Wi-Fi, cable TV, and well-appointed kitchens. Of course, there is also room service (because who really wants to cook while on vacation?), from the fabulous kitchen that caters to guests in the outdoor, waterside dining facilities, The Beach Club and the Callaloo Beach Bar & Grill and in the more elegant dining room, The Palms.
My condo had a front terrace overlooking one of the resort's several pools, and a rear terrace (over 800 square feet!) with a hot tub, above the serene marina. For families, there is a fun Kids' Club to keep wee ones engaged. For the grown-ups there are kayaks, stand-up paddleboards, snorkeling gear, and tennis courts, among the included amenities. Want more of a workout than tennis? Visit the well-equipped fitness center; and if you want someone else to get the workout while you luxuriate, visit the 7,000-square-foot spa, where some treatment rooms have outdoor hydrotherapy terraces. Info: landingsstlucia.com.
And don't dismiss the fact that this is a sultry paradise, so if you simply want to lounge and tune out, you've got beaches…and beaches…and beaches.
For more information on Saint Lucia, visit stlucia.org.
© 2019 Ruth J. Katz All Rights Reserved