PAWS DOWN…TAILS UP
Flirty Fashions For Your Pet…And More!
By Lori Zelenko with Kathryn Harrison
Whether you're single or in a relationship, chances are your #1 Valentine is your pet. Their sweet faces are filled with so much love, you know no one else can even compete as the perfect Valentine. Shhh! Don't tell your significant other. We know you want to be the perfect pet parent, so we're here to help you find the cutest take on practical things for Fido or Fifi. In these winter months, there's an added bonus when you find something to keep your fur baby warm—and fashionably chic too! Celebrate the love you share and over a biscuit for them and a glass of bubbly for you, say Happy Valentine's Day to your #1 Valentine!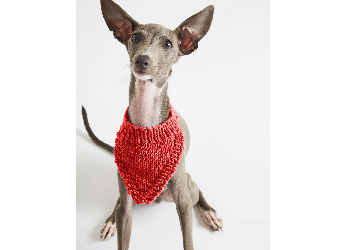 PUPPY LOVE
Knit your fur baby something warm and cozy this winter. How about a bandanna in a vibrant shade of red? Pick your pattern, pick your shade, get knitting for your furry BFF.
Info: woodandthegang.com.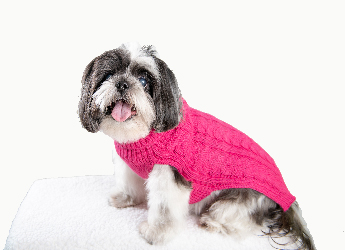 PRETTY IN PINK
Come Valentine's Day, there's not a pup on Sutton Place that's not going to want to look pretty in pink. Annabelle models a gorgeous cable knit from Reme's Oggi Pets. Bet she's going to break some hearts this holiday. Her first love is our Pekingese, Bikini. Info: remesoggipets.com.

PAW PRINTS ON YOUR HEART
Love these pretty gold hearts on this soft pink collar and matching friendship bracelet. Pretty, charming and what better way to say to Fido or Fifi, "you're my one and only." For dogs or cats.
Info: chewy.com.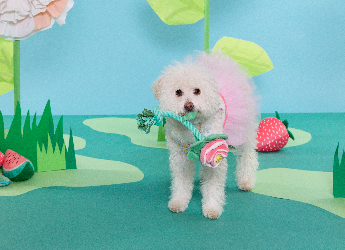 EVERYTHING'S COMING UP ROSES
From Petco's Oh Joy! Collection, pretty floral rope dog toy (there's a matching collar too!) for your bundle of joy. Lots of different textures, great for games, sweet sign of Spring.
Info: petco.com.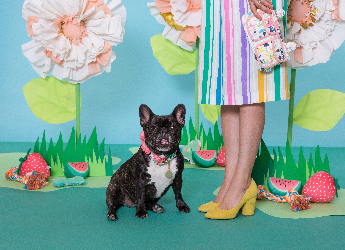 ROSES ARE RED
No blue violets here, just blossoming red roses on a comfy collar for your fur baby. From Petco's Oh Joy! Collection perfect for your little bundle of joy. Velvety and plush, soft, and easy.
Info: petco.com.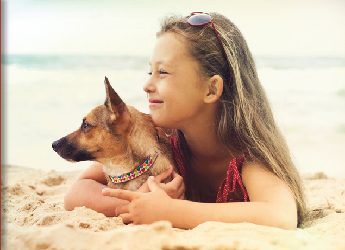 LET ME CALL YOU SWEETHEART
Sweethearts now and forever, pretty patterned collar lets you say, "Be Mine Valentine!" Fun and fashionable from Up Country, home of many of our favorite looks for dogs or cats.
Info: upcountryinc.com.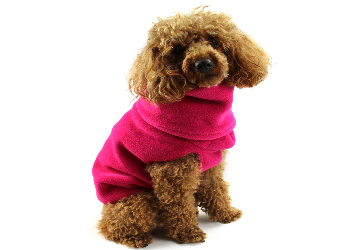 SNUGGLE A LITTLE CLOSER, BABY
Scarf and coat for your pampered (little) pooch and for you, too. Mommy or Daddy and me looks from Ruffina NYC shown here in rosy pink. FYI these washable Polartec fleece ensembles have harness access and are custom styled for a girl or a boy dog.
Info: ruffina.nyc.

SO HAPPY TOGETHER
Love to hike with your dog? Or even just want to be prepared if you are strolling down city streets with everything you ever think you'd need for Fido? Well our friend Megan O'Brien knows a pet parent has to be prepared so she invented DogiPack. Pretty in pink or perfect in red, a must for the modern dog mom (or dad). Info: dogipack.com.

MY LOVE, MY LIGHT
Let your pet lead the way with this glowing collar. We picked pink for Valentine's Day but there's a rainbow of colors available to light up the night with the one you love best. Protects your dog or cat by making them easy for all to see in the dark and with each purchase money goes to help pets in need. Info: halodog.com.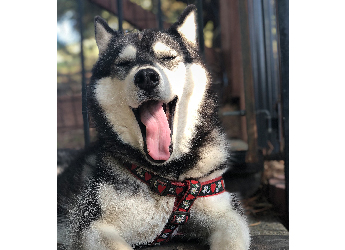 HEARTS AND FLOWERS
Cherry red hearts and pretty white daisies pop on the black background of this Up Country ribbon harness (collar options too). Matching lead for the city chic or country casual look. Step in style makes this harness easy on pet parents. All made by hand and machine washable so maintenance is a breeze long after Valentine's Day is over. Info: upcountryinc.com.