MORIMOTO MAUI
A Recipe For Magic & Romance

By Patti Pietschmann
If your travels take you to the shores of Maui this Valentine's Day for a quick romantic escape, there's a place on this Hawaiian isle to make it complete. Morimoto Maui provides the perfect aphrodisiacal cuisine and setting for lovers. Definitely an epicurean paradise where every dish delights the senses—thanks to Iron Chef Masaharu Morimoto.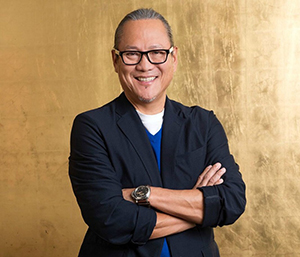 I have dined at Morimoto Maui with my most recent visit even made more magical: Seated on the patio as the magnificent ruby orange sun was making its daily dip into the blue Pacific. To enhance the pleasure, my husband Richard sipped a perfect martini while I consumed a buttery chardonnay. We were feeling almost giddy with anticipation of the feast mastered by Chef Nicko who impressively interprets Chef Morimoto's menus. He recommended omakase (tasting menu), a delightful mix of Asian-fusion flavors.
HEAVENLY FOOD & VIEWS
Even the Amuse Bouche of Mango and Honey excited the palate. He outdid himself and made us very happy. Morimoto Maui sits by the sea on prime property in Wailea that is also inhabited by the Andaz Maui.
With awesome 180-degree views of the ocean and setting sun, we continued the chef's delights starting with Risotto with Parmesan Mousse and Sweet Corn. This was followed with a local fish called Monchong with Succotash and Miso Puree over Chanterelles. Incredibly delicious. We got a kick out of Nicko's next course, the Surf and Turf which consists of A5 Wagyu Beef, Pork Belly, and Chicken. The next course, Nicko insisted we do sushi for which Morimoto is famous, and sent over a huge bowl of it. The grand finale was a light and airy mousse with so much taste we scraped the bottom of the bowl (which held nuts and chocolate).
For sushi lovers, there's a special counter with an amazing cream-colored white oak wood and green granite where you sit on oak stools under a brushed stainless steel ceiling. Naturally, it's staffed by master chefs who know their way around sushi, sashimi, and spring rolls. There is also an attractive bar for your favorite cocktails. Adding to Morimoto's Japanese-inspired ambiance is the illusion of terraces adjacent to the restaurant that seems to float in the resort's lagoon pool. I did say it's a magical spot.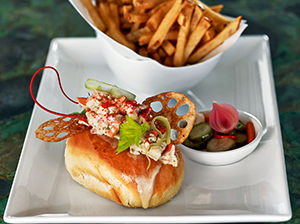 If you prefer to order off the menu, there are many choices. My recommendation is to start with an assortment of sushi, select and share a few appetizers and go for the fresh fish of the day or whole sizzling, crispy fish. You also can't go wrong with any steak, duck or pork dish. Be sure to save room for desserts such as White Chocolate Rocks Chocolate! with Caramelized Ganache and Cuban Red Bananas. Another must are doughnuts like you've never tasted before. Flavors such as Lilikoi, Waialua Chocolate, Sake Caramel, and Apple Banana Cheesecake will have you swooning. There is a well-curated wine list with some decent prices and of course cocktails, lots of sake, and beer.
Iron Chef Morimoto has other eponymous restaurants around the world. He opened Maui in 2013 and his Honolulu outpost in 2018. Can't make it to Hawaii? New Yorkers will find his Momosan Ramen & Sake restaurant just as tantalizing where he showcases his take on ramen dishes.
For more information on Morimoto Maui, visit morimoto.com. Reservations are recommended.