THE REGENCY BAR & GRILL
The Home Of The Power Breakfast—And More!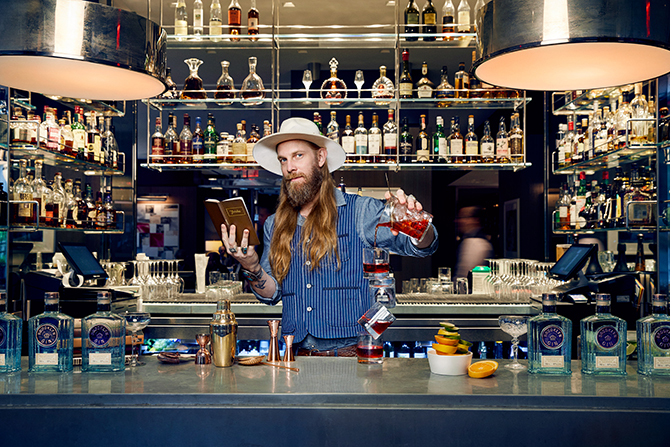 By Anne Raso
The Loew's Regency Hotel on Park Avenue and 61st Street has over 50 years of glamour behind it—including being the main Manhattan hotel for movie press junkets for 20 years and having guests like Judy Garland and Dorothy Kilgallen (who spent her last night alive in November 1965 having cocktails with a date in the bar area). Since 1975, the Regency has been best known for its Power Breakfast (that has now extended to serving remarkable farm to table Modern American cuisine for lunch and dinner).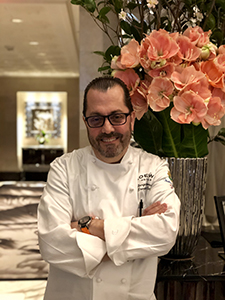 The reason for The Regency Bar & Grill's current success is not only its sophisticated renovation that includes velvet banquets and framed black and white photography on the walls but the hiring of Executive Chef Serge Devesa (who excels at numerous kinds of cuisines and keeps his fingers on international food trends).
One of the first things Regency Bar & Grill guests notice on the menu is the list of farms that provide meat and produce. Chef Devesa told us, "Working with local farms and purveyors is very important to me and what the restaurant stands for. It is essential to work closely with our purveyors to ensure that we are sourcing and delivering the best quality food available to our guests."
A RETURN TO NYC
Chef Devesa—whose career includes successful stints at NYC's Intercontinental Barclay and Washington, DC's Willard Intercontinental Hotel—was born in Marseille, France and began the early part of his career in France. "In 1992, I moved to the Caribbean and consistently traveled throughout the world cooking in hotels, restaurants, and private clubs. Because of these travel experiences, my cooking is now reflective of all the different countries I have worked in. When you move to a different place, it is more than just a new location--it is understanding a new culture, the people and their food. For example, when I was in the Middle East, I worked with other talented chefs and cooks that didn't speak English. I had to learn to work with them and show them how I cook through my hands, in some cases you don't even need to speak."
However, after his most recent stint in San Antonio, the chef longed to be back in New York City. "Throughout my career, I developed a friendship with Olivier Gaupin who is now the Corporate Chef for Loews Hotels. It was then, we discussed the role of Executive Chef at Loews Regency New York Hotel, and I was excited about the challenge and joining the Loews Hotels family."
THE STORY BEHIND THE POWER BREAKFAST
We were curious to know how Regency Bar & Grill garnered the reputation as being New York's top Power Breakfast spot and what Chef Devesa includes on the menu to make it a truly special experience. He explained, "The infamous New York Power Breakfast concept was informally introduced at the Loews Regency New York Hotel in 1975 during the New York City financial crisis, when Loews Corporation Co-Chairman and Co-CEO Bob Tisch began inviting leaders from the public and private sectors to the restaurant to discuss ways to help the city recover."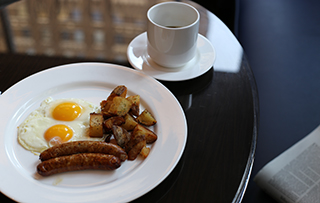 The Power Breakfast forever changed how business was done, ending the era of the three-martini lunch in favor of morning meetings that could take place before the official workday began. The first known regulars of the power breakfast included Marvin Traub, Bill Rudin, and David Dinkins. Over the years, the Power Breakfast has become a signature of Loews Regency, and it still stands as one of the most iconic dining experiences in Manhattan, offering local New Yorkers and hotel guests the perfect opportunity for people watching and to dine with some of the most influential professionals in New York City. Chef Devesa also explained, "Our breakfast menu is extensive and offers a variety of signature breakfast items. Our most popular item is the Egg Benedict."
A DIVERSIFIED CLIENTELE
So who is truly the Regency Bar & Grill's clientele? Upper East Side foodies? Hotel guests? Celebrities? Devesa gave us his thoughts on the movers and shakers who turn up in his dining room: "The Regency Bar & Grill attracts all types of guests. For breakfast, in particular, we cater to locals who work in the area for a business meeting before they start their day and, of course, hotel guests. In the evening, our bar scene is filled with Upper East Side locals who are enjoying themselves with friends and colleagues. We host a lot of regulars of the Power Breakfast including Katie Couric, Larry King, Joe Lhota, and Reverend Al Sharpton, in addition to a host of movers and shakers."
With spring right around the corner, we wondered what would be on the menu. "I want to prepare perfectly cooked food keeping it uncomplicated but making sure it is seasoned correctly. I want to create light and refreshing dishes with ingredients that are fresh and in season. I think Asian cuisine reflects this type of cooking so I might look to that culture for inspiration," Devesa said enthusiastically.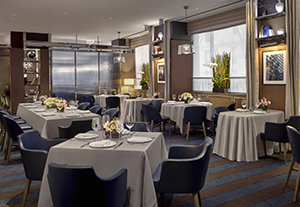 FUTURE TRENDS
How does this affable and talented French-trained executive chef foresee the restaurant growing and evolving in the future? "I think the restaurant will grow as the menu evolves. Short term, I am looking forward to creating more sharable items for guests to enjoy at the bar or for dinner in our grill room. I also look forward to bringing the vibrancy and energy of breakfast to our lunch and dinner service."
We look forward to checking back in with Chef Devesa and actually checking out the legendary Power Breakfast for ourselves. If the diversified dinner that we recently had is any indicator, the breakfast will be a knockout! Strong recommendations include Porcini Truffle Pizza, Diavola Pizza, New York Strip served with Heart of the Woods Mushrooms, Olive Oil Fingerling Potatoes, and RGB Steak Sauce, Tea Poached Salmon with Quinoa Pilaf, Crispy Brussels Sprouts (grown nearby) and their most popular dessert, Pumpkin Cheesecake.
For more information on The Regency Bar & Grill, visit loewshotels.com/regency-hotel/dining/restaurant. Reservations are recommended and can be made on the website.