AROUND TOWN
Hudson Yards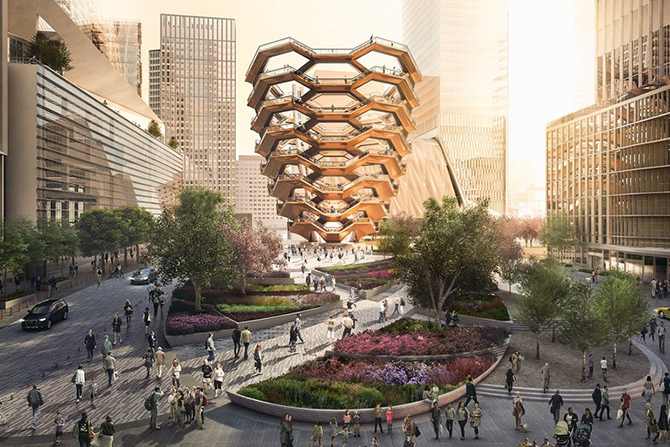 By TJ Johnson
When the observation deck at 30 Hudson Yards in New York opens later this year, it will be the highest of its kind in the Western Hemisphere—so high that you may feel closer to the clouds.
The deck is just part of the magnificent Hudson Yards project, the most significant private real estate project in American history. Conveniently located on the West Side of Midtown Manhattan, once complete it will include a mix of skyscrapers, public space and other amenities along with major companies housing their headquarters in office buildings, residential areas to rent or to own, a large retail complex and a performing arts center.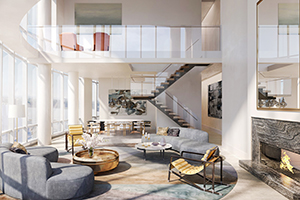 CITY WITHIN A CITY
With a major rezoning, the extended No. 7 subway, and residential properties starting at above $3,000 a square foot, there's a lot of buzz surrounding the Hudson Yards. A few key facts about the area: "It is the largest private real estate development in the history of the United States and the largest development in New York City since Rockefeller Center. The site will include more than 18 million square feet of commercial and residential space, state-of-the-art office towers, more than 100 shops, and a collection of restaurants headed by renowned chefs.
The urban development will include approximately 4,000 residences; The Shed, a new center for the artistic invention; 14 acres of public open space; a 750-seat public school; and an Equinox Hotel® with more than 200 rooms—all offering unparalleled amenities for residents, employees, and guests." Hudson Yards is a city within a city, and if you want to be a part of the movement, it is best to act now and lock down your dream apartment. With that being said, let's discuss a couple of the residential buildings in Hudson Yards.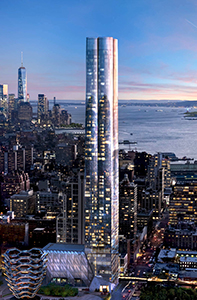 LUXURY LIVING & DINING
Let's start with 1 Hudson Yards, with views of the world-renowned monument Vessel, staring down at the beautiful High Line, and views of stunning sunsets over the Hudson River. One Hudson Yards is a bold piece of architecture. Taking luxury to another level, residents can sit back and enjoy all the breathtaking furnishings, and innovative architecture, topped with an unmatched personalized 24-hour concierge service. You will also receive residents-only membership access to various high-profile Hudson Yards experiences. This property is the perfect fit for those with refined tastes.
Over at 15 Hudson Yards, it's known as the Distinguished Address. This 88 story, 910 foot-tall building with panoramic views of NYC soars into the air from Hudson Yards adding to the New York City skyline while showing off its state-of-the-art architecture. Located in the center of Hudson Yards, it is surrounded by 14 acres of parks, shops, and vast open spaces. 15 Hudson Yards will contain five distinct residence types, ranging from one-bedroom homes overlooking the High Line to duplex penthouses with breathtaking city views. With a screening room and one of the best rooftops in the city, this tower would be a great place to call home in NYC.
Moving away from the residential side of Hudson Yards, let's discuss the team of renowned restaurateurs from around the globe that include chef-restauranteur Thomas Keller of Per Se and Bouchon Bakery fame. I am excited about all the new restaurants coming to Hudson Yards and I'm anxious to try Mercado Little Spain food hall by chef Jose Andres. Not only is he renowned for his innovative Spanish-themed small plates, his philanthropy work and feeding hurricane victims and government workers is remarkable.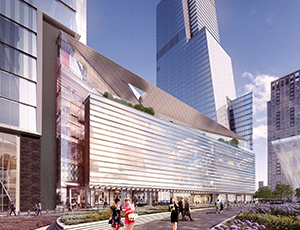 Another bold and exciting chef that will bring a delicious menu will be David Chang. His inspired Asian fusion is world famous and if you've never been to a Momofuku Restaurant, you're missing out! Many more restaurants that will be showcased throughout Hudson Yards and on the rooftops of buildings. Watch for co-founder and CEO Anya Fernald and her Belcampo Meat Co. as well as Costas Spiliadis, a master of Greek cuisine serving the most exceptional seafood!
This was just a small glimpse inside Hudson Yards. There is so much to see in this city inside the city. If you would like to take a tour, I will be happy to take you on a tour and answer all questions you may have.
Thelonious "TJ" Johnson is a licensed broker with Brown Harris Stevens, has teamed up with Ogden Starr, and enjoys sharing his tips on his favorite city. If you are looking for a residence in the Flatiron District—or anywhere else throughout Manhattan—contact him for any of your buying or selling needs. Info: bhusa.com/real-estate-agent/thelonious-tj-johnson.